The folks at Folie à Deux have once again fashioned a classic Napa Valley Chardonnay in 2008. The 2008 Folie à Deux Chardonnay offers up a beautiful, sunshiny robe, an amplifying nose, and a cornucopia of flavors. Pure Chardonnay fruit redolent with the scents of acacia blossoms, golden apples, pears, butter, toasted oak, vanilla, and spice underscore the aromatic profile of this delicious, easy to drink Napa Valley Chardonnay. Imbued with ample fruit, a smooth creamy texture, and a patina of new French oak, the 2008 Folie à Deux Chardonnay never wears on the palate or goes over the top. It retains impeccable balance and freshness along with a wealth of flavor from start to finish, which few other California Chardonnays can claim. For maximum enjoyment, we suggest only moderate chilling (40º-45º F) of Folie à Deux's pure, elegantly wrought 2008 Napa Valley Chardonnay. Allow it a few minutes of aeration before consuming. Enjoy!
The 2008 Folie à Deux Chardonnay is a wine made with good old-fashioned drinking in mind. Yet, Chardonnay of this stature is nearly always at its best with food, so we suggest you try this elegant, flavorful Chardonnay with steamed blue crabs or Alaskan king crab legs, along with plenty of drawn butter. Crab Imperial, lobster bisque, Prince Edward Island mussels in a creamy broth, or almost any seafood dish that relies upon butter or cream in its sauce will complement this wine and provide ample reason to pour a second or third glass. Prosciutto wrapped Alaskan halibut, served with a roasted red pepper relish, offers another, even more intense treat with the Folie à Deux Napa Valley Chardonnay. For landlubbers, we suggest poultry, pork, or ham as amiable companions. Chicken Cordon Bleu and Chicken Fricassee provide especially fine choices with this wine, too. In addition, a selection of soft goat cheeses or un-crusted cow's milk cheeses that includes Cheddar, Caerphilly, or Gruyere offers a tasty alternative to fish or meat in the company of the 2008 Folie à Deux Napa Valley Chardonnay. Carefully selected cheeses also afford a mouthwatering way to finish an evening and enjoy a bottle of this fine Chardonnay.
Folie à Deux, a boutique Napa Valley estate dedicated to crafting fine wine at affordable prices, continues to turn out outstanding Napa Valley Chardonnay, Cabernet Sauvignon, and Zinfandel. This historic property lies just north of St. Helena in the heart of Napa Valley. Folie à Deux's vineyards and century old farmhouse lay sandwiched between Spring Mountain and Howell Mountain, at the narrowest part of Napa Valley. The estate's location provides a unique microclimate and a special terroir, which permit cool air to roll slowly down Mount St. Helena and cool the estate vineyard during the long summer days of torrid heat. At Folie à Deux, unlike many other Napa locales, the cool air sifts its way through the vineyard the way sand passes through an hourglass. The result is great physiological ripeness in the vineyard, without a loss of aromatic or flavor profile. Folie à Deux has truly come into its own since coming under the Trinchero family umbrella in 2004. Under Bob Trinchero, the proprietor of several renowned California wineries, the quality at Folie à Deux has skyrocketed. However, the tale of Folie à Deux is both intriguing and unique, as the winery's name suggests. Folie à Deux was founded as a bonded winery in 1981 by two psychiatric professionals. When the couple told their friends that they planned to fulfill a mutual dream by starting a winery, the friends jokingly suggested that the couple was exhibiting the classic symptoms of folie à deux, a psychiatric term that is defined as the sharing of fantasies by two close friends. The name stuck. To build on the theme, a local Napa Valley artist, Susan Ortega, created a drawing of twin dancers based on a Rorschach inkblot. Her inspiration for the label was the fantasy that she and her sister shared of one day becoming professional ballerinas. However, there is more to this amusing story, which leads one to wonder if our subconscious minds do not comprehend more than we think and indeed play a greater role in events than we imagine. During the 1930's Folie à Deux's farmhouse and surrounding property were owned by Spanish prizefighter Luis Santa Maria, who had retired with his family to St. Helena to tend sheep and make wine. The Santa Maria family lived in the farmhouse that now serves as the winery's offices and tasting room and they used the same old stone shed to store wine that Folie à Deux now utilizes for storing wine. Curiously, Bob Trinchero, the present owner, and Santa Maria's daughter sang together in the school choir in high school. One could presume that the young Trinchero's subconscious was somehow at work here. However, what is even more serendipitous is the connection between Trinchero and Scott Harvey, Folie à Deux's long time winemaker, who for years Bob used to kid by telling him he was "watching," and perhaps he was. Bob's home looks down on the Folie à Deux property, which he so wisely purchased in 2004. Apparently, he liked what he saw and tasted, and so do we. Whether life's coincidences and connections are the result of random chance, a great master plan, or the result of our subconscious fantasies, are matters open to debate. However, what is not in question today is the quality of the wine produced by Folie à Deux. Folie à Deux fashions distinctive wines, at several price levels.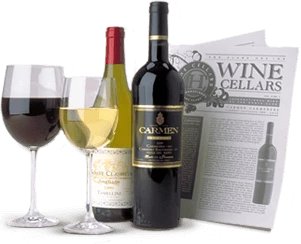 Enjoy Limited Production Estate
Bottled Wines
Discover limited production estate bottled wines such as Vergenoegd's internationally
acclaimed 2005 Cabernet Sauvignon, imported exclusively for our members.
DISCOVER OUR FOUR CLUBS