Flinders Run has earned a reputation for complex, full-throttle, no-holds-barred Shiraz, and the 2006 Flinders Run delivers on all counts. The inky purple 2006 Flinders Run Shiraz offers plenty of fruit and tannin, flesh and bone, and a whole lot of hedonistic pleasure in between. Opening with a dramatic aromatic display that features blueberry, blackberry, and raspberry fruits, Asian spices, chocolate, and toasted oak, this big boned beauty continues to dazzle the palate where it explodes with the savory flavors of fruit compote, meat, smoke, and polished oak. Corpulent and layered, this majestic Shiraz coats the mouth and happily lingers there long after the wine has slipped down the blissful gullet. Weighing in at 15% alcohol, the Flinders Run is anything but a wilting flower and hardly a wine to trifle with. Yet, it maintains a complexity, freshness and suavity that many other full-bodied Australian Shiraz appear to lack. We recommend drinking this enticing wine between now and 2018. We also recommend decanting the 2006 Flinders Run Shiraz and serving it cool at no more than 65º F. Enjoy!
Considering the depth, flavor, and power of the 2006 Flinders Run Shiraz, there is no shortage of accompaniments to this wine. However, it would be a shame to drink this Flinders Run Shiraz with just any old meal. Consequently, we highly recommend procuring the highest grades of beef, lamb, pork, and game one can afford to partner with this outstanding offering. An Onion and Manioc Encrusted Rack of Lamb is one perennial favorite. Slow-cooked Baby Back Ribs and Cuban-style pork prepared with plenty of garlic and spice, presented on a bed of crisp yucca and black beans, provide two other peerless choices with the Flinders Run Shiraz. In fact, almost anything that comes off the grill should work well with this wine – meat or vegetable. Thick, juicy rib-eye steaks or beef tenderloin kabobs get our nod. Heady ratatouilles and grilled vegetables, especially winter squash, juicy caramelized onion wedges, and tender new potatoes work well, too. Given the high flavor profile of this wine, we suggest you not be timid with rubs and sauces, either. Onion, garlic, cumin, oregano, and rosemary to taste will complement the power and spice in the Flinders Run Shiraz. Last but not least, a thick brown venison stew with root vegetables makes another wonderful companion to this wine. Enjoy!
Flinders Run is one of South Australia's hot new wineries. Established by Emanuel and Laura Skorpos in 1997, Flinders Run is located in the picturesque Southern Flinders Ranges some 125 miles north of Adelaide. The couple cultivates a little more than 100 acres of prime vineyard land. Like most of the arable land in South Australia, the Southern Flinders Ranges served as a major source of wheat and wool rather than wine throughout most of the 19th and early 20th centuries. However, with the wine boom that has swept Australia in the last quarter century, the Southern Flinders Ranges have blossomed into a prime source of many of Australia's most compelling wines. In the past several years, Flinders Run has garnered very high ratings and a string of awards for their balanced, outstanding wines, most especially their Shiraz. Higher and cooler than many areas of South Australia, the Southern Flinders Ranges afford Flinders Run and neighboring vineyards a long hang time as well as cooling breezes from nearby Spencer Gulf to temper the area's hot summer days. In addition to the benefits of high altitude and a favorable climate, the Southern Flinders Ranges possess deep, limestone rich soils ideal for the production of both white and red grape varietals. Flinders Run fashions fine white and red wines, with Shiraz, Cabernet Sauvignon, Merlot, and Chardonnay holding court.
Shiraz is the Australian name for the Syrah grape, and probably a bastardization of either Heraz, a river and region of ancient Persia (present day Iran) or Herat, a former Persian city now in Afghanistan, where Shiraz is thought to have originated. How Shiraz made its way to France, the adopted home of this outstanding grape, remains a mystery. However, by the Middle Ages Syrah was an important grape variety in southern France. Even today, it remains immensely popular in Provence and along the steep banks of the swift moving Rhône River, where it is responsible in all or part for many of the greatest red wines of France (Côte Rôtie, Hermitage, and Châteauneuf-du-Pape specifically). Most of the Shiraz vines planted in Australia (where Shiraz is one of the most planted red wine grapes) trace their ancestry back to France, though some evidence suggests that Syrah arrived in Australia from France via South Africa. Such a circuitous route points to the likelihood that Syrah left France before the twin plagues of oidium and phylloxera in the last half of the 19th century and that the Syrah vines that arrived in Australia stem from older clones of the varietal than those found presently throughout most of southern France and California. Furthermore, as France recovered from the devastation, new clones of old favorite grape varieties such as Syrah were often replanted in the vineyards. For these reasons some consider Shiraz to be a distinct clone of the Syrah varietal and entitled to its own name. However, for all intents and purposes, the two names are synonymous.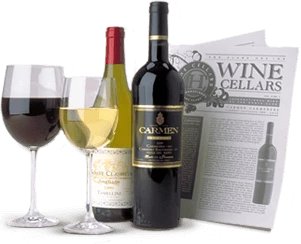 Enjoy Limited Production Estate
Bottled Wines
Discover limited production estate bottled wines such as Vergenoegd's internationally
acclaimed 2005 Cabernet Sauvignon, imported exclusively for our members.
DISCOVER OUR FOUR CLUBS