Feudi di San Marzano's 2010 Primitivo Puglia Salento cuts a handsome appearance in the glass.  It wears a deep purple robe that is imbued with fiery glints of ruby.  More importantly, it offers an intense aromatic profile of plum, cherry, herb, vanilla, and spice that caress the nose.  On the palate, the wine continues to work its magic by spreading plush fruit and herb driven flavors to fill the mouth.  Coupled with the wine's bright fruit is a balanced minerality that adds both interest and vibrancy.  In short, this is one good drinking wine that packs a punch and slips down ohhh so easily.  Give this full-bodied red wine at least a few minutes of aeration and enjoy it at cool room temperature (60°-66° F).
The 2010 Feudi di San Marzano is quintessential Primitivo, which allows it to pair perfectly with most southern Italian culinary classics.  Antipasti, hard cheeses, and smoked meats provide some of our perennial favorite starters to pair with this wine.  So, why not bring out the pepperoni, prosciutto, salami, and soppressata and put them in the company of authentic Italian Provolone or Parmesan to make a happy marriage.  Pasta with a thick meat or savory marinara sauce; grilled hot Italian sausage, onions, and peppers; braciole (thin slices of beef, chicken or pork that are breaded, rolled and stuffed with cheese and herbal savory fillings) complement the 2010 Feudi di San Marzano Primitivo, too.  And given this Primitivo's considerable body and generous flavor profile, we are not afraid to add a moderate amount of spice and heat to dishes that accompany it.  Pasta Arrabiata and recipes that call for red pepper flakes and even a bit of jalapeño pepper won't scare away Feudi di San Marzano's 2010 Primitivo Puglia Salento.  This is a wine of the Southern Italy: warm, welcoming and strong from long hot days under the Puglian sun.  Enjoy!
Feudi di San Marzano is a modern winery that specializes in the production of traditional southern Italian grape varietals. It is situated on the Salento Peninsula in the sun burnt realm of Apulia. Located on the heel of the Italian Peninsula, Apulia (or Puglia as it is called in Italian) has long been renowned for its production of powerful red wines from ancient varietals and full-flavored, intense olive oils. Feudi di San Marzano is the latest project of Valentino Sciotti, the proprietor of the Farnese Winery and a dynamic force in resuscitating the production of fine wine in southern Italy. Sciotti's Farnese Winery once belonged to Princess Marguerite of Austria and Prince Octavio Farnese and remains a beacon of quality. Today, the Farnese Winery is a leader in the production of Montepulciano d'Abruzzo and Primitivo. Sciotti's association with Feudi di San Marzano has transformed a once lackluster cooperative into a dynamic force and put it on the path to rival the most venerable of southern Italian wine estates. Valentino Sciotti has put together a first rate winemaking team at Feudi di San Marzano and wisely utilizes the winery's old vines, state of the art equipment, and iron rich/ limestone soils from which he fashions especially fine Primitivo, Negroamaro, and Salice Salentino. In recent vintages, the winery's white wines have garnered considerable interest, too, particularly the Malvasia Nera Sud.
Primitivo, which refers to the early ripening of this ancient varietal rather than any supposed rusticity, hails from Greece. Primitivo was most likely brought to southern Italy more than 2,500 year ago by the Greeks, who named Apulia and the nearby Italian peninsula Enotria – land of the vine – because of this stark land's natural proclivity for the production of wine. Today, Primitivo remains one of the most important grape varietals of southern Apulia, especially on the Salento Peninsula. In addition to being the earliest maturing grape variety in Europe and, perhaps, the earliest ripening varietal worldwide, Primitivo is capable of registering the highest sugar content of any grape, which gives it the potential to be the world's most alcoholic table wine. In fact, Primitivo can garner enough natural sugar to produce nearly 19% ABV, without fortification. Recent DNA evidence points to Primitivo as the forebear of California Zinfandel, a grape with which it shares many common characteristics, thereby ending the mystery surrounding the origin of Zinfandel.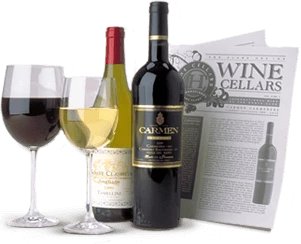 Enjoy Limited Production Estate
Bottled Wines
Discover limited production estate bottled wines such as Vergenoegd's internationally
acclaimed 2005 Cabernet Sauvignon, imported exclusively for our members.
DISCOVER OUR FOUR CLUBS