The 2010 Fernz Marlborough Sauvignon Blanc aptly reflects Marlborough's nearly ideal growing conditions for Sauvignon Blanc in 2010. Marked by cool weather during the flowering that reduced yields, which was followed by warm summer days and an exceptionally long Indian summer, the 2010 vintage produced healthy, physiologically ripe grapes of exceptional quality and personality. The 2010 Fernz Sauvignon Blanc is redolent with savory scents: fig, freshly mown grass, gooseberry, guava, pink grapefruit and more dazzle the nose and follow through in flavor on the palate. Equally impressive is the wine's silky texture, pinpoint minerality, and crisp, snappy finish. In short, Fernz has fashioned a wine that captures the essence of Sauvignon Blanc and the entrancing beauty of New Zealand. The 2010 Fernz Sauvignon Blanc is more than a cut above the pack. Enjoy!
In New Zealand, green-lipped mussels and Sauvignon Blanc are nearly synonymous. Some may even consider this pairing a national dish. In the company of the 2010 Fernz Marlborough Sauvignon Blanc, mussels never tasted better. Smoked salmon or trout with cream cheese, onion, and capers ably complements this vibrant, textured wine, too. But why stop there? Almost anything that comes from the sea provides excellent companionship to Fernz's superb Sauvignon Blanc. Yet, the Fernz Sauvignon Blanc pairs equally well with other foods, including salads, soups, and pastas. Carrot and Ginger Soup with crème fraîche and Crisp Potato Pizzas with sweet peppers, goat cheese, and black olive tapenade provide especially tasty, full-flavored accompaniments the 2010 Fernz Sauvignon Blanc as well.
Fernz is an exclusive offering from Chris and Phil Rose, New Zealand wine pioneers and proprietors of Marlborough's renowned Wairau River Estate. Wairau (pronounced why-ra-ow) was begun in 1978 and is located on the northern slopes (equivalent to the southern slopes in the northern hemisphere) of Marlborough's Wairau Valley, New Zealand's premier location for Sauvignon Blanc. Still very much a family affair, the Wairau River Estate is owned and managed by the Rose family. All 500 acres of Wairau's prime vineyards are entirely hand tended. Extensive crop thinning is practiced and only sustainable methods of agriculture are employed to maintain total commitment to quality. The result is ripe, intense wines of exemplary varietal character. Wairau River's Fernz Sauvignon Blanc pays tribute to the Silver Fern, New Zealand's national emblem. The beautiful Silver Fern conveys the inspiration, purity, and pride afforded Fernz wines. It also exemplifies the clean, green, pristine agricultural practices that predominate in New Zealand to protect that island nation's natural beauty and preserve the environment for generations to come. Wairau River is first and foremost a producer of exceptional Sauvignon Blanc. However, the Roses also fashion an array of other excellent varietals, including Chardonnay, Pinot Gris, and Pinot Noir. We invite you to taste this great estate's outstanding wine wares: they are sure to become benchmarks by which other New Zealand varietals are measured.
Marlborough is situated on the northern tip of New Zealand's mystical South Island, where it enjoys a unique dry maritime climate. High mountains isolate this enchanted land from the cold alpine interior of the rest of the South Island, while the spectacular Marlborough Sound to the north provides a conduit to the sea as well as the planet's most majestic view of New Zealand's North Island as it soars skyward across the swells of Wellington Straits – a sight that ranks as one of the world's most stunning vistas. Moreover, Marlborough is about as close to viticultural paradise as one can find, especially for Chardonnay and Sauvignon Blanc. Marlborough's long, sunny, but not excessively hot growing season provides nearly ideal conditions for grape growing. The average summer daytime temperature hovers between 72° - 80° F depending upon one's altitude and proximity to the sea. The air is crystal clear and the light luminous, with nary an overcast day, let alone much rain, during the long growing season. Cool nights keep acid levels high in the grapes, even as sugar levels rise abruptly. Such conditions lend themselves to an extended growing season, which provide slow, even ripening and extended hang time for the grapes. The result is ripe healthy fruit, with fresh vibrant flavors and a crisp herbaceous zing. In addition to its superb summer climate, Marlborough also boasts excellent soil for grapes. Most of Marlborough consists of silty, free draining alluvial loams over gravelly sub-soils. In addition, river stones lie scattered throughout Marlborough, remnants of the many rivers that once coursed through the pretty valleys of Marlborough. These river stones store heat from the warm sunny days and radiate that heat back into the vineyards at night, thereby providing a unique microclimate and terroir, much like that of Châteauneuf-du-Pape. Moreover, most Marlborough growers are committed to sustainable agricultural practices in order to preserve the region's noble terroir. And the French thought they had a monopoly on terroir; we think not.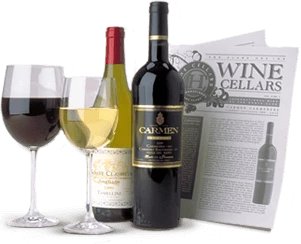 Enjoy Limited Production Estate
Bottled Wines
Discover limited production estate bottled wines such as Vergenoegd's internationally
acclaimed 2005 Cabernet Sauvignon, imported exclusively for our members.
DISCOVER OUR FOUR CLUBS