The scion of a splendid vintage in Tuscany, the 2019 Selvapiana Vigneto Bucerchiale Chianti Rufina Riserva DOCG (95 Points – Jeb Dunnuck; 94 Points – James Suckling) from 100% Sangiovese vines is stunning in all respects, beginning with an entrancing floral bouquet. Scents of red raspberry, cherry, and rose petal waft from the glass. Although quite young and built for long ageing, the 2019 Bucerchiale Riserva already comes across as seamless in the mouth. Layered and complex, the wine's deep berry, cedar, floral, and forest floor flavors are wed to refined tannins, which thoroughly captivate the palate. Powerful but wonderfully nuanced, the 2019 Selvapiana Bucerchiale Riserva is simply magnificent and an extraordinary example of how splendid Rufina Chianti can be. Enjoy this wine now and for the next decade. For optimal enjoyment, we strongly suggest an hour in a decanter before serving at cool room temperature (58°-62° F). Anticipated maturity: 2023-2034. Enjoy!
The powerful yet elegant and complex 2019 Selvapiana Vigneto Bucerchiale Chianti Rufina Riserva belongs on the finest tables. Red meat, pork, poultry, and vegetables all take on a new dimension when paired with this wine. A traditional Florentine Steak or Prime Porterhouse rubbed with garlic, olive oil, mint, and wild herbs deserves serious consideration. Pheasant stuffed with braised vegetables, porcini mushrooms, and a hint of truffle makes another splendid accompaniment. If pheasant is unavailable or seems too exotic, game hens, squab, and other poultry provide wonderful accompaniments, too. Wild Boar, if you can procure it, and Crown Roast of Pork also provide worthy suitors. A juicy leg of lamb makes another tasty companion. Moreover, classic Tuscan white bean dishes such as Ribollita when served with flat Tuscan onion bread and slices of hard cheese will delight carnivores and vegetarians alike in the company of the 2019 Selvapiana Bucerchiale Chianti Rufina Riserva. Buon Appetito!
Selvapiana ranks among the finest of Chianti producers. It is located in the foothills of the Apennines in Rufina, the smallest subzone of Chianti known for exceptionally full-bodied, long-lived wines. Rufina, known for centuries as Pomino, was among the four wine producing areas of Tuscany designated by official decree of Grand Duke Cosimo III de'Medici as suitable for producing the finest wines in the realm. The duke's 1716 bando or decree is widely considered to be the world's earliest known denomination protection law.
Situated in the hills near the Sieve River, a tributary of the Arno, where the air is cool and clean, Selvapiana has for centuries been a retreat for aristocrats fleeing Florence's summer heat. Selvapiana was constructed during the Renaissance by a noble Florentine family by enlarging a medieval watchtower that guarded Florence from invading enemies. Today, Selvapiana guards the great tradition of crafting the finest and longest lived Rufina Chiantis from 30 acres of vineyard. The estate's Vigneto Bucerchiale Chianti Riserva DOCG (this month's feature) is Selvapiana's flagship wine. Bucerchiale is fashioned from the estate's best vineyard, Bucerchiale, and only in the finest vintages such as 2019. It is not a blend as are most Chiantis: it is crafted entirely of Sangiovese, Tuscany's indigenous and most celebrated varietal. It is also hand-harvested and Organic Certified.
In addition to Bucerchiale, Selvapiana crafts two other fine Rufina Chiantis, a Super Tuscan, and a delicious Vin Santo, Tuscany's unique and profound dessert wine, all of which rank among Tuscany's finest.
Chianti is a sea of vines amid the pastoral slopes of Tuscany. Between Florence and Siena over one hundred and fifty thousand acres of vines share the hills and hollows of this ancient land with olive groves and grain fields, bleating sheep, and woods full of oak, chestnut, and wild boar. Chianti is the largest DOCG in Italy, producing more than two hundred million liters of wine each year from several distinct districts. Consequently, Chianti is, in fact, many different wines from over seven thousand registered growers in seven districts and the Chianti Classico Consorzio.
Chianti Classico is only one of the official areas of Tuscany entitled to bear the name Chianti on its labels. The others are Chianti Rufina, Colli Fiorentini, Montalbano, Montespertoli, Colline Pisane, Colli Senesi, and Colli Aretini. Chianti Classico is Chianti from the heart of Chianti whose producers belong to the Chianti Classico Consorzio or Consortium. The Chianti Classico Consorzio is the most recognizable consortium in Tuscany and its members have high standards of excellence among Chianti producers. The Chianti Classico Consorzio seeks to define, improve, and promote the wines of Chianti Classico. Many of the producers within the confines of Chianti Classico belong to the consortium, but not all, as standards are strict. Nonetheless, many outstanding examples of Chianti emanate from outside of Chianti Classico, especially Rufina, which was defined in the world's earliest-known denomination protection law in 1716. The finest Rufina Chiantis are designated Riserva DOCG, Italy's highest designation of quality.
Today, Chianti is only a red wine, but this has not always been the case. Until the early 16th century, the opposite was true. Only the white wine of central Tuscany was called Chianti, but during the Renaissance the dry red wine of the area, which was commonly referred to as Vermiglio by Michelangelo and his Florentine contemporaries, also adopted the name Chianti. By law, all Chianti must meet certain legal and qualitative standards. Chianti must contain only certain prescribed grape varieties, with Sangiovese always playing the starring role. Cannaiolo, Colorino, and small amounts of Cabernet and Merlot are other permitted red varietals for Chianti. And, although no longer required, two white grape varieties are still allowed in Chianti. Some traditional Chianti producers still use small amounts of white grapes in the form of Trebbiano and Malvasia in producing their Chianti. Hence, Chianti comes in many sizes, styles, and price points.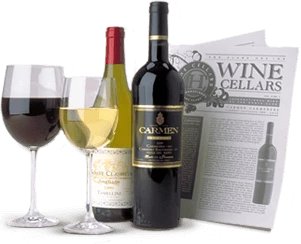 Enjoy Limited Production Estate
Bottled Wines
Discover limited production estate bottled wines such as Vergenoegd's internationally
acclaimed 2005 Cabernet Sauvignon, imported exclusively for our members.
DISCOVER OUR FOUR CLUBS