A deep, dark, brooding potion, the 2001 Montellori Dicatum is ample testimony to the fact that appearances are more often than not deceiving. This Tuscan treasure reminds us more of a great young Pomerol, with its heavenly scent and layer upon layer of fleshy fruit, than a Chianti or even a "Super Tuscan" red. Although elegant, the Dicatum is not austere and exhibits none of the typical leanness of Chianti. Like Pomerol, Bordeaux's most decadent red wine, the 2001 Dicatum exudes a myriad of scents and savors to fill the senses. An aroma of violets, dark cherry and blackberry fruit, cedar, coffee, and a touch of wood smoke that recalls the good earth and the splendid country from whence it comes are just a few of the treats in store for the intrepid taster of Dicatum. This is no self effacing red. As its name implies, the 2001 Dicatum makes quite a statement that is nothing short of a bold proclamation. Enjoy this sensuous wine and its long lingering finish at cool room temperature (64°-66° F). Extended breathing is not necessary but will further enhance your enjoyment of the wine, if you have enough patience to resist its voluptuous charms from the moment the cork exits the bottle.
As sumptuous as the 2001 Dicatum is, the wine hardly begs for food the way a Chianti does. Nevertheless, Dicatum provides a splendid pairing with many traditional Tuscan dishes. In addition, it will elevate nearly any meat or bean dish that it accompanies. Oven Roasted Rack of Lamb, served with an Asiago and rosemary infused risotto and a shallot-truffle reduction, wins high praise from the panel alongside the Dicatum. Grilled Center Cut Pork Chops, accompanied by a ragout of white beans, apple wood smoked bacon, spinach, and mushrooms makes our collective mouths water, too. Pan Seared Beef Tenderloin, graced with a Bordelaise Sauce, would certainly not be a hardship either. Simple, rotisserie cooked chicken makes a fine backdrop with which to enjoy the Dicatum as well. Given the Dicatum's elegance, breed, and hedonistic bent, we suggest that it warrant the company of the classics or at least the very best of simple, home style cooking. Our only caveat would be to avoid heavy tomatoes sauces or other ponderous concoctions, as they tend to dull the luster and sensual nature of this great wine, as they would any fine wine of Dicatum's caliber. Buon Appetito!
On a recent trip to Italy, we discovered Fattoria Montellori and the estate's enthusiastic, serious-minded proprietor Alessandro Nieri. Fattoria Montellori is located off the beaten track, away from the glitz and glamour of the well-worn wine road that winds its way from Florence to Siena. Instead, Montellori is tucked away in the Montalbano zone of Chianti to the west of Florence, near the stately Tuscan town of San Miniato. San Miniato is renowned for its wealth of beautifully preserved Romanesque and Renaissance churches that thrust their many spires skyward, savory truffles, and heavenly wines. The latter treasures constitute some of Tuscany's most hedonistic pleasures. The Montellori estate, which is also known as Castel Rapiti, dates from 1293. Yet, the Nieri family has been the guardian of this outstanding property only since 1895, a mere 111 years, which is a relatively short time when one considers the entire eight centuries of history that Fattoria Montellori shares with posterity. Giuseppe Nieri purchased the villa and surrounding grounds at the end of the 19th century from profits he had realized from his leather trade. He quickly set about planting vineyards and upgrading the property. Giuseppe's son Mario continued the pioneering spirit and renovation at Montellori that was begun by his father. However, it was not until Giuseppe Nieri, Alessandro's father, took control of the estate in the early 1980's that it expanded to its present 170 acres and began fashioning wine as smooth and fine as the Florentine leather his forbearers' once crafted. Today, the estate houses a modern winery, hundreds of oak barrels, great and small, and some of the finest hillside vineyards in Tuscany. Moreover, it fashions wines of great character, distinction, and personality. Thanks to the foresight of Giuseppe Nieri, Fattoria Montellori owns six distinct vineyards, all of which possess a unique soil, microclimate, exposure, and altitude. Red wine is king here, as it is throughout Tuscany. Nonetheless, Alessandro crafts several excellent white wines, too, including Mandorlo, an artful non-traditional blend of Chardonnay, Viognier, Marsanne, Roussanne, and Clairette. Not surprisingly, Chianti remains the estate's most important wine in terms of quantity. It is a traditional, medium-bodied wine that is wonderfully representative of the Montalbano style of Chianti. However, it is Montellori's Moro, Salamartano, and Dicatum (the estate's three distinct Super Tuscan reds) that make us want to shout for joy. Moro is a single vineyard offering that is closest to Chianti in style. It is a blend of primarily Sangiovese to which small amounts of Cabernet Sauvignon and Malvasia Nera have been added. Salamartano on the other hand is a classic Bordeaux blend of Cabernet Sauvignon and Merlot that has been aged in small barriques. Meanwhile, Dicatum is the most decadent and quintessentially Tuscan of this estate's offerings. It is 100% Sangiovese from the property's finest hillside vineyard Cerreto Guidi; this is the last vineyard that Giuseppe Nieri personally planted. Dicatum spends about eighteen months in a combination of oak barriques and 500 liter barrels, which intensify the wine's structure, without impeding its elegance and aromatic fireworks – a staggering statement indeed.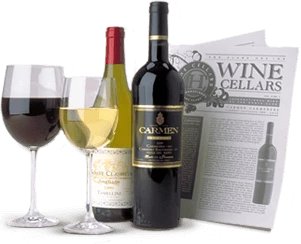 Enjoy Limited Production Estate
Bottled Wines
Discover limited production estate bottled wines such as Vergenoegd's internationally
acclaimed 2005 Cabernet Sauvignon, imported exclusively for our members.
DISCOVER OUR FOUR CLUBS