The 2005 Montellori Chianti captures all that is beautiful in Montalbano Chianti, beginning with a bright cherry colored robe that sparkles through the glass and a haunting perfume that sets the senses afire. A medium-bodied wine with a touch of tenderness, Montellori's 2005 Chianti offers up soft, textured fruit along with plenty of delicate charm. Forever the coquette, this dry, expertly made Chianti changes from moment to moment in the glass, emerging with each sip to reveal a new and interesting face. This wine reminds us of the delicious, haunting Chiantis we taste in Italy that flow from casks in the finest Tuscan trattorias. In other words, the 2005 Montellori Chianti captures the natural, ethereal goodness of authentic Chianti. It also reflects the commitment to quality and sustainable wine making that Montellori espouses. We suggest you enjoy this fine Chianti cool (60° F-66° F) straight from the bottle, or better still allow it an hour or more to breathe: you will then be amazed at how truly magical Chianti can be.
Chianti is by nature a delicate, dry red wine that is made to accompany food. It is also the most important wine of Tuscany, which makes it a mainstay of the Tuscan table. Consequently, the simple fresh fare of Tuscany provides many superb, healthy accompaniments to the 2005 Montellori Chianti. We recommend serving this aromatic, in your face Chianti with a myriad of meats and vegetables. Some irresistible favorites include classic Tuscan white bean dishes, served with flat Tuscan onion bread and a few slices of hard cheese; herb roasted chicken or pheasant, stuffed with braised vegetables, porcini mushrooms and a hint of truffle, makes another memorable meal in the company of the tender 2005 Montellori Chianti. Duck, game hens, and finer cuts of pork provide other worthy suitors. Veal, pounded thin and then lightly sautéed in butter, olive oil, and fresh herbs provides another simple but memorable way to celebrate Montellori's soft, textured, food friendly Chianti. So, whether it is simple elegance or sophisticated fare you seek, you are sure to find a friend in this wine. Our only caveat is to avoid heavy tomatoes sauces or other ponderous concoctions, as they will dull the luster and delicate nature of most Chianti, the Montellori included. Buon Appetito!
On a recent trip to Italy, we discovered Fattoria Montellori and the estate's enthusiastic, serious-minded proprietor Alessandro Nieri. Shortly afterwards, we met Dr. Marco Razzauti, Montellori's exuberant 29 year old viticulturist and oenologist, and it quickly became clear to us just how serious this estate is about making world class Chianti and Super Tuscan reds. What is happening at Montellori is nothing short of enthralling. And instead of smoke and mirrors leading the way, as is sometimes the case in the world of wine, it is a solemn revitalization of the estate's vineyards and a complete dedication to natural, sustainable agronomy that has pushed the quality quotient at Montellori to ever higher levels. This estate's total makeover is due to the vast improvements in viticultural practices that Dr. Razzauti instituted several years ago, and Montellori's decision to limit production. Needless to say, the results speak for themselves. Fattoria Montellori is located off the beaten track, away from the glitz and glamour of the well-worn wine road that winds its way from Florence to Siena. Instead, Montellori is tucked away in the Montalbano zone of Chianti to the west of Florence, near the stately Tuscan town of San Miniato. San Miniato is renowned for its wealth of beautifully preserved Romanesque and Renaissance churches, which thrust their many spires skyward. This pretty town is equally renowned for its savory truffles and heavenly wines. The latter treasures constitute some of Tuscany's most hedonistic pleasures. The Montellori estate, which is also known as Castel Rapiti, dates from 1293. Yet, the Nieri family has been the guardian of this outstanding property only since 1895, a mere 111 years, which is a relatively short time when one considers the entire eight centuries of history that Fattoria Montellori shares with posterity. Giuseppe Nieri purchased the villa and surrounding grounds at the end of the 19th century from profits he had realized from his leather trade. He quickly set about planting vineyards and upgrading the property. Giuseppe's son Mario continued the pioneering spirit and renovation at Montellori that was begun by his father. However, it was not until Giuseppe Nieri, Alessandro's father, took control of the estate in the early 1980's that it expanded to its present 170 acres and began fashioning wines as smooth and fine as the Florentine leather his forbearers' once crafted. Today, the estate houses a modern winery, hundreds of oak barrels, great and small, and some of the finest hillside vineyards in Tuscany. Moreover, it crafts wines of great character, distinction, and personality that reflect the attributes of Montalbano Chianti and the distinct terroir of San Miniato. Thanks to the foresight of Giuseppe Nieri, Fattoria Montellori owns six distinct vineyards, all of which possess a unique soil, microclimate, exposure, and altitude. Red wine is king here, as it is throughout Tuscany. Not surprisingly, Chianti is the estate's most important wine, at least in terms of production. And what a Chianti it is! In recent years, Montellori has fashioned three Super Tuscan offerings, too: Moro, Salamartano, and Dicatum. Moro is a single vineyard offering that is closest to Chianti in style. It is a blend of primarily Sangiovese to which small amounts of Cabernet Sauvignon and Malvasia Nera have been added. Salamartano on the other hand is a classic Bordeaux blend of Cabernet Sauvignon and Merlot that has been aged in small barriques. Meanwhile, Dicatum is the most decadent and quintessentially Tuscan of this estate's offerings. It is 100% Sangiovese from the property's finest hillside vineyard Cerreto Guidi; this is the last vineyard that Giuseppe Nieri personally planted. Alessandro and Marco craft several excellent white wines, too, including Mandorlo, an artful non-traditional blend of Chardonnay, Viognier, Marsanne, Roussanne, and Clairette.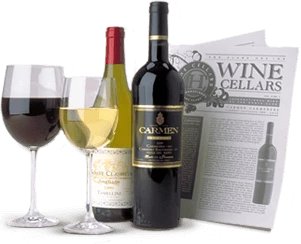 Enjoy Limited Production Estate
Bottled Wines
Discover limited production estate bottled wines such as Vergenoegd's internationally
acclaimed 2005 Cabernet Sauvignon, imported exclusively for our members.
DISCOVER OUR FOUR CLUBS