The 2006 vintage in Tuscany is no doubt superb, as the ripe, round, highly expressive 2006 Le Caselle Chianti aptly attests. Aromatic, distinctive, and full of flavor, this wine speaks of the glory of Tuscany, a land of simple elegance and immutable beauty. A tribute to winemaker Marco Razzauti, this classic Chianti is savory, supple, and well delineated – yet another work of Tuscan art. It offers an aromatic profile, reminiscent of violets, plum, and the soft scents of a fecund, well-tended land. On the palate, the 2006 Le Caselle releases a draught of cherry and plum fruit, mingled with a hint of mineral and a touch of Tuscan terroir, which add complexity and definition. As authentic Chianti, the 2006 Le Caselle is neither big nor brawny. Rather, it is ethereal, and at the same time full of flavor. This is the type of wine one hopes to find in the best Tuscan trattorias and country inns – a charming, round, huggable red that goes down ever so easily, gracefully, in fact, but with more than a passing nod. In short, the 2006 Le Caselle is what DOCG Chianti is all about. For the record, it opens beautifully upon first pour, yet it will improve markedly with at least thirty minutes of aeration. Anticipated maturity: 2008-2012.
For those of us who have had the pleasure of spending time in the Tuscan countryside, a bottle of the 2006 Le Caselle Chianti and a bowl of well-made Ribollita (a Tuscan specialty that draws heavily on local brick oven bread, beans, and vegetables) are the materials from which dreams are made. However, one does not have to be in Tuscany, nor does one need Ribollita to enjoy Marco Razautti's charming Chianti. Sautéed veal, grilled beef or pork, sausages, and nearly all bean- and lentil-based dishes provide beautiful accompaniments to this wine. Homemade pasta, served with a fresh tomato sauce that hasn't simmered too long, bobolis, and brick oven pizzas offer other fine choices with the Le Caselle. We can also endorse heartily a three-cheese spinach pizza with roasted garlic, as well as the classic Margharita pizza with tomato and cheese with this wine. A whole rotisserie roasted chicken with herbs is another superb complement to the 2006 Le Caselle Chianti, as are rabbit and country stew. And as balanced and flavorful as the 2006 Le Caselle Chianti is, it will provide excellent companionship to nearly any dish that is not overpowering, so stir the pot and fire up the grill. Buon Appetito!
Le Caselle is a small wine estate in the Tuscan hills around San Miniato, a town renowned nearly as much for its truffles and fine leather as its exquisite wines. The property consists of a large olive orchard and just 18 acres of prime vineyard, all owned by Alessandro Nieri of Fattoria Montellori. The grapes cultivated at Le Caselle are primarily Sangiovese, with small amounts of Malvasia Nero and Syrah. The Syrah is harvested from a special plot that was planted decades ago by Alessandro's father; it is used to produce the estate's cru Tuttosole. Tuttosole yields by all accounts a staggering statement of a wine that is, for our palate and pleasure, the very finest Syrah made in all Italy. Several years ago, we discovered Le Caselle and Montellori and met the estates' enthusiastic, serious-minded proprietor, Alessandro Nieri. Shortly afterwards, we had the pleasure of meeting Dr. Marco Razzauti, Le Caselle's exuberant 32-year-old viticulturist and oenologist, and it quickly became clear to us just how serious these two gentlemen are about making world-class Chianti and Super Tuscan reds. What is happening at Le Caselle and Montellori is nothing short of enthralling. And instead of smoke and mirrors leading the way, as is sometimes the case in the world of wine, it is a solemn revitalization of each estate's vineyards and a complete dedication to natural, sustainable agronomy that has pushed the quality quotient at both properties to ever-higher levels. Each estate's total makeover is due to the vast improvements in viticultural practices that Dr. Razzauti instituted several years ago, along with Nieri's decision to limit production. Needless to say, the results speak for themselves. Le Caselle is located off the beaten track, away from the glitz and glamour of the well-worn wine road that winds its way from Florence to Siena. Like its sister estate Montellori, Le Caselle lies tucked away in the Montalbano zone of Chianti to the west of Florence, near the stately Tuscan town of San Miniato. San Miniato is renowned for its wealth of beautifully preserved Romanesque and Renaissance churches, which thrust their many spires skyward. This pretty town is also revered for its savory truffles, as well as its heavenly wines. The latter treasures constitute some of Tuscany's most hedonistic pleasures.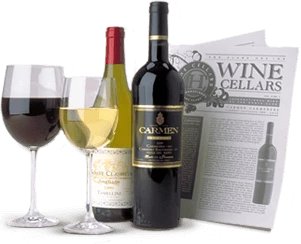 Enjoy Limited Production Estate
Bottled Wines
Discover limited production estate bottled wines such as Vergenoegd's internationally
acclaimed 2005 Cabernet Sauvignon, imported exclusively for our members.
DISCOVER OUR FOUR CLUBS