Although Carmenère, Chile's emblematic grape, dominates Estampa's Fina Reserva Carmenère blend, it does not overwhelm it. The 2014 Estampa Fina Reserva possesses a wonderfully rich deep purple color, an amplifying aroma, and layers of flavors all wrapped in a fine patina of oak from the wine's 10-14 month hiatus in barrel. Complex spicy notes in this wine meld with seductive black cherry and wild berry aromas along with touches of forest woodlands to captivate the nose. In the mouth, this magical blend unfolds with each sip, revealing layer upon layer of velvety fruit, hints of cacao and tobacco, and seductive suggestions of exotic spices before suave, well-integrated tannins provide a long, graceful finish. The addition of Syrah and Cabernet Sauvignon add touches of black pepper and cassis, but the overwhelming impression is one of balance and harmony, similar to what one would hope to find in a red Bordeaux costing three or four times the price. Not surprisingly, Wine Spectator awarded the 2014 Estampa Fina Reserva Carmenère 90 points and ranked it among its top South American wines. For optimum enjoyment we suggest affording Estampa's delicious 2014 Fina Reserva Carmenère at least 15-20 minutes of aeration before consuming it at cool room temperature (no more than 64° F). Enjoy!
The complex and stylish 2014 Estampa Fina Reserva Carmenère thrives at table as it offers the ideal accompaniment to meats, cheeses, vegetables and a host of Mediterranean specialties. Horseradish crusted beef tenderloin served over twice fried pommes frites and grilled marinated lamb prepared with sautéed vegetables and creamy Arborio rice provide especially tasty complements to Estampa's Fina Reserva Carmenère. Consider slow roasted pork shoulder with lentils as another tasty pairing. Pressed breast of duck, tender cuts of beef and venison tenderloin offer more gratifying companions to serve with this wine. Meatloaf, Eggplant Parmigiana, and artfully crafted pizzas provide excellent companionship, too. Deep dish and thin crusted pizzas with three or more cheeses, mushrooms and vegetables make especially gratifying accompaniments. Whether it is a gourmet dinner or a simple midweek meal, Estampa's 2014 Fina Reserva Carmenère is ready to deliver. Buen Provecho!
The 2014 Estampa Fina Reserva Carmenère offers a tasty accompaniment to all kinds of cheeses. Brie or Camembert without the rind, mild Cheddar, Beemster, aged Gouda, Gorgonzola, Havarti, and Manchego are just some of the many cheeses that partner well with Estampa's savory 2014 Fina Reserva Carmenère. For more on superb wine and cheese pairings or to learn more about gourmet cheeses please contact us at www.cheesemonthclub.com. Enjoy!
Estampa specializes in fashioning blends of the finest Chilean grape varietals. In fact, Estampa appears to be the only winery in Chile that specializes in the production of blends, a technique used by Classified Bordeaux Châteaux that consists of carefully combining two or more fine grape varieties, each contributing its best characteristics, to create wines of both tremendous balance and unique personality. Located in Chile's picturesque Colchagua Valley, Estampa turns out an extensive portfolio of wines, each with grace, charm and complexity, but none constitutes finer quality and value than the estate's Fina Reserva, this month's International Wine of the Month Club feature.
Viña Estampa began in 2001 thanks to the vision and entrepreneurial spirit of Miguel González-Ortiz, the winery's owner and current president. However, the Estampa story really reaches back to the 19th century with Manuel González-Diequez, a Spanish immigrant and grandfather of the González-Ortiz family and great-grandfather of the González-Pagola family. Manuel González-Diequez acquired a wheat-flour mill in 1897 near the church that had been named the "La Estampa Mill" in honor of what has been dubbed the "miraculous flying prayer card," whose origin appears below. Miguel González-Ortiz and his forbearers had for decades dedicated their energies to managing and maintaining the legacy of the company that had become an icon of the food industry. With their ties to agribusiness and viticulture, the family ventured into the Colchagua Valley in 1988, where they planted vineyards and erected a modern winery. Although relative newcomers to the crafting of wine, the González-Pagola family continues the family legacy and unwavering commitment to hard work, high quality, well-being for all, and contributing to the country's progress with the help of a formidable team that includes Chief Winemaker Johana Pereira and Consulting Enologist Attilio Pagli, whose Brunello di Montalcino wines have earned three perfect 100 scores from Wine Spectator and James Suckling.
"The Estampa brand began more than two centuries ago in Chile. A traveling salesman located in the Plaza de Armas (main square) in Santiago offered religious estampas—pocket-sized prayer cards—to passersby. Suddenly he noticed that the picture of Nuestra Señora del Carmen (Our Lady of Mount Carmel) was miraculously circling over his head. After flying before an amazed and growing crowd for 15 minutes, it flew across the plaza, crossed the Mapocho River, continued its flight, and landed far from its origin at the feet of a mother who was teaching catechism to her children.
To celebrate this extraordinary event, a Catholic grotto was erected on the site where the card had landed in 1794, followed by a chapel built at a later date. In the early 20th century a parish was established and the holy temple was named Estampa del Viento de Nuestra Señora del Carmen (the wind-blown image of Our Lady of Mount Carmel) in what is now the Independencia neighborhood in Santiago de Chile."
-Viña y Bodega Estampa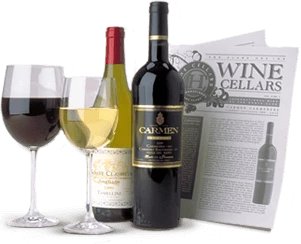 Enjoy Limited Production Estate
Bottled Wines
Discover limited production estate bottled wines such as Vergenoegd's internationally
acclaimed 2005 Cabernet Sauvignon, imported exclusively for our members.
DISCOVER OUR FOUR CLUBS