The 2013 Errazuriz Max Reserva Sauvignon Blanc hails from Casablanca Valley, Chile's prototypical appellation for the cultivation of Sauvignon Blanc and other cool climate varietals. The 2013 Max Reserva Sauvignon Blanc embodies the winery's elegant, complex style of winemaking. For starters, this Max Reserva Sauvignon Blanc sports a pretty pale straw-colored robe and offers up a cornucopia of fresh grassy scents and flavors along with plenty of citrus, melon, and herb tones to complement the wine's textured mouth feel. Medium bodied but long on both balance and flavor, this wine continues to expand on the palate and fill the mouth, before slipping ever so easily down the thirsty gullet. The balance and expansive flavors of this 2013 Errazuriz Max Reserva set it apart from the majority of thin acidic examples of Sauvignon Blanc emanating from New Zealand as well as the fuller but equally stolid Sauvignon Blancs that too many California producers are fashioning. For optimal enjoyment, we suggest serving the 2013 Errazuriz Max Reserva Sauvignon Blanc moderately chilled (38º-40º ).
Grilled seafood, vegetarian pasta and herbed chicken all provide wonderful companions to the 2013 Errazuriz Max Reserva Sauvignon Blanc… then again an easy chair and an ordinary end to the day provide all the accompaniments most wine drinkers will ever need to enjoy Errazuriz's delicious 2013 Max Reserva Sauvignon Blanc. For double the pleasure consider serving hors d'oeuvres, smoked meats and creamy cheeses with this Sauvignon Blanc as an opening act. Follow with Shrimp Scampi or Ravioli Stuffed with Lobster. Spaghetti with White Clam Sauce offers another tasty complement. Other winning combinations in the company of Errazuriz's Max Reserva Sauvignon Blanc include Thai and Chinese stir fries, especially Khao Pad Grao Prao (aka Thai Chicken with Basil) served with fried jasmine rice. Other Asian stir fries complement this wine as well. Enjoy!
Eduardo Chadwick is the fifth generation of his family to head Errazuriz. With his direction Errazuriz has taken its place among the world's most highly acclaimed wineries, consistently earning the highest ratings from Chilean critics as well as Wine Advocate, Wine Spectator, and Stephen Tanzer. And with good reason; Errazuriz fashions exceptional wines for their extensive portfolio from top to bottom.
Viña Errazuriz was founded in Aconcagua Valley in 1870 by Don Maximiano Errazuriz. It is a meticulously tended property whose inherent beauty shines even in the midst of a torrential downpour. Having had the opportunity some years ago to visit the estate, I can attest to Viña Errazuriz's reputation as one of the most beautiful wineries in South America. But more importantly, this property produces world class wines by controlling every stage of the winemaking process and attending to every detail. In recent years, the estate has also expanded beyond its original Aconcagua vineyard to nearby appellations and now encompasses vineyards in Aconcagua, Casablanca and Curico valleys where the weather and soil are conducive to a wide array of grape varieties and natural winemaking techniques. The emphasis at Errazuriz is placed on producing wines of eminent elegance and complexity. It is this commitment and passion for wine that has earned Errazuriz international critical acclaim.
Errazuriz has over the years garnered many awards for their outstanding wines. Viña Errazuriz was named "Producer of the Year 2008" by the International Wine & Spirit Competition, the largest and one of the most prestigious wine competitions, for the winery's outstanding quality across the spectrum of competition categories. It was also named "Winery of the Year 2008" by Chile's international wine association. Recent releases have been even more impressive. The winery's Don Maximiano Founder's Reserve from the Aconcagua estate is widely regarded as South America's most prestigious wine. Equally impressive for quality as well as value are Errazuriz's Max Reserva offerings that are named in honor of the winery's founder. Particularly impressive are the Max Reserva Sauvignon Blanc (this month's feature) and Max Reserva Carmenère and Cabernet Sauvignon.
Sauvignon Blanc is a premium white wine grape whose origin appears to be Bordeaux. Yet, in Bordeaux Sauvignon Blanc has traditionally been blended with other white grape varieties, most notably Semillon, to create a special flavor profile all of its own. This stands in contrast to the 100% varietal offerings from France's Loire Valley from appellations such as Sancerre, Pouilly-Fumé, and increasingly Menetou-Salon, whose wines remain some of the world's truest expressions of Sauvignon Blanc. Other French appellations have mostly followed suite, preferring 100% varietal bottling so as not to diminish Sauvignon Blanc's inimitable characteristics.
In the New World, winemakers mainly follow the Loire Valley's penchant for bottling Sauvignon Blanc as a single varietal. In California, Sauvignon Blanc is sometimes called Fumé Blanc, a relic of a marketing ploy that popularized the grape, but confused the consumer, as there is no clear cut difference in California between wines labeled Sauvignon Blanc and Fumé Blanc. In the past three decades, Australia, Chile, New Zealand, and South Africa have proven to be equally adept at producing excellent Sauvignon Blanc. Each country appears to have developed a unique variation on the same theme. Yet, what nearly always distinguishes Sauvignon Blanc is its distinct aroma, which resonates with the scents of citrus, herb and freshly cut grass that range from almost imperceptible to nearly intoxicating.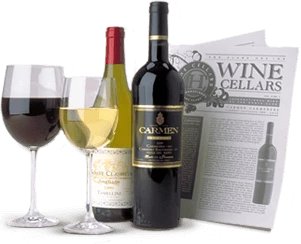 Enjoy Limited Production Estate
Bottled Wines
Discover limited production estate bottled wines such as Vergenoegd's internationally
acclaimed 2005 Cabernet Sauvignon, imported exclusively for our members.
DISCOVER OUR FOUR CLUBS