The 2011 Errazuriz Estate Reserva Carmenère embodies the winery's elegant, complex style of winemaking. This youthful Carmenère offers an eye catching ruby/violet robe and a dazzling aromatic intensity. Scents of ripe blackberry, currant, and dark chocolate mingle with hints of wood smoke, wild herbs, and black pepper. On the palate, layers of velvety berry flavors grace the palate before politely exiting in a flurry of smooth tannins and soft touches of herb and spice that make the thirsty throat plead for more. Although this 2011 Errazuriz Estate Carmenère provides immediate appeal, it is duly enhanced by fifteen or twenty minutes of aeration – that is if you have enough patience to wait that long. For optimal enjoyment, we suggest serving the 2011 Errazuriz Reserva Carmenère at cool room temperature (58º-65º F).
Carmenère fans won't require a morsel to enjoy the savory delights of the 2011 Errazuriz Estate Reserva Carmenère, but very few red wines complement food better than Carmenère. Given the elegant, complex style of Carmenère fashioned by Errazuriz, it would be a shame not to pair their Estate Reserva with fine cuts of meat, spicy stews, highly charged vegetable dishes, rib sticking cheese and mushroom risottos, or other well prepared dishes. Sautéed veal medallions, topped with caramelized onions; beef sliders; bison burgers with plenty of toppings; and all kinds of barbecue offer excellent accompaniments to Errazuriz's Carmenère. Chicken breasts, wrapped in prosciutto and stuffed with fresh herbs and Manchego cheese, and pulled pork tenderloin, slow cooked in a savory barbecue sauce, provide superb accompaniments, too. But if spending time in the kitchen seems too arduous a task, the 2011 Errazuriz Estate Reserva Carmenère does wonders for a good pizza, whether it's a simple Margherita or a special Chicago deep dish pizza. Enjoy!
Eduardo Chadwick is the fifth generation of his family to head Errazuriz. With his direction Errazuriz has taken its place among the world's most highly acclaimed wineries, consistently earning the highest ratings from Chilean critics as well as Wine Advocate, Wine Spectator, and Stephen Tanzer. And with good reason; Errazuriz fashions exceptional wines for their extensive portfolio from top to bottom.
Viña Errazuriz was founded in Aconcagua Valley in 1870 by Don Maximiano Errazuriz. It is a meticulously tended property whose inherent beauty shines even in the midst of a torrential downpour. Having had the opportunity some years ago to visit the estate, we can attest to Viña Errazuriz's reputation as one of the most beautiful wineries in South America. But more importantly, this property produces world class wines by controlling every stage of the winemaking process and attending to every detail. In recent years, the estate has also expanded beyond its original Aconcagua vineyard to nearby appellations and now encompasses vineyards in Aconcagua, Casablanca and Curico Valleys where the weather and soil are conducive to a wide array of grape varieties and natural winemaking techniques. The emphasis at Errazuriz is placed on producing wines of eminent elegance and complexity. It is this commitment and passion for wine that has earned Errazuriz international critical acclaim.
Errazuriz has over the years garnered many awards for their outstanding wines. Viña Errazuriz was named "Producer of the Year 2008" by the International Wine & Spirits Competition, the largest and one of the most prestigious wine competitions, for the winery's outstanding quality across the spectrum of competition categories. It was also named "Winery of the Year 2008" by Chile's international wine association. Recent releases have been even more impressive. The winery's Don Maximiano Founder's Reserve from the Aconcagua estate is widely regarded as South America's most prestigious wine. Equally impressive for quality as well as value are Errazuriz's less costly estate and single vineyard offerings of Carmenère, Cabernet Sauvignon, and Sauvignon Blanc.
Carmenère is a grape varietal that has nearly disappeared from its native Bordeaux, but quite literally this little known varietal has been resurrected, or at the very least been born again. Like the mythical phoenix that rises from the ashes, Carmenère has a new lease on life. After more than a century of obscurity, this flavorful, difficult to grow red grape variety is alive and well in Chile. It grows especially well in the scenic Colchagua and Rapel Valleys that lay south of Santiago, where it ripens fully and is considered by its adherents to be next to godliness.
For a very long time, many in Chile believed or at least wanted to believe for commercial purposes that Carmenère was a clone of Merlot. And although there are some obvious differences in leaf appearance as well as the size and flavor of their fruit, both varieties had grown up alongside each other in Chilean vineyards for generations, with no distinction made between them. However, Carmenère is in fact a distinct varietal that carries its own set of attributes and characteristics. After years of speculation and extensive experimentation that culminated in 1994 with DNA testing and a positive identification by French ampelographer (vine expert) Jean-Michel Boursiquot, the true identity of Carmenère was established, or more accurately, re-established.
Carmenère most assuredly traveled to Chile in the early 19th century, before the advent in Europe of phylloxera, the dreaded vine louse that decimated Bordeaux and most other European vineyards in the late 19th century. Although Carmenère remains one of only six legal red grape varietals in Bordeaux, it is rarely any longer part of the Bordeaux blend that is now dominated by Merlot, Cabernet Sauvignon, and to a lesser extent Cabernet Franc. Two of Carmenère's unique characteristics, the need for extended ripening time and low yields, probably led to its demise in Bordeaux, where the weather is hardly conducive to a late ripening, shy bearing varietal. On the contrary, Carmenère thrives in the central valleys of Chile where the long growing reason and lack of disease provide the ideal terroir for what is quickly becoming Chile's own grape variety.
With its round, velvety flavors, the 2011 Errazuriz Estate Reserva Carmenère provides the ideal companion to a wide selection of the world's finest cheeses. It complements Cantal, Port Salut, and a wide range of French cheeses with aplomb. It pairs especially well with Havarti, Munster, and aged Cheddar, too. For more delicious cheese selections and additional information on our outstanding international gourmet cheese club, please visit our website at www.cheesemonthclub.com to enjoy all that life has to offer.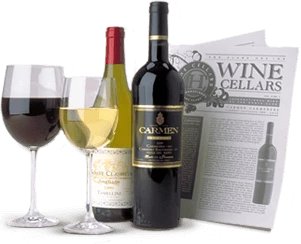 Enjoy Limited Production Estate
Bottled Wines
Discover limited production estate bottled wines such as Vergenoegd's internationally
acclaimed 2005 Cabernet Sauvignon, imported exclusively for our members.
DISCOVER OUR FOUR CLUBS