A stunning wine from a superlative vintage, the 2006 Emilio Moro Ribera del Duero opens with a superb bouquet of blackberry, espresso, roasted herbs, and wood smoke. In the mouth, this Ribera del Duero nearly explodes: it offers a boatload of rich, ripe fruit, roasted coffee tones, and toasted oak. Furthermore, all this goodness is wrapped in a firm core of well integrated tannins that assures this traditional offering a long, illustrious life. Although accessible and highly enjoyable now, we recommend cellaring at least a few bottles of this big-boned beauty for 3-5 more years. Then, one will taste and see the full glory of red wine from Ribera del Duero. Enjoy!
Given the considerable structure and wealth of flavor inherent in the 2006 Emilio Moro Ribera del Duero, we strongly favor accompaniments equal to the task. We are inclined to save the salads, pizzas, and tapas for lighter, less complex wines. Mostly, we favor traditional Spanish fare and the finest cuts of lamb, beef, and pork with Emilio Moro's complex, traditional red wine. Veal or Pork with Black Olives and Capers provides one ideal accompaniment. Duck Breast, prepared with a refined blackberry or cherry sauce offers another superb pairing. A thick herb encrusted Veal Chop, accompanied by a mushroom risotto, provides yet another sophisticated companion. However, almost any noble fare will be enhanced by this regal red, so enjoy!
Bodegas Emilio Moro is a family owned winery that has been crafting world class wines in Ribera del Duero for more than 120 years. The estate's several vineyards are all located at high elevations along the banks of the Duero River within Pesquera de Duero, the region's premier zone. The specialty at Emilio Moro is the cultivation of Tinto Fino, the Ribera del Duero's special clone of Tempranillo. As such, this bodega has in its vineyards original clones of Tempranillo, which are well-adapted to Ribera del Duero's extreme vagaries of weather. The wines of Emilio Moro are classic Ribera del Duero reds, wines made from 100% Tinto Fino. Until recently Emilio Moro fashioned only one Ribera del Duero, a traditional, full-bodied, highly structured wine that is built for extensive cellaring (i.e., this month's selection). However, the bodega recently introduced an additional offering – Finca Resalso – a polished, smooth Ribera del Duero from younger vines that can be drunk in the first two or three years of life or cellared for several years. Ribera del Duero The Ribera del Duero is located in Castilla y Leon in the very heart of the expansive plain that sprawls north of Madrid towards the mountains. Bounded by three mountain ranges, this illustrious viticultural region lies at 2,500 feet above sea level. The Duero River, from whence the region's name is derived, threads its way through the area, providing the perfect terroir for the production of complex reds. Ultimately, the Duero continues its trek westward into Portugal, where it is called the Douro, and whose wares are known as Port – the greatest wine of Portugal. Although perhaps not as historically significant as Rioja or even Jerez (the viticultural region of southern Spain known for sherry), the Ribera del Duero has consistently made the greatest wines of Spain for the last three decades. Thanks to diligent and innovative wine making and attentive, sustainable viticulture, along with a series of strong vintages, this region has captured the hearts and palates of a coterie of international clients, many of whom are astute enough to see that the modern Renaissance in Spanish viticulture blossomed early in the Ribera del Duero and has never stopped. The first modern indication that greatness was in the offing for the Ribera del Duero came in 1864 when Don Eloy Leconda Chaves returned to his estate near Valbuena from Bordeaux armed with a plethora of new oak barrels, French vine cuttings, and the latest Bordelais techniques. His goal, of course, was to re-create the greatness of the finest Bordeaux reds in the Ribera del Duero, but his greatest and most enduring discovery was that the local grape called Tinto Fino and Tinto Pais (local names for Tempranillo) could outperform Cabernet Sauvignon, Merlot, and Malbec when made at the same high level, especially in drier vintages. Today, Chaves's estate is known as Vega Sicilia and the grape is Tempranillo. Unfortunately, for the first 118 years of its existence, Vega Sicilia's wines could only be labeled as table wine, even though its legendary wine remained unchallenged in the Ribera del Duero and rightfully garnered the title of Spain's greatest and most expensive wine." In 1982, the Ribera del Duero was finally given Denominacion de Origen (DO) status, thanks to a coterie of bodegas such as Emilio Moro that demonstrated they, too, could make great wine in the Ribera del Duero, without practicing the extensive oak aging employed at Vega Sicilia. By marrying traditional sustainable vineyard practices to modern methods of viticulture, the Ribera del Duero produces bright, bold red wines of depth and distinction – wines that do not require ten or more years in bottle to recover from five or more years in barrel. Emilio Moro's Ribera del Duero is a prime example of the innovative style of wine now being made in Ribera del Duero.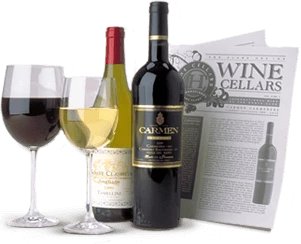 Enjoy Limited Production Estate
Bottled Wines
Discover limited production estate bottled wines such as Vergenoegd's internationally
acclaimed 2005 Cabernet Sauvignon, imported exclusively for our members.
DISCOVER OUR FOUR CLUBS