Although lighter and more accessible in its youth than the traditional Emilio Moro Ribera del Duero, the 2007 Finca Resalso possesses a wealth of flavor, plenty of polish, and enough structure to mature further in bottle for at least 3-5 years. With a deep ruby robe and an enticing aroma of violets, blackberry, cherry, and mineral, this wine seduces at first sight. Moreover, it continues to please from the first sip to the last. On the palate, the wine reveals supreme elegance along with plenty of pure, ripe fruit, savory spice, and a polished, textured feel that is hard to resist. We suggest opening the magical 2007 Finca Resalso a half hour before serving; the wine will quickly begin to unwind in the glass, but additional aeration burnishes Finca Resalso's ripe tannins and adds a layer of complexity to this classic wine.
Given the elegant style of the 2007 Emilio Moro Finca Resalso Ribera del Duero, a wide array of classic and contemporary dishes awaits the serious gourmet as well as the ordinary gourmand. A simple herb roasted chicken seems to be equally at home with this wine as sizzling fajitas. However, for those more adept in the kitchen, stuffed quail and pheasant offer especially pleasing partners. We also propose serving the 2007 Emilio Moro Finca Resalso with Veal Pizzaiola (veal in a cherry tomato and Kalamata olive sauce). And loin lamb chops, when brushed with olive oil, garlic, and fresh rosemary and grilled to perfection over a charcoal fire, provide a treat as well. In addition, we strongly suggest that one not overlook traditional Mediterranean favorites, even typical Italian specialties such as lasagna. Grilled eggplant and zucchini provide other tasty accompaniments. Enjoy!
Bodegas Emilio Moro is a family owned winery that has been crafting world class wines in Ribera del Duero for more than 120 years. The estate's several vineyards are all located within Pesquera de Duero at high elevations along the banks of the Duero River. The specialty at Emilio Moro is the cultivation of Tinto Fino, the Ribera del Duero's special clone of Tempranillo. As such, this bodega has in its vineyards original clones of Tempranillo, which are well-adapted to Ribera del Duero's extreme vagaries of weather. The wines of Emilio Moro are classic Ribera del Duero reds, wines made from 100% Tinto Fino. Until recently this bodega fashioned only one Ribera del Duero, a traditional, full-bodied, highly structured wine that is built for extensive cellaring. This year, the property has introduced an additional offering, Finca Resalso, a polished, smooth, structured Ribera del Duero that can be drunk young or cellared for several years. This way the bodegas' many loyal customers can enjoy the fine wines of Emilio Moro in their youth as well as after a decade or more of extensive cellaring. Ribera del Duero Located in the heart of Spain in the ancient realm of Castile and León, Ribera del Duero has been a center of wine production for thousands of years. Today, Ribera del Duero remains one of the most important wine regions in Spain, as it is the spiritual home of Tempranillo, Spain's most venerable red grape variety, and the source of many of Spain's greatest wines. Here the iconic Tempranillo, also known locally as Tinto Fino and Tinta del País, reaches its pinnacle and demonstrates to the world its inherent virtue. Ribera del Duero occupies the hills and high meseta to the northeast of the city of Valladolid and stretches out along the Duero River, Spain's most beloved waterway. Not surprisingly, the region draws its name from the venerable Duero that plays an important role in the region's terroir. It seems that the soil of Ribera del Duero bears more than a passing resemblance to that of France's Burgundy, with a wide range of chalk, clay, marl and gravel, combined together in varying degrees of prominence. However, whereas Burgundy's soil complexity results from plate tectonics, the soil in Ribera del Duero results from the Duero's erosion through the sedimentary layers of the Castilian meseta. The Duero River may likely play a role as well in moderating the rather harsh continental climate of the region, an area known for its dry, hot summers and cold winters. Add altitude (2,500-3,300 feet) and the intense luminosity of the Spanish meseta to the region's exemplary terroir, and it becomes apparent that Ribera del Duero possesses all the attributes needed to showcase the beauty of Spain's quintessential grape variety. Although Tempranillo provides heart and soul to nearly all the wines of Ribera del Duero, the Denominacion de Origen (DO) does permit small quantities of other grape varieties to appear in the appellation's red wines, most notably Cabernet Sauvignon, Merlot, Malbec, and Grenache. There is, however, no requirement that Ribera del Duero contain any grape other than Tempranillo. Consequently, there is no one magic formula. However, what is certain is that world wide demand for the great wines of Ribera del Duero will continue to grow as the cadre of astute producers in the zone continue to push the envelope on quality. Moreover, the relative value of the voluptuous red wines of Ribera del Duero are second to none. Just allow the red wine wares of Ribera del Duero a few years in bottle and a little time to breathe prior to serving, and they will more than handsomely reward the patient imbiber.
The 2007 Emilio Moro Finca Resalso Ribera del Duero provides cheese lovers a very special treat. The wine's elegant fruit driven personality and subtle spiciness combine to make it a natural selection for a wide variety of cheeses, especially those made from cow's milk. A glass of 2007 Finca Resalso with a rare artisanal Farmhouse Cheshire or a thick slice of Spanish Mahon will make any true cheese aficionado dance with delight. So, for more information on delicious gourmet cheeses, please contact us at www.cheesemonthclub.com and savor the day!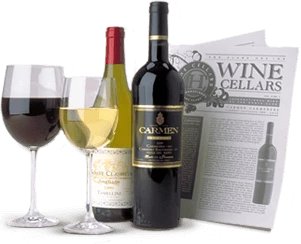 Enjoy Limited Production Estate
Bottled Wines
Discover limited production estate bottled wines such as Vergenoegd's internationally
acclaimed 2005 Cabernet Sauvignon, imported exclusively for our members.
DISCOVER OUR FOUR CLUBS