The 2021 Emile Beyer Les Traditions Pinot Blanc pays tribute to the terroir and traditional grape varieties of Alsace. As a consummate producer of Alsace Pinot Blanc, Christian Beyer utilizes two of the appellation's traditional grape varieties (75% Auxerrois, also sometimes known as Pinot Auxerrois, and 25% Pinot Blanc) for his Les Traditions Pinot Blanc. Curious as this may sound, in Alsace a blend of both permitted varieties is often simply labeled as Pinot Blanc. The 2021 vintage embodies the classic characteristics of Pinot Blanc as the 2021 Emile Beyer Les Traditions opens with an enticing aroma, redolent with the scents of orchard fruits: apple, apricot, white peach, and pear grace the nose along with a refreshing underlying minerality. In the mouth, a succulent mélange of orchard fruits flows on a vein of juicy acidity to enliven the palate. Not surprisingly, Christian Beyer's organically certified 2021 Les Traditions Pinot Blanc stands head and shoulders above the competition as Beyer treats his Les Traditions with the same careful attention that he affords his Grand Cru offerings. Although beautiful to drink from the moment it is poured, this pure and natural-tasting Pinot Blanc will evolve further in the glass, revealing subtle complexity as it sheds its initial chill. For optimal enjoyment we suggest affording the 2021 Emile Beyer Les Traditions Pinot Blanc a moderate chill (40°-45° F) before allowing it a few minutes in the glass to collect itself. Anticipated maturity: 2022-2025. Enjoy!
The classically wrought 2021 Emile Beyer Les Traditions Pinot Blanc is equally at home as an aperitif as it is at the dinner table. This wine's flavor, balance, and overall inviting manner make it easy to pair with a wide variety of cuisines and dishes, even foods that are typically difficult to pair with wine. Traditional Alsatian specialties such as Choucroute Garnie (ham, pork ribs, and sausage cooked in sauerkraut and served with spicy mustards), Quiche Lorraine, leek tarts, country pâtés, and pork roasts provide especially tasty accompaniments to Christian Beyer's pure and racy 2021 Les Traditions Pinot Blanc. Equally rewarding are lighter, heart-healthy selections such as baked or grilled flounder, grouper, snapper, or mahi-mahi. Seafood salads, mussels, scallops, and fish chowders supply additional first-rate accompaniments. And, the 2021 Emile Beyer Les Traditions Pinot Blanc works wonders with cuisines and vegetables that are often challenging to pair with wines such as Pad Gra Prao (Thai Chicken with Basil), Chicken and Broccoli in a garlic sauce, Asian noodles, sashimi, and stir fries made with vegetables such as asparagus and Brussels sprouts. Bon Appétit!
The venerable Domaine Emile Beyer is a must stop on any visit to Alsace as Domaine Emile Beyer and nearly five centuries of Alsatian history and wine remain intertwined. Since the year 1580 at least 14 generations of the Beyer family have continuously lived in their ancestral home and cultivated vines in the picturesque medieval village of Eguisheim, unquestionably one of the greatest and prettiest wine communes in France, which not surprisingly has served as a fairy tale setting in films and television programs. Each successive generation of Beyers, profoundly rooted in the vineyard and land, have in turn passed on their passion for wine to the next generation, and we the consumers are the beneficiaries. Moreover, since the coming of age of Christian Beyer, the domain's present guardian, Beyer's wines have ascended to the very highest level of quality.
Under the present leadership of the affable, hardworking Christian Beyer, the venerable domain of Emile Beyer cultivates 17 hectares (37.5 acres) of prime vineyards in Eguisheim, including two grand cru sites, from which Beyer fashions exceptional wines. "Giving happiness, with elegant wines: this is what I take pride in doing," is Christian Beyer's mantra, and by all accounts Beyer succeeds in doing just that, year in and year out, almost in defiance of the vagaries of each vintage. From estate vineyards Beyer produces an enviable portfolio of wines, all certified organic, which include the domain's outstanding Les Traditions Pinot Blanc (this month's feature), Pinot Gris, Riesling, and Gewürztraminer. Muscat, Sylvaner and exceptional Pinot Noir also make their appearance to round out this domain's formidable wine portfolio. In short, there is no dearth of fine wine from Domaine Emile Beyer.
Alsace is quite possibly the most picturesque wine region in all France. It is an enchanted land of beautifully restored half-timbered houses, flower bedecked balconies and window boxes, and of course vineyards. Alsace is bounded by the Vosges Mountains to the west, which block out the dreary maritime weather that plagues so much of the rest of northern France, and the Rhine River and Germany to the east. On account of its favored position and corresponding climate, Alsace is the sunniest province in northern France. This extra sunshine makes Alsace an ideal spot for the cultivation of the vine and the production of premium white wines from Auxerrois, Pinot Blanc, Pinot Gris, Riesling, and Gewürztraminer – the vast majority of which are made dry – and increasingly fine red wine from Pinot Noir. Wine critic Robert Parker Jr. has called the wines of Alsace "some of the greatest white wines produced on the planet," and some of the most pleasurable and hedonistic, too.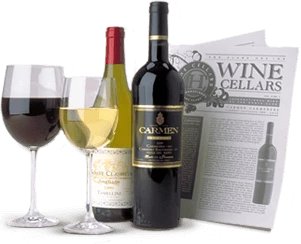 Enjoy Limited Production Estate
Bottled Wines
Discover limited production estate bottled wines such as Vergenoegd's internationally
acclaimed 2005 Cabernet Sauvignon, imported exclusively for our members.
DISCOVER OUR FOUR CLUBS