David Finlayson has always had a knack for producing pure, delicious-tasting red wines as single varietals as well as artful blends. In Edgebaston's 2016 Pepper Pot, Finlayson has fashioned his finest Pepper Pot to date. Boasting 91 points from both James Suckling and Vinous' Neal Martin, the 2016 Pepper Pot (60% Syrah, 14% Carignan, 11% Tannat, 7% Mourvèdre, 5% Cinsault and 3% Grenache) brims with the savory scents of blackberry, mulberry, and exotic spices. Equally rewarding is Pepper Pot's smooth, rich flavors, which fill the mouth and caress the palate. An enticing blend of berry fruits, garrigue, orange rind, and savory woodland flavors all come to fore in a smooth medium-bodied red with just the right amount of acidity to leave the palate refreshed and ready for more. The 2016 Pepper Pot could easily pass for a high-end Côtes-du-Rhône. Without a doubt, the 2016 Pepper Pot is a crowd pleaser as well as one of the planet's great values. For optimal enjoyment we suggest serving Edgebaston's 2016 Pepper Pot cool (60° F) after a few minutes of aeration.
This 2016 Edgebaston Pepper Pot is so enticing and ready to drink that all it needs to work its magic is a clean glass. Our tasting panels will attest to enjoying it on its own, but the pure berry flavors and smooth mouthfeel of the 2016 Pepper Pot make it an even better choice to accompany flavorful, highly charged dishes. Pork, veal, game, and hearty vegetable dishes will only enhance the allure of the Pepper Pot. Braised Beef Sliders with a spicy sauce, Venison Carpaccio with lightly dressed wild arugula, Indian Lamb Curry, and Chicken Chili with black beans provide especially tasty accompaniments to this wine. Roast Loin of Pork with black olives and Mediterranean herbs also offers fine companionship to the Finlayson family's delicious Pepper Pot. And of course, the finest cheeses and specialty pizzas also make splendid companions to Edgebaston's Pepper Pot. Enjoy!
The cornucopia of flavors inherent in the 2016 Edgebaston Pepper Pot provides an easy match for many of the world's finest cheeses. In fact, Pepper Pot's six varietals pair beautifully with Camembert, Havarti, Cheddar, and Gouda as well as most soft and semi-hard cheeses. To discover the world of gourmet cheeses and procure the finest quality cheeses anywhere, please contact us at www.cheesemonthclub.com.
Edgebaston is synonymous with modern winemaking on South Africa's Western Cape. Originally from Scotland, the Finlayson family has for three generations made outstanding wines in Stellenbosch and has in recent years been instrumental in transforming the Cape wine industry from a dwindling domestic business to a thriving international venture receiving worldwide acclaim.
The father and son team of Walter and David Finlayson present impressive credentials. Walter made wine at South Africa's Blaauwklippen winery for more than 15 years where he twice received "Diner's Club Winemaker of the Year" awards in addition to a host of other prestigious awards. While still at Blaauwklippen, Walter purchased the now renowned Glen Carlou farm in Paarl, which he and son David transformed into one of South Africa's leading wineries. Subsequently, Walter has become best known for producing South Africa's Wine of the Year in 2005.
In addition to his award winning work at Glen Carlou, David Finlayson has honed his winemaking skills at a number of prestigious addresses. David performed winemaking stints at Peter Lehmann, one of Australia's iconic wineries, and world renowned Château Margaux before starting Edgebaston. In 2003 Walter and David sold their shares in Glen Carlou (although Walter still served as Glen Carlou's Managing Director) and purchased what is now Edgebaston, a beautiful estate on the hills overlooking Stellenbosch, South Africa's premier appellation and wine town. From the beginning, critics have lauded Edgebaston for its quality, value and innovation, and we count Edgebaston among our best finds in recent years.
Edgebaston produces a full range of wines. Although the property's full-bodied, age-worthy Cabernet Sauvignons have heretofore been the winery's most recognized wines, David Finlayson is equally adept at fashioning hedonistic blends, such as this month's feature, the 2016 Pepper Pot. Pepper Pot is a combination of Mediterranean varietals whose precise blend varies from vintage to vintage.
Located on the Western Cape less than an hour north of Cape Town, the picture post card town of Stellenbosch and the surrounding mountains form a dramatic backdrop for what has been heralded as the most beautiful wine country in the world. Although one may debate that claim and the various picturesque merits of other world renowned wine regions, what is not in question is the integral role Stellenbosch has played for more than three centuries in the formation of South African wine. Stellenbosch is unquestionably South Africa's oldest and most important wine producing region. It is South Africa's Napa, Sonoma, and Santa Barbara counties all in one. It contains a myriad of microclimates and is responsible for high quality red and white wines from a host of varietals, including Cabernet Sauvignon, Shiraz, Chardonnay, Chenin Blanc, Sauvignon Blanc, Semillon, Viognier, and South Africa's unique varietal, Pinotage, a cross between Pinot Noir and Cinsault. From wineries in Stellenbosch, both old and new, flow an enormous variety of wines that are wholly unique in character and deserving of worldwide attention.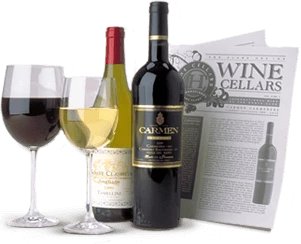 Enjoy Limited Production Estate
Bottled Wines
Discover limited production estate bottled wines such as Vergenoegd's internationally
acclaimed 2005 Cabernet Sauvignon, imported exclusively for our members.
DISCOVER OUR FOUR CLUBS