Light, bright, and refreshingly clean, the 2004 Dopff au Moulin Pinot Blanc woos with its ultimate balance and charm. In the nose and on the palate, subtle creamy fruit wends its way through an underpinning of crisp refreshing acidity. This allows Dopff's Pinot Blanc to remain forever light, lovely, and eminently quaffable. It is on account of this carefree quality that the tasting panel preferred it to the host of Pinot Blanc pretenders we tried, many of which seemed to be imitating Chardonnay or, otherwise, be trying too hard to be something they were not. In short, the 2004 Dopff au Moulin is one honest, good drinking Pinot Blanc. We suggest you begin by serving it well chilled (40° F); then, sip the 2004 Dopff Pinot Blanc slowly. This will allow the wine to caress the palate and leisurely unfold in the glass. Salut!
The 2004 Dopff Pinot Blanc is ideal with seafood. It is, also, wonderful at a buffet or party, where it imparts a sense of conviviality. A natural companion to quiche, onion tarts, leek pies, and hot and cold hors d' oeuvres, Dopff's Pinot Blanc provides an excellent start to a long evening of eating and drinking. In addition, it works wells with pork dishes and assorted meat pies that are served as main courses. Traditional Choucroute Garnie à l'Alsacienne is a great way to share a bottle of Dopff au Moulin's Pinot Blanc. Nevertheless, we must confess to enjoying Dopff's quintessential Pinot Blanc straight away as an aperitif, so as you like it.
For five centuries, the name Dopff and the majestic medieval town of Riquewihr have been synonymous. Since 1574, the Dopffs, from father to son, have dedicated themselves to the art of producing great Alsace wines from vineyards in and around picturesque Riquewihr. The present Dopff progeny constitute the eleventh generation of the Dopff family to cultivate the vine and make wine in Alsace. And as one might imagine, there is hardly a dearth of interesting and remarkable personages among this great family. One could rightly claim that it was Jean-Daniel Dopff, a minister's son, master baker, and innkeeper extraordinaire, who began the Dopff family's viticultural rise to prominence in the mid 17th century with the service of the family's excellent Alsatian wines at the local inn. Subsequently, Jean-Daniel's son, Balthazard-Georges, a master cooper, succeeded his father and further enhanced the family's reputation among the local cognoscenti. Several successive generations of the Doff family then built the domain into its present form, but not without a few bumps and inventions along the way. Around the time of the International Exhibition in Paris in 1900 and under the guidance of Julien Dopff, the Dopff family is credited with the invention of Crémant d'Alsace – the Alsatian version of sparkling Champagne. At first, Julien's invention met with considerable skepticism, but a daring wager by the owner himself; namely, that his sparkling wine would withstand the long sea voyage to Australia earned Domaine Dopff international acclaim. With success came considerable demand for the domain's wines. Dopff quickly became a prime supplier to all the great steamships and long distance mail boats that plied the seas. Moreover, forever light, creamy, and utterly refreshing, Crémant d'Alsace still enjoys considerable approbation and remains one the world's finest method champenoise wines. It is, also, one of the province's leading exports. However, the most colorful and influential of the recent Dopff scion is, perhaps, René Dopff, who distinguished himself in the French Resistance during World War II. A long time friend of the French writer André Malraux, René Dopff was, also, the first grower in Alsace to formally extol the virtues of terroir, which led to dividing the estate into separate vineyards, based upon the most suitable grape variety. Today, three generations of the Dopff family manage the estate. Not surprisingly, all of the traditional Alsace grape varieties are represented: Sylvaner, Pinot Blanc, Riesling, Muscat d'Alsace, Tokay d'Alsace, Gewurztraminer, and Pinot Noir. And of course, Crémant d'Alsace, whose primary ingredient is Pinot Blanc, remains a specialty of the house. Pinot Blanc Pinot Blanc was introduced into Alsace at the beginning of the 18th century under the name of Klevner. The grape, also, goes by the name Weissburgunder in German speaking wine regions of France as well as in Austria and Germany. Pinot Blanc is cultivated in Burgundy and Champagne, where it is thought to have originated as a mutation or albino version of Pinot Noir. Its virtues are a firm natural acidity and a pretty floral aroma and flavor that make it perfect as a still dry aperitif or the primary ingredient in Crémant d'Alsace. Not surprisingly, Pinot Blanc still figures in the cepage of many French Champagnes, and in the best sparkling wines of California, too. As a still varietal offering, Pinot Blanc frequently contains a good percentage of Pinot Auxerrois, a native Lorraine grape varietal that adds softness and spice to an otherwise stalwart 100 % Pinot Blanc. Dopff au Moulin's Pinot Blanc typically contains some Auxerrois.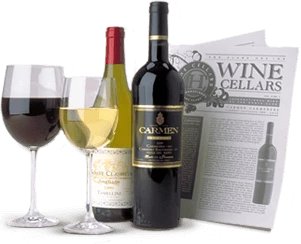 Enjoy Limited Production Estate
Bottled Wines
Discover limited production estate bottled wines such as Vergenoegd's internationally
acclaimed 2005 Cabernet Sauvignon, imported exclusively for our members.
DISCOVER OUR FOUR CLUBS