"Wow! Big in flavor, but smooth as silk," blurted one of our most experienced tasting panel members. "This is my kind of wine," uttered another to the agreement of the entire panel. The deep purple 2019 Donati Family Vineyard Paso Robles Claret (49% Cabernet Sauvignon, 39% Merlot, 5% Malbec, 5% Petit Verdot, 2% Cabernet Franc) is one of California's most consistently delicious Bordeaux blends. Redolent with the seductive scents of blackberry, cassis, dark cherry, and pomegranate, the 2019 Donati Claret practically leaps from the glass to greet the nose. In the mouth, Donati's 2019 Claret is generous and mouth filling, offering a delicious mélange of fruit, cedar, chocolate, and classic Bordeaux-style cigar box flavors, all nicely burnished with well-integrated tannins. Easy, but not lazy, Donati's 2019 Claret marries the pure ripe fruit flavors of California to the Old World finesse of Bordeaux, making this wine a true crowd pleaser to the very end and earning it 90 Points from Wine Enthusiast. Afford Donati's beautiful claret 10-15 minutes of aeration, if you can exercise that much restraint, and enjoy it at cool room temperature (60°-64° F). Anticipated maturity: 2023-2025.
Although made with fine drinking in mind, with or without food, Donati's 2019 Paso Robles Claret also appeals to the discerning palate. Consequently, this glossy, sophisticated wine comports itself equally well at a stylish dinner party or the kitchen table with simple mid-week fare. So bring on the flank steaks, sliders, and barbecued ribs, but don't forget the filet mignon, veal medallions, or crown roast of pork. Veal Milanese or a tasty Veal and Peppers dish pairs especially well with Donati's gracious claret. Rotisserie Chicken, basted with olive oil, sage, and rosemary and Cashew Encrusted Pork Chops offer equally compelling accompaniments. Red peppers stuffed with Italian sausage, orzo, herbs and Parmesan cheese provide another tasty complement. In fact, we can't think of many meats, vegetables, or cheeses that won't shine in the company of the 2019 Donati Family Vineyard Claret. So, whether it's the weekend or a dreary Monday, open a bottle of Donati's 2019 Claret: life is sure to get a whole lot better.
In England, a glass of good claret and a piece of fine aged Cheddar or Wensleydale cheese make for an ideal way to finish a Sunday meal. Such cheeses also offer a tasty way to finish a bottle of Donati's 2019 Claret. However, Cheddar and Wensleydale constitute only two of the many wonderful cheeses to pair with this wine. Aged Cheshire, Comté, and Morbier provide equally fine accompaniments to Donati's sophisticated 2019 Claret. To enjoy the delights of the world's finest gourmet cheeses, join us at www.cheesemonthclub.com.
If we were to survey American wine drinkers as to which appellations (or more precisely which American Viticultural Areas – AVA) are foremost in their minds, Napa and Sonoma would almost certainly top the survey list. However, California remains a treasure trove of family vineyards and wineries with exceptional quality wines from less recognizable place names. In fact, more and more, the best quality and value in California wine can be found outside of Northern California's Big Two. One especially distinguished family winery is Donati Family Vineyard, located in Templeton, California in the Paso Robles AVA. Begun in 1998 by Ron Donati with the notion of growing grapes with his son Matt, Donati Family Vineyard has moved quickly from growing superior quality grapes to making exceptional award winning wines.
The Donati family's estate vineyard site enjoys a variety of soils from limestone to decomposed granite to clay loam. Like much of Napa and Sonoma counties, Paso Robles enjoys long warm days followed by cool nights. Donati specializes in producing Bordeaux varietals, though their vineyard is planted to many select clones of Chardonnay, Cabernet Sauvignon, Merlot, Cabernet Franc, Malbec, Syrah, Pinot Grigio, Pinot Blanc and Petit Verdot. Vine selection plays a critical role in the quality of wine at this family venture. Each vine is carefully screened for viral diseases prior to planting to ensure that the future of the vineyard is secure and that vine health and fruit integrity remain intact from planting through harvest.
The age old adage "great wine is made in the vineyard" certainly applies to the wines made at Donati. Matt Donati practices a hands-on, year-round vineyard management approach to create an environment where the grapes themselves can be left alone to thrive during ripening. Regular, judicious thinning of shoots during the growing season, attention to every detail of vine canopy training and light management within the fruiting zone, pre and post-veraison green fruit removal, along with scientific analysis of soil and leaf moisture throughout the growing season ensure that every aspect of the Donati viticultural program contributes to the success of the vintage. Primary efforts are directed at sustainable farming, allowing for natural predators to reduce or eliminate the use of pesticides and provide a clean, hospitable environment for vine growth and fruit maturation. Of course, this path of action requires extreme diligence in scouting for possible problems. But, with active personnel regularly hand-tending each and every vine, the Donati family is making a significant difference in the local environment as well as in the ultimate quality of the grapes and resulting wines that bear their name.
Claret is the traditional English term for red Bordeaux, a blend of the region's celebrated grape varieties, which include Cabernet Sauvignon, Merlot, and a host of others. Although not the most familiar term in the American wine lover's lexicon, claret is still often used to identify California and Washington State wines made from Bordeaux varietals. Meritage is the New World term for claret; though, in order for an American producer to label its wine Meritage, the term must be licensed from the Meritage Association while adhering to the association's stipulations and practices.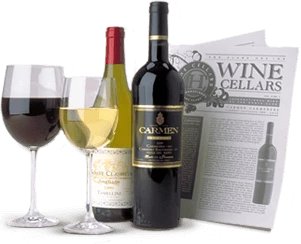 Enjoy Limited Production Estate
Bottled Wines
Discover limited production estate bottled wines such as Vergenoegd's internationally
acclaimed 2005 Cabernet Sauvignon, imported exclusively for our members.
DISCOVER OUR FOUR CLUBS