Donati's 2011 Ezio Cabernet Sauvignon reigns as Donati's flagship Bordeaux blend. Named for Ezio Donati, the first Donati born in the New World, this 75% Cabernet Sauvignon 25% Merlot blend hails from Matt Donati's most prized grapes and selected barrels of Cabernet Sauvignon and Merlot. It could easily be mistaken for Classified Bordeaux, which will positively delight those looking for complexity, flavor and balance in their Cabernet. Tasted against some very fine but decidedly pricier Napa Valley Cabernets, the 2011 Ezio stole the show. Ezio's complex aromas of black cherry, currant and earth (not unlike the tantalizing scents one encounters in fine St. Julien Bordeaux), dazzle the nose. Happily, the wine's expansive bouquet plays out again in the mouth as the 2011 Ezio delivers a big mouthful of black cherry, currant and well-integrated earth tones bolstered by hints of dark chocolate and roasted coffee infused with a subtle shake of pepper and spice. There is a whole lot going on in this wine, and it's all good. To complete the picture, Ezio's dry silky tannins, again reminiscent of Classified Bordeaux, beautifully frame the wine's elegant but full fruit flavors, giving the 2011 Ezio complexity and the ability to age for years to come. Enjoy this rare Cabernet Sauvignon (only 559 cases produced) now and for the rest of the decade. Afford the 2011 Ezio Cabernet Sauvignon an hour or more to breathe and you will be handsomely rewarded. Donati practices sustainable agriculture and does not fine or filter the Ezio Cabernet Sauvignon, so natural sediment may occur. Decant and enjoy!
Donati's 2011 Ezio Cabernet Sauvignon can hold court at any noble table. The wine's bold flavors and tailored frame lend themselves admirably to the splendors of the finest table. Fine cuts of beef and lamb, exquisite cheeses, complex sauces, mushrooms, roasted root vegetables and game all provide natural companions to the stylish flavor-packed 2011 Ezio Cabernet Sauvignon. Rack of Lamb infused with fresh mint and sage earns high marks to accompany the 2011 Ezio as does Herb Encrusted Beef Tenderloin served with roasted root vegetables, braised onions and a potato soufflé. Grilled Ostrich or Venison with Wild Mushrooms in a Mustard Shallot Sauce earns high marks, too. Carpaccio of Bison, served on a bed of organic greens with shaved Parmigiano Reggiano, offers another tasty accompaniment. Duck breast and spit roasted hens offer more delicious accompaniments to Donati's flagship wine. Grilled Figs with Honey and Balsamic Glaze served warm with mild goat cheese and prosciutto makes for a nice pairing as well, though one need not worry about what to serve with the 2011 Ezio. Ezio complements simple morsels as well as grand cuisine. Enjoy!
If we were to survey American wine drinkers as to which appellations (or more precisely which American Viticultural Areas – AVA) are foremost in their minds, Napa and Sonoma would almost certainly top the survey list. And when it comes to Cabernet Sauvignon, Napa would be front and center. However, California remains a treasure trove of family vineyards and wineries with exceptional quality wines from less recognizable place names. In fact, increasingly, the best quality and value in California wine can be found outside of Northern California's Big Two. One especially distinguished family winery is Donati Family Vineyard, located in Paicines, California, not far from Monterey Bay. Begun in 1998 by Ron Donati with the notion of growing grapes with his son Matt, Donati Family Vineyard has moved quickly from growing superior quality grapes to making exceptional award winning wines.
The Donati Family Estate Vineyard site enjoys a variety of soils from limestone to decomposed granite to clay loam – all with access to the cooling ocean breezes of Monterey Bay. Like much of southern Napa and Sonoma counties, Paicines enjoys long warm days followed by cool nights. Donati specializes in producing Bordeaux varietals, though their vineyard is planted to many select clones of Chardonnay, Cabernet Sauvignon, Merlot, Cabernet Franc, Malbec, Syrah, Pinot Grigio, Pinot Blanc and Petit Verdot. Vine selection plays a critical role in the quality of wine at this family venture. Each vine is carefully screened for viral diseases prior to planting to ensure that the future of the vineyard is secure and that vine health and fruit integrity remain intact from planting through harvest.
The age old adage, "great wine is made in the vineyard" certainly applies to the wines made at Donati. Matt Donati practices a hands-on year-round vineyard management approach to create an environment where the grapes themselves can be left alone to thrive during ripening. Regular, judicious thinning of shoots during the growing season, attention to every detail of vine canopy training and light management within the fruiting zone, pre and post-veraison green fruit removal, along with scientific analysis of soil and leaf moisture throughout the growing season ensure that every aspect of the Donati Estate viticultural program contributes to the success of the vintage. Primary efforts are directed at sustainable farming, allowing for natural predators to reduce or eliminate the use of pesticides and provide a clean, hospitable environment for vine growth and fruit maturation. Of course, this path of action requires extreme diligence in scouting for possible problems. But, with active personnel regularly hand-tending each and every vine, the Donati family is making a significant difference in the local environment as well as in the ultimate quality of their grapes and the resulting wines that bear the Donati name.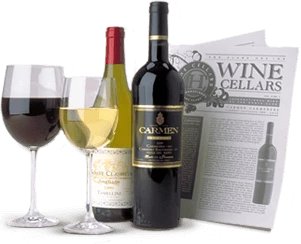 Enjoy Limited Production Estate
Bottled Wines
Discover limited production estate bottled wines such as Vergenoegd's internationally
acclaimed 2005 Cabernet Sauvignon, imported exclusively for our members.
DISCOVER OUR FOUR CLUBS