Donati's 2019 Sisters Forever Central Coast Chardonnay is where California's Central Coast meets the gentle golden slopes of Burgundy. Light, dry, and eminently enjoyable, the 2019 Donati Sisters Forever Chardonnay reminds us of the beautiful, fresh, un-oaked Chardonnay wines of Chablis (authentic Chablis from France) and the delightfully sun-kissed Mâcon-Villages offerings, which highlight the elegant varietal character of Chardonnay, devoid of the smoke and mirrors wrought by butter and oak. The wine's crisp mountain apple, pear, and citrus flavors make the 2019 Donati Sisters Forever Chardonnay a pleasure to drink with abandon. A delightful mineral-driven mid-palate and pleasantly dry finish also make Donati's 2019 Sisters Forever Chardonnay the ideal wine to drink with family and friends any time of day. Serve around 40°-45° F. Anticipated maturity: 2021-2022. Enjoy!
Donati's 2019 Sisters Forever Central Coast Chardonnay provides the perfect aperitif. It also performs well with crudités, chicken, fish, shellfish, and spicy Asian dishes. Thai chicken with basil, Vietnamese noodles, and fresh spring rolls filled with plenty of fennel and shrimp make splendid companions to the 2019 Donati Sisters Forever Chardonnay. A mélange of organic greens tossed in a Champagne vinaigrette and topped with caramelized walnuts, poached pears, tomatoes, and crushed blue cheese provides another tasty companion. Jerk chicken, mildly spiced curries, marinated pork tenderloins served with fruit chutneys, and crispy cod fritters provide other outstanding accompaniments. Soft and semi-hard cheeses also provide good companions to Donati's 2019 Sisters Forever Chardonnay as they accentuate the wine's smooth winsome personality. Enjoy Donati's 2019 Sisters Forever Chardonnay with family, friends, and anyone in need of refreshment from life's weather-stained cares. Bon Appétit!
If we were to survey American wine drinkers as to which appellations (or more precisely which American Viticultural Areas - AVA) are foremost in their minds, Napa and Sonoma would almost certainly top the survey list. And when it comes to Chardonnay, Sonoma would be front and center. However, California remains a treasure trove of family vineyards and wineries with exceptional quality wines from less recognizable place names. In fact, increasingly the best quality and value in California wine can be found outside of Northern California's Big Two. One especially distinguished family winery is Donati Family Vineyard, located in Templeton on the Central Coast of California, 27 miles inland from Monterey Bay. Begun in 1998 by Ron Donati with the notion of growing grapes with his son Matt, Donati Family Vineyard has moved quickly from growing superior quality grapes to making exceptional award winning wines.
The Donati Family Vineyard site enjoys a variety of soils from limestone to decomposed granite to clay loam. Like much of southern Napa and Sonoma counties, California's Central Coast enjoys long warm days followed by cool nights. Donati specializes in producing Bordeaux varietals, though their vineyard is planted to many select clones of Chardonnay, too, and the 2019 Donati Sisters Forever Central Coast Un-Oaked Chardonnay (this month's feature) must be one of California's best kept secrets. Vine selection plays a critical role in the quality of wine at this family venture. Each vine is carefully screened for viral diseases prior to planting to ensure that the future of the vineyard is secure and that vine health and fruit integrity remain intact from planting through harvest.
The age old adage, "great wine is made in the vineyard" certainly applies to the wines made at Donati. Matt Donati practices a hands-on year-round vineyard management approach to create an environment where the grapes themselves can be left alone to thrive during ripening. Regular, judicious thinning of shoots during the growing season, attention to every detail of vine canopy training and light management within the fruiting zone, pre and post-veraison green fruit removal, along with scientific analysis of soil and leaf moisture throughout the growing season ensure that every aspect of the Donati viticultural program contributes to the success of the vintage. Primary efforts are directed at sustainable farming, allowing for natural predators to reduce or eliminate the use of pesticides and provide a clean, hospitable environment for vine growth and fruit maturation. Of course, this path of action requires extreme diligence in scouting for possible problems. But, with active personnel regularly hand-tending each and every vine, the Donati family is making a significant difference in the local environment as well as in the ultimate quality of their grapes and the resulting wines that bear the Donati name.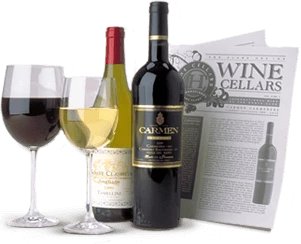 Enjoy Limited Production Estate
Bottled Wines
Discover limited production estate bottled wines such as Vergenoegd's internationally
acclaimed 2005 Cabernet Sauvignon, imported exclusively for our members.
DISCOVER OUR FOUR CLUBS