A deep ruby robe, with a glint of purple, imbue the 2004 Dominio de Tares Baltos Mencia Bierzo with a mystical air, not unlike the land of Bierzo itself. However, what is even more intriguing than the color is the set of lovely aromas and flavors that emanate so hospitably from this delightful wine. Initially, the round cherry and cassis flavors that typify the Mencia variety are all in evidence. In addition, the wine's pretty fruit is married to the subtle spice and mineral tones that stem from the unique terroir of Bierzo, a high, enchanted land ringed by mountains and influenced by the nearby Atlantic Ocean. The 2004 Domino de Tares Baltos is produced entirely from old vines of the ancient Mencia variety. Consequently, it is a full-bodied wine that adeptly marries deep fruit flavors and subtle earth tones to an exceedingly round seamless structure. A careful bunch selection and six month stay in oak barrels no doubt account for the wine's smooth finish, too, and add considerably to the wine's overall suave, distinctly Spanish taste. We suggest giving the mouthwatering 2004 Dominio de Tares Baltos Mencia a little aeration before serving it between cellar and cool room temperature (55°-66°F).
The 2004 Dominio de Tares Baltos Mencia provides an exemplary partner for a host of simple and sophisticated dishes. The wine's full flavor and seamless structure make it easy to pair with nearly all types of meats. The 2004 Baltos is at home with a juicy steak as it is with grilled chicken. Put that chicken over a bed of organic greens that are laced with black and green Spanish olives, red onion, and garlic sautéed green beans, and you have a simple feast with which to accompany the flavorful 2004 Dominio de Tares Baltos. A chicken and shrimp paella provides another lovely accompaniment. In fact almost any rice and bean dish, even spicy black bean versions that are served with Cuban pork, won't overwhelm this unique wine. So whether you are planning a formal dinner party or an impromptu get together, the 2004 Baltos is ready to please. Enjoy!
All of a sudden Bierzo is Spain's hottest wine region, and Dominio de Tares is its brightest star. Bierzo is situated in the extreme northwest of Castilla in the province of Leon, which lies on the frontier of Galicia and nearby Portugal. In other words, El Bierzo is deep in the middle of nowhere, but in the case of Bierzo "nowhere" harbors one of Europe's most interesting grape varietals and its land comprises one of the finest terroir for grapes in all Europe. This isolated, wildly beautiful region sits on the bed of an ancient lake, which the Romans drained in their quest for the area's mineral resources – namely gold. Today the Bierzo produces liquid gold in the form Mencia, an indigenous red gape variety that is presently taking Spain and the rest of the wine drinking world by storm. The Mencia varietal is considered by enologists to be the direct ancestor and precursor of modern Cabernet Franc. This vine hails from the plantings of the earliest Roman settlers in Bierzo, who planted this variety two thousand years ago in what remains one of Europe's most isolated wine regions. Certainly, it is the very isolation of the Bierzo that has allowed Mencia to survive and even thrive. Moreover, the average age of the vines in the Bierzo is quite old, which lends itself to the production of high quality wines. Consequently, the wonderfully fruity, spicy, and wholly intriguing Mencia has recently been discovered or rather re-discovered by modern legions of wine drinkers. They are no doubt intrigued by this unique viticultural entity we call Mencia, whose attributes are consummate with both modern Merlot and Cabernet but with a softer, more exotic tone. It is Mencia's re-birth and the contemporary emphasis on quality versus quantity in Bierzo that led to the formation of Dominio de Tares. Dominio de Tares was founded in 2000 by an enthusiastic group of local investors, who are leading the quality resurgence in Bierzo, following years of obscurity and benign neglect in the region. Given Bierzo's unique climate, a mixture of Continental and Atlantic influences, and the region's mineral rich soil, all that was needed to make world class wine from the region's plethora of old vine Mencia was a world class winemaker. To the credit of Dominio de Tares, they retained Amancio Fernandez, a Bierzo native and one of Spain's brightest young enologists, to transform Bierzo's old vine Mencia into "liquid gold."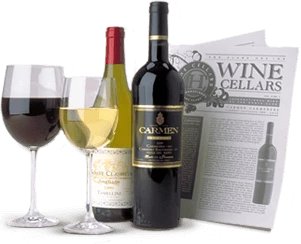 Enjoy Limited Production Estate
Bottled Wines
Discover limited production estate bottled wines such as Vergenoegd's internationally
acclaimed 2005 Cabernet Sauvignon, imported exclusively for our members.
DISCOVER OUR FOUR CLUBS