Without any ado or hyperbole, the 2004 Domino de Eguren Codice Vino de la Tierra de Castilla is plain and simple one very fine drinking wine. From Codice's deeply hued robe to its long, satisfying finish, it could lure a sailor from the sea or even more impressive, turn a consummate Francophile or New World aficionado of all that is California into a stalwart admirer of Spanish wines and the 2004 Codice in particular. As one panel member so humbly confessed: "I wish I had a cask of this wine with a spigot on it; that way I wouldn't ever worry about running out." What more can we say? That the 2004 Codice is one crowd pleasing wine that offers a captivating bouquet of fresh summer strawberries and dark cherries, which have been wrapped with subtle spices and soft, seductive, vanilla tones. On the palate, the wine unfolds gracefully, almost majestically, before culminating in a long, lovely, satisfying finish that is full of soft, succulent tannins. Enjoy this excellent Tempranillo on the cool side (60°-66° F), with or without aeration. We found the 2004 Codice ready to go just minutes after the cork exited the bottle . . . but as you like it.
Although wine and food are long time companions, wine as charming and generous as the 2004 Dominio de Eguren Codice certainly doesn't need a cohort to shine. However, we must confess that this wine begs for all kinds of foods, as it can turn simple, well-prepared meals into veritable feasts. In fact, a small plate of French, Italian and Spanish cheeses and a few plain crackers in the company of the 2004 Codice constitutes a thoroughly satisfying gustatory delight. The exuberant fruit and soft vanilla finish of the Codice brings out the very best in all kinds of cheeses, including piquant Italian Reggiano and sweet Spanish Manchego. In addition, pasta, pizza, tapas, and most meats all complement the Codice as well. No need to fuss with this beauty; almost any fresh, carefully prepared casserole, stew, or Mediterranean dish will do. In fact, some nicely cured green and black olives with the Codice would suffice and could almost substitute for a summer sojourn in Spain. Enjoy!
Dominio de Eguren is a family enterprise that specializes in exciting wines from Spain's most renowned varietal: Tempranillo. Eguren's Codice comes from an extraordinary, high altitude site (more than 2,700 feet above sea level) that the family cultivates in ancient Castilla. The Egurens also fashion a less expensive but noteworthy red called Protocolo from this same area of Castilla, which spills into La Mancha. In addition, the Egurens are the winemakers and the success behind the great Sierra Cantabria Rioja winery that has in recent years received enormous praise and critical acclaim from all sectors. Thanks to the Eguren family and a number of other talented, like-minded individuals, the Golden Age of Spanish wine has just begun. In Spain, "El Siglo d'Oro" (the Golden Century) is the term used to describe the Spanish Renaissance, the great early 17th century re-birth of art, architecture, and literature, which saw Spain come to the forefront of European arts and letters and reach the pinnacle of its cultural and political power. However, right here and right now, in the beginning of the 21st century, Spain is in the midst of another renaissance. This time, the Spanish Renaissance encompasses a total transformation of the world's third largest producer of wine, leading Spain from its once comfortable position of viticultural anachronism to its present status as the most exciting wine producing nation on earth. Today, there are more interesting, individualistic, and affordable wines coming out of Spain than anywhere else on the planet. Dominio de Eguren's Codice is just one example of the remarkable quality and style of wine that this second "Golden Age" has been able to advance in Spain. We trust you will enjoy Codice and will look forward to drinking many of the other fine wines from Spain that Jorge Ordonez has to offer. Jorge Ordonez: The Master from Malaga Jorge Ordonez came to the United States in 1987. When he arrived in this country he spoke no English, but he had a dream. Today, he is one of the most respected importers in the country and his unique, very special portfolio of Spanish wines known as The Fine Estates of Spain have taken North America by storm. Moreover, the name Jorge Ordonez is now synonymous with the renaissance in Spanish viticulture and as close to a guarantee in the world of wine that what rests inside a bottle that bears his name is one of the tastiest and most affordable wine treasures on earth. Ordonez's key to success has been his unfailing dedication to quality over quantity, coupled with a patient, systematic approach to opening and building each and every individual market. Ordonez leaves no part of the viticultural puzzle to chance. He works personally with each and every producer of the wines he offers for sale and he is meticulous in his selection as well as his distribution. In fact, each and every bottle of wine that bears the name of Jorge Ordonez leaves the winery under ideal, temperature controlled conditions and is delivered to his North American clients under similar circumstances. Nothing is done haphazard or left to chance. Is there any wonder then that the Spanish Renaissance in wine corresponds to Ordonez's quest to bring The Fine Estates of Spain to North America? Ordonez's accomplishments are no mean feats. The boy from Malaga has done well and made us all proud. He has justly earned the title "The Master of Malaga."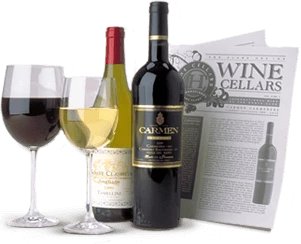 Enjoy Limited Production Estate
Bottled Wines
Discover limited production estate bottled wines such as Vergenoegd's internationally
acclaimed 2005 Cabernet Sauvignon, imported exclusively for our members.
DISCOVER OUR FOUR CLUBS