The 2013 Galena Priorat boasts an intense dark cherry color that expresses the extroverted nature of the land. The wine's remarkable aromatic allure offers a wealth of aromatic complexity in the form of black fruits, cranberry, exotic spices and a refreshing minerality. In the mouth, one tastes and feels the essence of the land, too; deep down fruit flavors mingle with a vibrant minerality imbued with touches of spice and wild herb. Powerful, yet supremely balanced, the 2013 Galena Priorat drinks remarkably well now for a wine that will evolve favorably in the bottle for more than a decade. Not surprisingly, Wine Spectator awarded the 2013 Galena 92 Points. For optimal enjoyment we suggest decanting the youthful, full-bodied 2013 Galena Priorat at least an hour before serving at cool room temperature (59°-64° F).
A complex, sophisticated wine such as the 2013 Galena Priorat warrants accompaniments befitting its world-class stature. The finest cuts of meat, complex sauces, or simple dishes made from the very freshest ingredients are the hallmark of great food and wine pairings and are most befitting of the company of Galena's Priorat. Roast Leg of Spring Lamb crusted with garlic, olives and wild herbs; Chateaubriand with herb butter and garlic mashed potatoes; or Loin Veal Chops, served with shiitake mushrooms and herb rice pilaf constitute just a few of our favorite accompaniments to great Priorat. For even heartier eaters, why not consider a 16 ounce Angus Ribeye topped with blue cheese butter and fried leeks? Pan Roasted Duck Breast or Roasted Quail, stuffed with apple-smoked bacon and mushrooms and served over a corn-based risotto, makes for another tasty suggestion. Grilled vegetables and spicy eggplant or ratatouilles provide more worthy companions to Galena's layered, sophisticated Priorat. Enjoy!
The Galena winery, hidden away, quiet and discreet, in the ruggedly beautiful Priorat, is part of Domini de la Cartoixa. Galena is the life-long work of an entire family and the culmination of the supreme efforts of the Pérez and Dalmaus families to create world-class Priorat. The name Galena derives from the silver metallic luster of the vineyard's subsoil, so it should come as no surprise that Galena's Priorats shine in all respects.
Galena practices strict organic viticulture and sustainable winemaking to honor the land and those who have for centuries lovingly tended it. The vineyards are cultivated without systemic herbicides, pesticides or fungicides and no synthetic fertilizers are ever used. The lands on which Galena's vines are located originally belonged to the Carthusian monks from the Scala Dei Monastery, which continues to act as a source of inspiration for the Pérez and Dalmaus families as they see this land as hallowed ground. The estate's 27 acres are surrounded by forests and wild natural land in the heart of Priorat. In this pristine setting, the estate cultivates five organic grape varieties (Red Grenache, Cabernet Sauvignon, Merlot, Carignan, and Syrah), which find their way into Galena's various Priorats. Clos Galena and Galena (this month's feature) constitute the primary focus of the winery, namely, the production of world-class, age worthy Priorats of the highest caliber that are made with minimal intervention. Galena also fashions Formiga de Vellut, a delicious lighter organic Priorat meant for earlier consumption.
Although many wine drinkers have become acquainted with the fine wines of Spain and the names Rioja and Ribera del Duero are now familiar entities in wine stores and restaurants, Catalonia's Priorat remains relatively unknown except to serious, often well-heeled wine lovers. A savagely beautiful, sparsely populated comarca (county) to the southwest of Barcelona, Priorat (pree-ohr-aht) remains off the beaten tourist track. However, all this may be about to change as Priorat is currently being hailed as "the new Tuscany" and "the source of some of the world's greatest wines." By adventurous travelers and savvy wine critics alike, Priorat is touted as the next great travel destination and a must-purchase wine.
Priorat is the birthplace of Antoni Gaudi, the celebrated Catalan architect whose hand is imbedded in the skyline of Barcelona. Priorat displays a rugged, breathtaking landscape of high mountains and sheep-studded pastures in which every village and hamlet appears steeped in history. Here, the first Carthusian Monastery in Spain was founded in the 12th century. And during the 20th century, one of the greatest and most decisive battles of the Spanish Civil War took place in Priorat along the banks of the Ebro River. However, what sets Priorat above other, more commercialized wine producing regions is its expanse of ancient, un-grafted vines of Garnacha (Grenache) and Cariñena (Carignan, also known locally as Samsó) to which varying amounts of Cabernet Sauvignon, Syrah, and Merlot may be added. The region's mineral rich soil, most notably the black llicorella that characterizes Priorat, adds complexity and depth to the area's wines. What results are lush, full-bodied, natural tasting wines of considerable distinction. Moreover, the best wines of Priorat age remarkably well and can compete with the finest wines made anywhere in the world, which is one reason Priorat is only one of two Spanish appellations awarded Denominación de Origen Calificada (D.O.C.) status; Rioja is the other. In Spain, D.O.C. is reserved solely for wine regions that have demonstrated over time to produce wines of the highest quality.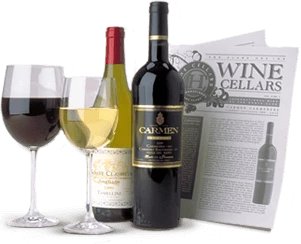 Enjoy Limited Production Estate
Bottled Wines
Discover limited production estate bottled wines such as Vergenoegd's internationally
acclaimed 2005 Cabernet Sauvignon, imported exclusively for our members.
DISCOVER OUR FOUR CLUBS