True to form, Clerico's 2007 Trevigne Barbera sports a super saturated robe that comes across more like the color of young Cabernet or Syrah than Barbera. However, color is only skin deep. What comes out of this polished offering is what really counts, and there is plenty to count in this powerful, complex wine. Deep down, almost intense scents of black currant, dark cherry, bark, cinnamon, and violet flow freely from the glass to gladden the nose. The wine's exemplary olfactory continues in the mouth when a wealth of smooth polished flavors well up in the mid palate to enliven the tongue and satiate the senses. Although laden with the savory flavors of red and black fruits, chocolate, tobacco, and smooth-textured oak tones, the 2007 Trevigne Barbera also reveals a sophisticated elegant side that reminds us of fine young Vosne-Romanée. Born in the outstanding 2007 vintage, this Trevigne Barbera has many long years of life ahead. It can be enjoyed now with ample aeration or cellared for five years or more for optimum enjoyment!
Domenico Clerico's 2007 Trevigne Barbera with its wealth of complex, highly nuanced flavors offers the perfect foil to the finest Piedmontese cuisine. Certainly, the most tender, flavorful cuts of veal paired with Clerico's artful Barbera provide a gustatory experience not soon forgotten. Roasted veal shanks in their natural juices; veal cutlets pounded and gently sautéed to perfection in butter and herbs; or a stuffed veal chop surely gets our nod to showcase Clerico's Trevigne Barbera, but why stop there? Traditional Piedmontese cooking with its rich flavors and savory sauces provides a wealth of hedonistic pleasure. For starters, risottos made with authentic Arborio rice constitute the basis for many a memorable meal. We are especially fond of a Piedmontese risotto that calls for a whole chicken, mushrooms, and/or truffles, which are dashed with a first rate balsamic vinegar from nearby Modena and then cooked at a snail's pace with plenty of natural stock. In the case of the Trevigne Barbera, roast loin of pork, stuffed with a bread, onion, and herb farce provides another savory treat. Clerico's polished robust Barbera also does justice to marinated skirt steaks, charcoal grilled sirloins, and loin lamb chops. In addition, the Trevigne Barbera offers one of the finest accompaniments to many of Italy's artisanal cheeses, most notably Parmesan and Provolone. To finish a meal with a glass of the 2007 Trevigne Barbera and at least one of these hard cheeses may well furnish the ultimate culmination to a special meal. Buon Appetito!
Domenico Clerico exudes both passion and panache. He loves the wines he makes, the land he tends, and the increasing number of pilgrims who beat a path to his cellar door. And in addition to being one of the most accomplished and articulate winemakers we have had the pleasure to meet, Domenico Clerico also qualifies as one of the most generous and gregarious of Piedmontese producers. And that says a lot in Italy's Piedmont – a land renowned the world over for its cuisine and gastronomic delights of gargantuan proportion. An invitation to Domenico Clerico's estate in Monforte d'Alba is also as close to a guarantee of good living as one can hope to conjure. Not only does one drink with Domenico Clerico some of the finest wines produced anywhere in the world, the tender morsels Domenico serves and often raises, too, with pride and good cheer will make even the most ascetic of souls beg for more. One visit to the winery not long ago featured roast veal among the multitude of courses: it easily qualifies as the most flavorful, succulent meat ever raised. One of the accomplished chefs dining with us that evening remarked: "In my 60 plus years I've never tasted anything that could compare to this. The word extraordinary hardly does this veal justice." No one else uttered a word, simply because their mouths were too full to sputter amen! Both tasty and tender this delectable veal was raised by no other than Domenico himself. Yet, as superb as the meals are at Domenico Clerico's table, the estate's extraordinary wines constitute the main attraction. Each of Clerico's oenological treasures emanates from one of his own vineyards in Monforte d'Alba, arguably the greatest township in Piedmont and the consummate source of the world's finest Barolo and Barbera. Of the six Barolo vineyards in Monforte acknowledged to be "grand cru," Clerico possesses vineyards in four of these crus: Ginestra, Pajana, Bussia, and Mosconi. Furthermore, his Trevigne Barbera has rightly earned the reputation as one of Piedmont's illustrious treasures. In the case of both his Barolo and Barbera, Clerico's wines are archetypical. They are singularly unique in their color, power, depth of flavor, and ultimate longevity. They consistently garner the highest recognition from the most esteemed critics and wine publications. Moreover, Domenico Clerico's wines are among the most sought after by connoisseurs and restaurants, and for good reason. They are handcrafted expressions of the man himself.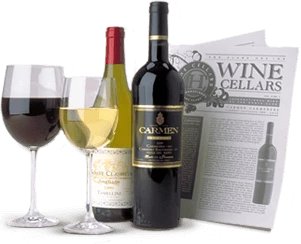 Enjoy Limited Production Estate
Bottled Wines
Discover limited production estate bottled wines such as Vergenoegd's internationally
acclaimed 2005 Cabernet Sauvignon, imported exclusively for our members.
DISCOVER OUR FOUR CLUBS