Born of the splendid 2014 vintage from 50-80 year old vines, the 2014 Domaine Renaud Cuvée Vieilles Vignes Pouilly-Fuissé epitomizes the elegance and charm for which Pouilly-Fuissé is renowned. Sporting an eye-catching, sun-splashed yellow robe, Reynaud's Cuvée Vieilles Vignes Pouilly-Fuissé dazzles the eye even before it offers up its distinctive aroma of acacia flowers, ripe yellow peaches and plums, and pain grillé infused with clean refreshing mineral tones. On the palate, the wine's ample fruit flavors and soft buttery notes are balanced by crisp citrus flavors and a gentle minerality that lingers in the mouth. Breed, charm, and elegance are some of the words our tasting panel used to describe Domaine Reynaud's quintessential 2014 Cuvée Vieilles Vignes Pouilly-Fuissé. Although still in its infancy, Domaine Reynaud's 2014 Cuvée Vieilles Vignes Pouilly-Fuissé already offers exceptional drinking pleasure. For optimal enjoyment we suggest moderate chilling (40°-45° F) and a few minutes of aeration in the glass before indulging. Anticipated Maturity: 2016-2019.
Pouilly-Fuissé provides the ideal aperitif as well as a splendid entrée to any party or event. Always the crowd pleaser Pouilly-Fuissé makes friends easily, with or without food to accompany it. The 2014 Domaine Reynaud Cuvée Vieilles Vignes Pouilly-Fuissé is an especially gregarious example of what the Mâconnais's most prestigious appellation does best. To the point, Reynaud's Cuvée Vieilles Vignes Pouilly-Fuissé definitely knows how to work a room. Nonetheless, our preference runs to pairing this superb white wine with fish, shellfish, and light terrines. Almost any fish dish prepared with a light broth or cream sauce will be enhanced by this wine's bright, layered flavors. Cod, grouper, halibut, salmon, and trout top our list of fish to serve with Pascal and Mireille's award winning Pouilly-Fuissé. Crab, lobster, scallops, and prawns also offer especially gratifying accompaniments, particularly when served with drawn butter or a light aioli. A steaming plate of mussels, sautéed in a saffron cream sauce, provides another perennial treat. For those who prefer land-based sustenance, salads, pastas (with cream based sauces), chicken, pork, and flavorful cow's milk cheeses all provide splendid companionship, too, to Domaine Reynaud's 2014 Cuvée Vieilles Vignes Pouilly-Fuissé. Bon appétit!
The award winning family team of Pascal and Mireille Reynaud founded and run this impressive Pouilly-Fuissé domain. Begun in 1986 when Pascal took over the cultivation of 5 hectares (a little more than 12 acres) of Pouilly-Fuissé vines from the Delacour/ Balladur family, which he subsequently purchased, Domaine Reynaud has grown to more than 60 acres in the villages of Pouilly, Solutré and nearby Davaye. Pascal and Mireille are joined by their son Guillaume and daughter Amandine in tending the many small parcels of vines that make up this superb property.
Sustainable viticulture is the order of the day at Domaine Reynaud: natural grass ground cover is planted between the rows of vines to enrich the soil, and no insecticides are employed. The number of grape clusters and overall grape yields are strictly limited to assure proper ripeness, body, and balance. And within the winery, the Reynauds work predominantly with stainless steel and large oak foudres in order to maintain the brightness and freshness of the fruit and preserve an authentic expression of terroir in each of the domain's wines, whether they are from Pouilly-Fuissé, Mâcon-Solutré, or nearby St. Véran. The estate's Cuvée Vieilles Vignes Pouilly-Fuissé is Domaine Reynaud's flagship offering, routinely garnering high critical acclaim. The 2014 Domaine Reynaud Cuvée Vieilles Vignes Pouilly-Fuissé (this month's feature) was awarded 90 Points by Wine Spectator and Domaine Reynaud's Cuvée Vieilles Vignes Pouilly-Fuissé has also been heralded by the New York Times as one of the finest wines of the appellation.
Pouilly-Fuissé is the premier appellation of southern Burgundy as well as one of Burgundy's finest white wines. Pouilly-Fuissé is located in the heart of the Mâconnais, an idyllic land renowned for its massif limestone bluffs and chalky alkaline soil that provides the ideal terroir for the cultivation of Chardonnay. This appellation comprises just four villages or communes (Fuissé, Solutré-Pouilly, Chaintré, and Vergisson), which stretch out over a series of steep hills just to the north of the ten Cru villages of Beaujolais. All the wine of this renowned commune is white, emanating exclusively from Chardonnay vines.
In Pouilly-Fuissé, the tradition is to give fully ripened Chardonnay grapes a gentle press, so that the resulting wine expresses the ultimate quality of the grape and the soil, instead of sculpturing the wine into another entity by the extensive use of new oak. Consequently, most Pouilly-Fuissé wines still spend little or no time in small, new oak barrels, so as not to obscure the delicacy, elegance, and subtle charm for which the wines of Pouilly-Fuissé are justly famous.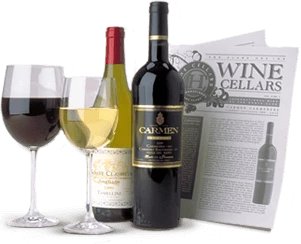 Enjoy Limited Production Estate
Bottled Wines
Discover limited production estate bottled wines such as Vergenoegd's internationally
acclaimed 2005 Cabernet Sauvignon, imported exclusively for our members.
DISCOVER OUR FOUR CLUBS