France's Southern Rhône Valley has in recent years enjoyed a bevy of fine vintages, but none strikes us better in Gigondas than 2010, and that sentiment bears fruit in Domaine Raspail-Ay's outstanding 2010 Gigondas. Ay has once again fashioned a polished, powerful, complex, and potentially long-lived Gigondas that is both richly fruity and highly structured. Like Ay's highly acclaimed 2007 Gigondas, Dominique's 2010 Gigondas is a wine that can be drunk now with pleasure or cellared for up to ten years. It is a deeply colored wine that offers a haunting bouquet of black cherry and berry fruits, herbes de Provence, violets, pepper, and spice. In the mouth, the amply structured 2010 Domaine Raspail-Ay Gigondas explodes with rich kirsch like flavors reminiscent of a heady liqueur, wild Provencal herbs, and hints of black pepper – all of which are backed by ripe tannins that frame the wine's striking flavor profile. The wine's fine grained tannins provide great counterpoint to the substantial fruit in the wine and bode well for this Gigondas' further development. And predictably, this young Raspail-Ay Gigondas finishes with authority, brandishing plenty of power as well as flavor as it makes its long, memorable curtain call. Give this outstanding Gigondas at least thirty minutes of aeration, and enjoy it at cool room temperature (60°-65° F). A Votre Santé!
Domaine Raspail-Ay's superb 2010 Gigondas provides the ideal accompaniment to all kinds of grilled meats, especially lamb and chicken flavored with rosemary, thyme, garlic and black pepper. Such pairings of food and wine evoke the fondest of memories, and with such a glorious combination of food and wine, we guarantee you will soon be picturing the rocky terrain and aromatic "garrigue" of the Southern Rhône, inhaling the scents of rosemary, lavender, and wild flowers that infuse the summer air, and feeling the refreshing shade of a hot summer's day – Provence in a glass. What more can a person ask of a memory or a wine? If you can't make a trip to the South of France, a glass of Raspail-Ay Gigondas is most assuredly the next best thing. And let's not forget the many other wonderful Provencal specialties that shine in the company of Dominique Ay's classic 2010 Gigondas: lobster ravioli, roast quail, and thick sausage and bean laden cassoulets. In addition, traditional Italian favorites such as lasagna, risotto with sausage and wild herbs, and rich pasta dishes made with fresh tomato sauce, garlic, and olive oil, marry well with Dominique Ay's superb Gigondas. And if the previous pairings don't tantalize the palate, why not try Dominique Ay's Gigondas with tortillas, empanadas, or even hot, crispy corn chips accompanied by mango salsa. The heat in the food won't overpower the wine. But whatever you choose, open a bottle and let the good times roll. Enjoy!
We first met Dominique Ay at his humble domain on a sun-drenched Provencal day more than twenty years ago, and we have been a fan of his brilliant Gigondas ever since. It is easy to like Dominique Ay, the affable but serious minded proprietor of Domaine Raspail-Ay, and just as easy to be charmed by the warm, seductive Gigondas he coaxes from his 40 acre domain. Located on the terraces of the rugged Gigondas appellation, the last outcropping of the mighty alpine chain with the imposing rock formation of the Dentelles de Montmirail looming as a backdrop, this classic southern Rhône estate produces each vintage no more than 8,000 cases of a single wine – a superb Gigondas. Although rich and full-flavored, Dominique Ay's Gigondas is made in a more sophisticated and fruit driven style of wine than what many of his neighbors favor, and it is better for it.
The Gigondas of Domaine Raspail-Ay is an artful blend of 80% Grenache, 15% Syrah and 5% Mourvèdre that is always ripe, generous, and rich on the palate. One can always count on this estate to fashion a wine with a mouthful of ripe, dark fruits – black cherries, cassis, and raspberries – with plenty of tasty notes of licorice and black pepper playing in the background. Curiously, the tannins of this domain's ethereal Gigondas always appear ripe and supple, too, mellowed no doubt by a hiatus of 20 months or more in large, ancient oak foudres. In addition, Dominique Ay ages his Gigondas several more months in old demi-muids in his refreshingly cool chais. The result is a wine that exhibits ripe, dark fruit aromas and a supple rich texture that belie its 14% plus alcohol content. Miraculously, the fruit in the wine lasts all the way from beginning to end, before exploding in a long, ripe, satisfying finish.
Gigondas, along with the neighboring Provencal villages of Cairanne, Vacqueyras and Châteauneuf-du-Pape, produces the finest red wines of the southern Rhône. Relying upon old vines of Grenache, married to lesser quantities of Syrah, Mourvèdre, and Cinsault, Gigondas turns out a startling array of big, beautiful, tasty reds from nearly 2,500 acres of vineyards. Spanning a combination of soils, from the gravelly clay of the flat plains at the base of the craggy Dentelles de Montmirail to the sheer bedrock of the Dentelles themselves, Gigondas is testament to the belief that in this enchanted corner of Provence known as the Vaucluse one can even extract blood from stones in the form of a vigorous, deeply colored red wine.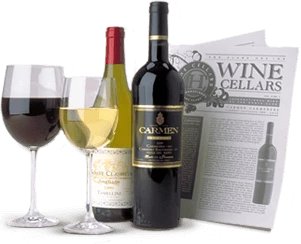 Enjoy Limited Production Estate
Bottled Wines
Discover limited production estate bottled wines such as Vergenoegd's internationally
acclaimed 2005 Cabernet Sauvignon, imported exclusively for our members.
DISCOVER OUR FOUR CLUBS