The 2003 Domaine Raspail-Ay Gigondas is one sexy, seductive wine, owing its allure to a combination of expert winemaking and the searing summer heat of 2003. Gigondas is, perhaps, best known for its rustic charm and unfailing ability to ward off the chill of a cold winter night . . . and Dominique's Ay's heaven scented, full flavored, sensual 2003 Gigondas can more than fill that bill; it reflects back every bit of the glorious warmth of a Provencal summer that is so thankfully captured in every glass. It may be cold outside, but it won't be inside, not as long as this fine Gigondas is open. The 2003 Domaine Raspail-Ay Gigondas offers up plenty of flavors to savor, too, including black fruits, oriental spice, and more, all if which are set in a silky smooth body and a sea of soft tannin. The 2003 Raspail-Ay Gigondas is a pleasure to drink now. Yet, it will continue to develop additional complexity over the next 4 to 5 years. We highly recommend allowing this hedonistic Gigondas a few minutes of aeration before serving. In addition, this charming Provencal delight is at its best when served cool (60°-66° F). Anticipated maturity; now-2011. Santé!
As a child of the southern Rhône, the 2003 Domaine Raspail-Ay Gigondas provides a superb match for grilled meats, especially lamb or chicken flavored with rosemary, garlic and black pepper. With such a glorious combination, we guarantee you will soon be picturing the rocky terrain of the "garrigue" of the southern Rhône, inhaling the scents of rosemary, lavender and wild flowers that infuse the summer air, and feeling the refreshing shade of a hot summer's day — Provence in a glass. What more can one ask? If you can't make a trip to the south of France, a glass of this wine is most assuredly the next best thing. However, with all this talk about Provence, let us not forget the surfeit of culinary delights that await the intrepid gastronome, dishes like Ravioli Stuffed Lobster, Roast Quail, and sumptuous Ratatouilles. Traditional Italian favorites, such as Lasagna, Manicotti, and almost anything else with fresh tomato sauce, garlic, or olive oil, marry well with Dominique Ay's superb Gigondas as well, so set the table and let the good times roll. Enjoy!
Dominique Ay, the affable but serious minded proprietor of Domaine Raspail-Ay, makes a warm, charming and oh, so drinkable Gigondas at his 40 acre domaine. Located on the terraces of the rugged Gigondas appellation, the last outcropping of the mighty alpine chain with the imposing rock formation of the Dentelles de Montmirail looming as a backdrop, this classic southern Rhône estate makes only about 8,000 cases of a single wine — a superb Gigondas. Dominique Ay's Gigondas is a more elegant and fruit driven style of wine than what many of his neighbors favor, and it is better for it. The Gigondas of Domaine Raspail-Ay is an artful blend of 80% Grenache, 15% Syrah and 5% Mourvèdre that is always ripe, generous, and rich on the palate. One can always count on this estate to fashion a wine with a mouthful of ripe, dark fruits — black cherries, cassis, and raspberries — with notes of licorice and black pepper in the background. Curiously, the tannins of this domaine's ethereal Gigondas always appear ripe and supple, too, mellowed no doubt by a hiatus of 20 months or more in large, ancient oak foudres. In addition, Monsieur Ay ages his wine several more months in old demi-muids in his refreshingly cool chais. The result is a wine with ripe, dark fruit aromas and a supple, rich texture that belie its 14% plus alcohol content. Miraculously, the fruit lasts all the way from beginning to end, before exploding in a long, ripe, satisfying finish. Gigondas: A Sleepy Little Town with a Big Beautiful Wine Gigondas, along with the neighboring villages of Vacqueyras and Chôteauneuf-du-Pape, produces the finest red wines of the southern Rhône. Relying upon old vines of Grenache, married to lesser quantities of Syrah, Mourvèdre, and Cinsault, Gigondas turns out a startling array of big, beautiful, tasty reds from nearly 2,500 acres of vineyards. Spanning a combination of soils, from the gravelly clay of the flat plains at the base of the craggy Dentelles de Montmirail, to the sheer bedrock of the Dentelles themselves, Gigondas is testament to the belief that in this enchanted corner of Provence one can even extract blood from stones, in the form of deeply colored Gigondas. Originally the premier village in the sprawling Côtes du Rhône-Villages appellation, Gigondas was elevated to its own appellation in 1971. Quickly, Gigondas made a name for itself; and after several decades of notoriety, the wine that bears the name of Gigondas has taken the world of wine by storm. Yet, the village of Gigondas itself remains one of the prettiest and least spoiled of the comely hilltop villages in this corner of Provence known as the Vaucluse. Nevertheless, Gigondas is a wine that has captured the palate of critics and savvy consumers alike. Today, the wines of Gigondas are highly sought after in fine wine shops around the world and they are increasingly well represented at upscale restaurants, whose clientele can appreciate the bold, extroverted, savory nature of this appellation's red wine. For the record, tiny quantities if white and rosé wine are also made in Gigondas, but only the red wine of this endearing appellation is entitled to the name Gigondas.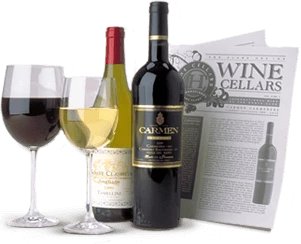 Enjoy Limited Production Estate
Bottled Wines
Discover limited production estate bottled wines such as Vergenoegd's internationally
acclaimed 2005 Cabernet Sauvignon, imported exclusively for our members.
DISCOVER OUR FOUR CLUBS