The 2015 Domaine Pierre Usseglio Lirac is a tour de force in winemaking from the ancient Lirac appellation. Deep and rich in aroma, color and flavor, Pierre Usseglio's 2015 Lirac offers up an enticing bouquet of ripe black cherries, kirsch, garrigue and fine grained leather. In the mouth, the wine's heady aromas coalesce on the palate in a seamless blend of fruit, earth, and spice that keeps on giving long after the wine has slipped down the throat. Balanced and fresh with ripe tannins, this Pierre Usseglio 2015 Lirac offers everything most Châteauneuf-du-Papes have to offer and more. For optimal enjoyment we suggest decanting the polished bold-flavored 2015 Pierre Usseglio Lirac an hour before serving. Enjoy this wine now through 2024. Enjoy!
Similar to Châteauneuf-du-Pape and other esteemed crus from the Southern Rhône, the 2015 Domaine Pierre Usseglio Lirac makes a tasty accompaniment to the delights of the Provençal kitchen. For starters, charcuterie in its many forms pairs beautifully with Usseglio's quintessential Lirac. Country pâtés, sausages, and smoked meats enhance the fruit-forward flavors and spice tones inherent in this wine, which make them especially good companions. In Provence, rabbit stewed in rich brown gravy and grilled lamb rubbed with generous quantities of garlic, olive oil, rosemary, and thyme provide perennial favorite pairings with fine Lirac. A spit-roasted chicken dripping with butter, olive oil and Herbes de Provence makes for another grand accompaniment to Pierre Usseglio's splendid 2015 Lirac. Spicy eggplant and zucchini dishes and traditional southern Italian specialties such as lasagna pair beautifully with this wine as well. Bon Appétit!
Domaine Pierre Usseglio & Fils is a must-stop in the Southern Rhône Valley for Châteauneuf-du-Pape as well as the estate's splendid Lirac, which is every bit as fine as many of the wines of Châteauneuf-du-Pape, which sits a stone's throw away across the Rhône River. The Usseglios are best known for their superlative Châteauneuf-du-Papes, but since acquiring a prized holding in Lirac they have been fashioning one of the finest red Liracs, as well. The 2015 Domaine Pierre Usseglio Lirac (this month's feature) hails from an outstanding vintage in the Southern Rhône and is unequivocally the finest Lirac we have encountered from this prized appellation.
The Usseglio presence in Châteauneuf-du-Pape began in 1931 when Italian Francis Usseglio left Italy for France where he found work with winegrowers in Châteauneuf-du-Pape. In 1948, after the Second World War, he acquired his own property. Francis had two sons: Pierre, who inherited his father's property, and Raymond, who established his own Châteauneuf-du-Pape estate.
Today, the third generation, Jean-Pierre and Thierry Usseglio, run Domaine Pierre Usseglio with assistance from Thierry's wife Sandrine and their son Thibault. They make one white Châteauneuf-du-Pape and several superb red Châteauneuf-du-Pape wines from estate sites. In addition, under Jean-Pierre and Thierry the domaine has expanded greatly, both in Châteauneuf-du-Pape (to 21 hectares, or 52 acres) and into neighboring appellations, most notably Côtes-du-Rhône and Lirac. In 2011 the brothers purchased nearly 15 acres in Lirac of established vineyards comprised of Grenache, Mourvèdre, Cinsault, and Syrah, and laden with galets (large round stones): a soil and varietal composition nearly identical to their prized Châteauneuf-du-Pape terroir. Not surprisingly, recent vintages of Pierre Usseglio's Lirac could easily be mistaken for first-rate Châteauneuf-du-Pape.
The Rhône River makes a hasty exit from Switzerland's Lac Leman, better known to Americans as Lake Geneva, and cuts a swift path through southern France to the Mediterranean Sea. As a source of many of France's greatest wines, the wine growing region of the Rhône Valley begins just south of Lyon around the city of Vienne and terminates far south, near Aix-en-Provence. The length of the river allows for two quite distinct wine producing sub-regions in the Rhône Valley: one north and the other south. In the Northern Rhône, one finds granite and gneiss based soils, coupled with a continental climate. Here, Syrah is king of the cultivars, where it reigns as the only permitted red variety. The Northern Rhône is home to such illustrious wines as Côte Rôtie and Hermitage, among others. Marsanne, Roussanne and Viognier are the permitted white grape varieties in the Northern Rhône. The wines of the Northern Rhône tend to be highly structured and firm, and often capable of great aging.
The Southern Rhône sub-region announces a warmer Mediterranean climate with substantially varied terroirs. Here alluvium, sand, limestone, marl, pebbles, large flat stones known as galets, and more are found. Grenache is the dominant red variety, but there is an incredible wealth of cultivars used for blending, among them Syrah, Mourvèdre, Cinsault, and Carignan. The wines of the Southern Rhône are often aromatic and beautifully perfumed, juicy, supple in texture and endowed with considerable weight. Red wines dominate the production in the Southern Rhône. Châteauneuf-du-Pape, Gigondas, Lirac, Vacqueyras, and Côtes-du- Rhône are the names to look for, but one should not discount the wonderful rosé and white wines that increasingly flow from the Southern Rhône. Grenache remains the mainstay for rosé, while Grenache Blanc, Marsanne, Roussanne, and Viognier yield the region's finest white wines.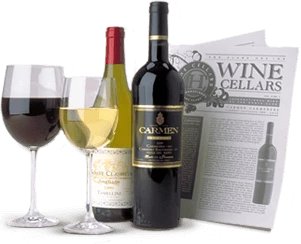 Enjoy Limited Production Estate
Bottled Wines
Discover limited production estate bottled wines such as Vergenoegd's internationally
acclaimed 2005 Cabernet Sauvignon, imported exclusively for our members.
DISCOVER OUR FOUR CLUBS