Although young and fresh, the 2005 Domaine Les Fines Graves Moulin-à-Vent Grand Cru Beaujolais contains a satisfying depth and maturity to its character that clearly distinguishes it from distant Nouvelle Beaujolais relatives and lesser Grand Cru pretenders. Domaine Les Fines Grave's 2005 Moulin-à-Vent presents a royal purple robe as it carries distinct fruit to the nose: refreshing scents of black and red fruit waft from the glass. Signature fruit flavors appear with the very first sip and intensify as this noble wine airs. Both ethereal and substantial, this Moulin-à-Vent's fruit driven core is buoyed by an infusion of refreshing acidity that enlivens the palate and intensifies the pleasure. As this delightful Moulin-à-Vent chases the wind down the throat, mineral notes born of the wine's terroir re-emerge and anneal to the wine's fruit to satisfy and soothe the senses. While the Domaine Les Fines Graves' Moulin-à-Vent always retains its dancer's charm, a tactile, textural quality bestows this selection with real stuffing. However, in order to truly understand this Grand Cru Moulin-à-Vent, it is best to warm up to and be willing to get to know this wine over a meal. Once past an initial reticence, a full range of virtues appear making this offering from Domaine Les Fines Graves perhaps the finest example of authentic Grand Cru Beaujolais in the market. Enjoy it often at cool room temperature or even cooler (55º-65º F).
Oh! The variety of tempting choices presented to us by the 2005 Domaine Les Fines Graves Moulin-à-Vent Grand Cru Beaujolais quite simply brightens our day and our taste buds. While many flavorful reds truly pair best with meat entrées, this Grand Cru Beaujolais pleases omnivores and vegetarians alike. Janodet's Moulin-à-Vent shines when paired with roasted chicken or Cornish hen – any basting that includes fresh rosemary is a particular winner – and other light meat dishes, such as pork chops or ham. Even fish, such as salmon or swordfish, will complement this wine – try a butter-sage sauce here. Switching to a vegetarian theme, consider roasted or grilled vegetables or hearty vegetable lasagna, both of which allow the full profile of the Moulin-à-Vent to emerge and enhance the entire dining experience. Adventurous souls may even want to try mildly spiced Asian dishes or a good ole' fashioned peach cobbler dessert with this grand Beaujolais. Take advantage of this wine's adaptability and serve it to your most eclectic set of friends: you may even find that you have a few new friends when the day is done. Bon appétit!
Jacky Janodet's Domaine les Fines Graves is the quintessential Grand Cru Beaujolais estate. This small but impressive 22-acre domain has earned Janodet the title of "The King of Grand Cru Beaujolais," and with good reason. Janodet and his wife make what most critics and connoisseurs consider to be the finest of all Beaujolais – Domaine les Fines Graves' Grand Cru Moulin-à-Vent. Perched atop the hill that crowns Beaujolais, Janodet's 50 year old vines sweep majestically down and around the slopes from the ancient windmill (Moulin-à-Vent means windmill) that crowns the hill's summit. The Moulin-à-Vent serves as the icon for all Grand Cru Beaujolais and offers the visitor an unparalleled vista of the Grand Cru villages and the surrounding countryside of Beaujolais. Beaujolais Beaujolais is situated in the extreme south of Burgundy. It is a vast region of nearly two hundred villages and communes, which are spread out on varying subsoil and comprise many individual terroir. Unofficially, Beaujolais forms the dividing line between northern and southern France. Straddling the un-specified equivalent of the American Mason-Dixon Line, the wines of Beaujolais flow in copious quantities north to Paris and south to Lyon and beyond. In spite of inherent variations in quality, which reflect the differences in soil composition, altitude, and level of production among the region's thousands of growers, one common denominator comes to fore in Beaujolais – the Gamay variety. Gamay provides the defining character and flavor of Beaujolais. Today, Gamay and Beaujolais are nearly synonymous even though the red wine of Beaujolais can be bottled legally as Burgundy, if it is made from Pinot Noir, and similarly the appellation's white wine is entitled to the Burgundy label when it is produced from Chardonnay. However, only miniscule amounts of the entire production of Beaujolais is bottled as Burgundy because of the unique quality of Gamay in the granite rock of Beaujolais and the unprecedented commercial success that Beaujolais has enjoyed since the Second World War. Gamay reigns supreme in this picturesque wine country, and nowhere is this truer than in the ten Grand Cru villages of Beaujolais, which constitute the best that Beaujolais has to offer. Comprising the heart of Beaujolais, the ten Grand Cru villages offer the consumer the finest Gamay wine in the world. In addition, each township possesses a special terroir and individual set of characteristics that make for memorable drinking. In order of ascending prestige, fullness of body, and the proven ability to age, the Grand Cru villages of Beaujolais are Brouilly, Côte de Brouilly, Chiroubles, St. Amour, Fleurie, Regnie, Chenas, Morgon, Julienas, and Moulin-à-Vent. Moulin-à-Vent is typically the fullest and most Burgundy like of the wines of Beaujolais, enjoying a reputation for ageing up to five or more years in bottle with excellent results. Moulin-à-Vent is usually the most expensive wine of the appellation as well.
Grand Cru Beaujolais is one of the easiest wines to pair with cheese, and Domaine Les Fines Graves' Moulin-à-Vent Grand may well be the best of the best when it comes to complementing some of the world's finest mild, semi-soft cheeses. For the record, we are especially enamored of Asiago, Munester, Raclette, and Fontina with Jackie Janodet's 2005 Moulin-à-Vent; the combination is nothing less than spectacular. To find out more about these offerings and other fine gourmet cheeses pay us a visit at www.cheesemonthclub.com and enjoy!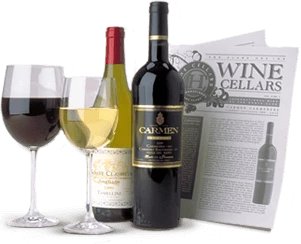 Enjoy Limited Production Estate
Bottled Wines
Discover limited production estate bottled wines such as Vergenoegd's internationally
acclaimed 2005 Cabernet Sauvignon, imported exclusively for our members.
DISCOVER OUR FOUR CLUBS