Elegant and classy, the 2003 Jacques Girardin Santenay Premier Cru is a wine to dress up and take out on the town. Refined and oozing with potential, this red Burgundy is already delicious and reveals itself as a charming and satisfying dinner companion. Properly served in a wide-bowled glass, this garnet-colored wine releases aromas that carry the distinct signature of its terroir; grassy and woody notes mingle and evolve with each sip. An initial savor full of cherry and spice greets the palate and completes a provocative first impression. A weighty thickness to the wine's texture, however, lets us know that this dinner invitee is no gadfly. A mellow tannic structure emerges to provide substance for this balanced and well-delineated Burgundy. Happily, as this still young Pinot Noir matures, it will broaden and mellow further, acquiring additional charm to add to its already sophisticated profile. Finally, a pleasant and longish finish contains just enough zing to let you know two things: first, this is a wine made for food, and second, this is a wine that has the last word as if it, not you, orchestrated the evening's pleasures. So, indulge and patiently get to know this enchanting Burgundy. We suggest decanting it a half hour before serving for optimum enjoyment. Salut!
Scour descriptions of Burgundian foods traditionally paired with a top-notch wine such as the 2003 Jacques Girardin Santenay Premier Cru and one will find adjectives such as hearty, honest, earthy, warm and welcoming. A classic choice is Boeuf Bourguignon, which combines braised beef, onions, mushrooms, fried bacon, and a bottle of Burgundian red table wine in a hearty stew. Serve this traditional favorite with the Santenay 1er Cru 2003 and you'll marvel at how effortlessly your guests move from stew to glass and back again. An equally satisfying entrée, featured in the accompanying recipe, is Herb Crusted Pork Tenderloin. The succulent tenderness of the pork wonderfully complements the elegant flavors of this single vineyard Santenay Premier Cru. A key to preparation is to let the cooked tenderloin rest so juices redistribute evenly through the cut of meat. Serve with sides of roasted shallot mashed potatoes and roasted haricot verts. If you wish to add a sauce to your pork, try a dried cherry sauce that softly complements the wine's center. Offer a dense, flavorful loaf of bread, serve a soft aromatic aged cheese, and place an old-fashioned mustard pot as a centerpiece, and, voilà, you're ready for your guests to arrive.
Jacques Girardin is the archetypal Burgundy grower and producer. In other words, the Domaine Jacques Girardin is a real family affair. Jacques tends the vineyards, works the cellar, and makes the wines; while his wife keeps the books, handles all the sales, and sees to the mounting pile of export regulations that make it increasingly difficult for small family owned wineries to export their wares. For generations, the Girardin family has been well represented among the finest names in Burgundy. Jacques' father Jean was a renowned winemaker as is Jacques' brother Vincent. Jacques has been producing fine estate bottled offerings at his domaine since 1978. Domaine Jacques Girardin is located in the south of Burgundy in the commune of Santenay, the most southerly area of the fabled Côte d'Or. It comprises a mere 8 hectares (17.6 acres). However, all of Girardin's red wine holdings warrant Premier Cru status. The family's most heralded red wine hails from the 1er Cru vineyards of Beauregard and Clos Rousseau in Santenay. Jacques Girardin also fashions tiny quantities of very good Santenay Blanc and Chassagne-Montrachet 1er Cru Morgeot. All of Girardin's Premier Cru (1er Cru) wines spend 12 months in barrique, of which 30% of the barrels are new. The result is supple, beautifully wrought Burgundian Pinot Noirs that drink extremely well even in their youth. Santé! Burgundy Burgundy is a wine as well as a place. In fact, it is many wines and many distinct locales, all of which were once part of the ancient duchy of Burgundy. Situated several hundred kilometers southwest of Paris, Burgundy is hallowed ground to serious lovers of the vine. From its golden hillsides, whose center slopes are so aptly named the Côte d'Or, flow France's most expensive and profound wines. Names such as Romanée Conti, Chambertin, Clos de Vougeot, and Le Montrachet among others have been delighting serious wine aficionados for centuries. Yet, there is much more to Burgundy and its wines than a few illustrious names. For starters, Burgundy is the ancestral of home of two of the world's most revered grape varieties – Chardonnay and Pinot Noir. Clearly, Burgundy is much more than a single wine or one great vineyard: it is a special place, a land almost entirely devoted to wine in one fashion or another. However, what remains surprising to many wine drinkers is that Burgundy is both red and white wine, the best of which come from Chardonnay and Pinot Noir exclusively. With a few rare exceptions, the finest Burgundies emanate from the region's core, the Côte d'Or, which begins on the fabled Côte de Nuits, just to the south of Dijon, and flows all the way south to Santenay at the tip of the Côte de Beaune. The Premier and Grand Cru wines from these illustrious hillsides are worth their weight in gold. Salut!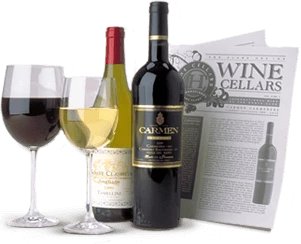 Enjoy Limited Production Estate
Bottled Wines
Discover limited production estate bottled wines such as Vergenoegd's internationally
acclaimed 2005 Cabernet Sauvignon, imported exclusively for our members.
DISCOVER OUR FOUR CLUBS