Domaine Houchart's 2020 Côtes de Provence Blanc embodies the best of Provence. In this rare white wine made from traditional Provençal grapes, one can almost taste the Provençal sun, feel the cool breeze wafting from the Mediterranean Sea, and smell the scented fragrance of Provence's magical landscape. Light and fresh, but full of flavor, energy, and precision, the 2020 Domaine Houchart Côtes de Provence Blanc offers intoxicating aromas of citrus, mango and white peach. In the mouth, the wine's crisp fruit and orange peel flavors emerge and are borne on a sea of fresh acidity, all of which adds up to a delightfully long and memorable finish. With Domaine Houchart's 2020 Côtes de Provence Blanc, a simple but delicious blend of Clairette and Rolle, there is no smoke or mirrors, oak, or butter tones, just one fresh, unique white wine. For optimal enjoyment, drink this rare white Provençal classic moderately chilled (40°-45° F) now and over the next two years. Enjoy!
The 2020 Domaine Houchart Côtes de Provence Blanc recalls the sunny, light-filled beauty of Provence. Whether you sip this wine on a hot summer day, a lovely autumn evening, or a dreary cold winter night, the 2020 Domaine Houchart Côtes de Provence Blanc captures the spirit of Provence and enlivens the senses. This is a wine to sip and savor, either on its own or with the delights of the table. Seafood, sushi, tapas, flatbreads, and white pizzas make splendid companions to this special Côtes de Provence Blanc. A traditional Provençal Grande Salade, a colorful and healthy mélange of organic greens, crumbled goat cheese, walnuts, and fresh anchovies or whatever else is in season, makes another ideal companion to Houchart's delightful 2020 Côtes de Provence Blanc. Cheese soufflés and tarts made with eggplant and squash also provide tasty companionship to the 2020 Domaine Houchart Côtes de Provence Blanc. Chicken with a light Satay sauce makes another tasty companion to this wine, but then so do most cow, goat and sheep's milk cheeses in the company of freshly picked summer fruits. Bon Appétit!
The history of Domaine Houchart dates back centuries to the French Revolution, while the cultivation of the vine around this domaine at the base of Mont Saint Victoire can be traced back to antiquity. The modern estate owes much of its success to the energetic proprietor and negociant Aurelien Houchart, for whom the domaine is named. In the 1850s Aurelien expanded his family's rural properties and later reconstituted the old vineyards on the site that had been destroyed by phylloxera. He also had a winery and cellar constructed there, so that among a patchwork of small family vineyards and wineries, Domaine Houchart became one of the largest domaines in Provence. It also served as a cultural center as Aurelian was friends with the famous painter Paul Cézanne, novelist Émile Zola, and other notable contemporaries.
Domaine Houchart remains today the largest wine estate in Provence with approximately 200 acres, and it is now part of the Quiot family, the proprietors of the renowned Domaine Vieux Lazaret in Châteauneuf-du-Pape and other celebrated Rhône and Ventoux estates. It came to the Quiots through Geneviève, the wife of the late Jérôme Quiot, when she inherited part of the original domaine as a descendent of Aurelian Houchart. Beginning in the 1980s, Geneviève set about restoring the property to its former grandeur, a formidable task at which she has excelled. Today, by all accounts Domaine Houchart ranks among the most beautiful and successful Provençal wine estates. Geneviève continues to work the property with her children Jean-Baptiste and Florence.
Red and rosé wine, the latter a Provençal staple, dominate Domaine Houchart's production. Traditional Provençal varietals proliferate with Grenache, Syrah, Mourvèdre, Cinsault and Carignan leading the charge for the red and rosé wines. However, a small quantity of a special white wine, Côtes de Provence Blanc (this month's feature), is also produced at Domaine Houchart from Clairette and Rolle grapes, two traditional Provençal varietals, which make splendid mouthwatering white wine to complement the local cuisine. Rolle, also known as Vermentino, is also indigenous to the nearby Italian Riviera, Liguria and coastal Tuscany. We invite you to taste and feel the beauty of Provence in every sip of Domaine Houchart's classic Côtes de Provence Blanc.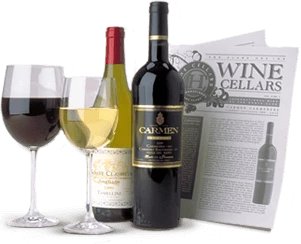 Enjoy Limited Production Estate
Bottled Wines
Discover limited production estate bottled wines such as Vergenoegd's internationally
acclaimed 2005 Cabernet Sauvignon, imported exclusively for our members.
DISCOVER OUR FOUR CLUBS