Aromatic, silky, and utterly seductive, the 2018 Domaine Gille Côtes de Nuits-Villages Réserve-Comblanchien highlights the Gilles' acumen with Pinot Noir as well as the benevolence and charm of the superb 2018 vintage in Burgundy. Sporting a bright ruby robe and an intoxicating bouquet of raspberry and strawberry fruit, this wine had us at the first sniff… but that's not all. In the mouth, the 2018 Gille Côtes de Nuits-Villages Réserve-Comblanchien carries the wine's entrancing fruit aromas and deft touches of exotic spices on feathery tannins to a joyful satisfying finish. Suave and beautifully wrought, it's hard to believe this comely red Burgundy weighs in at more than 15% alcohol. Enjoy this delightfully sophisticated Côtes de Nuits-Villages at cool room temperature (58°-62° F) now and often for at least several more years. Anticipated maturity: 2021-2026. Enjoy!
Sophisticated young Burgundy such as the 2018 Domaine Gille Côtes de Nuits-Villages Réserve-Comblanchien begs for the delights of a splendid table. Roast beef, ham, chicken, and hearty soups and stews are Burgundian favorites with this wine. A meal of braised beef short ribs served with roasted potatoes and root vegetables is a personal favorite and warrants serious consideration as does partridge, pheasant, or squab served with wild rice, roasted baby carrots, and fennel. Grilled loin lamb chops and authentic Shepherd's Pie make splendid companions, too. Rich, creamy cheeses from cow's milk such as Tomme de Bourgogne make wonderful simple accompaniments as well. Bon Appétit!
Domaine Gille lies at the heart of Burgundy's fabled Côte d'Or, just south of Nuits-St. Georges, in the tiny village of Comblanchien. From this prestigious commune and surrounding côtes, Domaine Gille fashions a cornucopia of illustrious red and white Burgundies from just 9 hectares (22 acres), including Côte de Nuit-Villages Réserve Comblanchien (this month's feature), Nuits-St. Georges, Morey-Saint Denis, Chambolle-Musigny, Vosne-Romanée, and more. Small lots of high quality wine flow from the Gille family who for generations have striven through the cultivation of the vine to make "the true savor of the earth intelligible."
The Gille family has resided in the village of Comblanchien continuously since 1570 and are widely acknowledged to be the first family of the commune. Since its inception, the domain has been passed down from father to son, and has grown over the years to its present size due to acquisition and marriage. The present domain took shape in the early 1900s under the guidance and foresight of Vivant Gille, and today the 9-hectare domain is run by Gille's grandson, Pierre Gille. The vines at Domaine Gille range from 45 to 90 years of age, with some parcels owned by the family dating to the late 18th century. All the work at Domaine Gille is done by hand, following traditional methods. Monsieur Gille is fond of proclaiming that "respecting the terroir and the unique character and challenges of each vintage" are his only goals for the property. The wines of Domaine Gille are truly hand-crafted and of great personality and individuality. Moreover, they are made in the most traditional manner.
Burgundy is a wine as well as a place. In fact, it is many wines and many distinct locales, all of which were once part of the ancient duchy of Burgundy. Situated several hundred kilometers southwest of Paris, Burgundy is hallowed ground to serious lovers of the vine. From its golden hillsides, whose center slopes are so aptly named the Côte d'Or, flow France's most expensive and profound wines. Names such as Romanée Conti, Chambertin, Clos de Vougeot, and Le Montrachet among others have been delighting serious wine aficionados for centuries. Yet, there is much more to Burgundy and its wines than these few illustrious names. For starters, Burgundy is the ancestral of home of two of the world's most revered grape varieties – Chardonnay and Pinot Noir.
Clearly, Burgundy is much more than a single wine or one great vineyard: it is a special place where dirt is destiny. Moreover, it's a land almost entirely devoted to wine in one fashion or another. However, what remains surprising to many wine drinkers is that Burgundy wine is both red and white, and the very best emanate almost exclusively from two grapes, Chardonnay for the region's white wines and Pinot Noir for red wines. With just a few rare exceptions, the finest Burgundies emanate from the region's core, the Côte d'Or, which begins on the Côte de Nuits, just south of Dijon, and flows all the way to Santenay at the tip of the Côte de Beaune. The Premier and Grand Cru wines from these illustrious hillsides are worth their weight in gold, but increasingly the wines from the gentle slopes outside the privileged climats are garnering considerable attention for wines that rival the region's more traditional favorites, and at a fraction of the cost. Salut!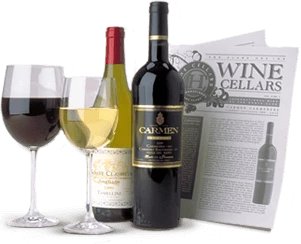 Enjoy Limited Production Estate
Bottled Wines
Discover limited production estate bottled wines such as Vergenoegd's internationally
acclaimed 2005 Cabernet Sauvignon, imported exclusively for our members.
DISCOVER OUR FOUR CLUBS