"Oh what a nose," exclaimed one effusive tasting panel member to the OOH's and AAH's and nodding heads of the other members whose noses still lied buried in their glasses. The 2016 Domaine du Vieux Lazaret Ventoux does indeed offer up a heady aroma; the seductive scents of red berries, mostly in the form of raspberries and redcurrants, immediately greet the nose. Add touches of wild Mediterranean herbs and garrigue, the scented brush of Provence, and an intoxicating concoction is in store to delight the nose. Silky smooth in the mouth and bursting with fresh fruit and pleasant racy spice tones, it is hard to resist this seductive, medium-bodied red wine that goes down ever so easily. However, it packs some punch. Only after a glass or two does one realize there is no wimp in this wine, just warm, smooth, easy drinking that captures the dazzling light of Provence and the sunlit slopes of Mont Ventoux, as it glides down the thirsty throat. For optimal enjoyment we suggest serving the 2016 Domaine du Vieux Lazaret Ventoux cool (59°-60° F) after just a few minutes of aeration. Santé!
The juicy, vibrant 2016 Domaine du Vieux Lazaret Ventoux makes a wonderful companion to grand salads, duck, red meats, grilled tuna, and a wide range of cheeses. Pan Seared Duck Breast glazed with a cherry and red wine sauce provides an especially tasty pairing with Domaine du Vieux Lazaret's beautiful 2016 Ventoux. Grilled lamb and beef kebobs provide more satisfying accompaniments. Charcuterie and smoked meats of all kinds make splendid accompaniments, too. Red peppers stuffed with orzo or quinoa, grilled spicy sausage, herbs and cheeses also pair nicely with this Provençal dandy, especially in the company of grilled eggplant and zucchini. However, one should never overlook the affinity that France's great wealth of cheeses has for its wines. Bon Appétit!
France's hundreds of regional cheeses provide wonderful accompaniments to Domaine du Vieux Lazaret's 2016 Ventoux, whether they emanate from a cow, sheep or goat. Chèvre in particular pairs well with the wines of Ventoux. Consider Boucheron, Crottin de Chavignol or any Provençal goat cheese to serve with the 2016 Domaine du Vieux Lazaret Ventoux. For those who prefer cheese from cow's milk, Cantal, Reblochon and Camembert make tasty companions. To learn more about the finest gourmet cheeses, join us at www.cheesemonthclub.com. Enjoy!
Jerome Quiot, proprietor of Domaine du Vieux Lazaret, is one of the most respected growers in the Southern Rhône. He is also the largest producer of Châteauneuf-du-Pape and the proprietor of a string of prestigious Rhône and Provençal estates where he fashions wines of incomparable quality and value. Domaine du Vieux Lazaret is one of the family's oldest and most prized properties. Situated in the Southern Rhône Valley at the base of Mont Ventoux, the highest mountain in the Southern Rhône, the domain is set around an old Provençal farmhouse that is bordered by immense cypress trees planted by the Quiots upon purchase of the estate in 1871. Domaine du Vieux Lazaret produces only Châteauneuf-du-Pape and Ventoux.
The wines of Ventoux enjoy an enviable reputation for their unspoiled natural environment on the slopes of Mont Ventoux at the very heart of the culturally rich and historic department of the Vaucluse. Listed as a Biosphere Reserve by UNESCO, the lower slopes of Mont Ventoux provide the ideal setting for vineyards, which thrive using sustainable agricultural methods out of respect for the area's natural environment. Ventoux, also known as Côtes-du-Ventoux, is valued for its cheerful, seductive red wines from the appellation's permitted red grape varieties: Grenache, Syrah, Cinsault, Mourvèdre, and Carignan are the appellation's predominant red grape varieties. Other red grapes and small quantities of the appellation's historic white grape varieties (Bourboulenc, Grenache Blanc, Marsanne, Roussanne, Vermentino and Viognier, among others) are also permitted in the red wines of Ventoux. Delicious white and rosé wines are also made in Ventoux from the appellation's traditional grapes.
The Rhône River makes a hasty exit from Switzerland's Lac Leman, better known to Americans as Lake Geneva, and cuts a swift path through southern France to the Mediterranean Sea. As a source of many of France's greatest wines, the wine growing region of the Rhône Valley begins just south of Lyon around the city of Vienne and terminates far south, near Aix-en-Provence. The length of the river allows for two quite distinct wine producing sub-regions in the Rhône Valley: one north and the other south. In the Northern Rhône, one finds granite and gneiss based soils, coupled with a continental climate. Here, Syrah is king of the cultivars, where it reigns as the only permitted red variety. The Northern Rhône is home to such illustrious wines as Côte Rôtie and Hermitage, among others. Marsanne, Roussanne and Viognier are the permitted white grape varieties in the Northern Rhône. The wines of the Northern Rhône tend to be highly structured and firm, and often capable of great aging.
The Southern Rhône sub-region announces a warmer Mediterranean climate with substantially varied terroirs. Here alluvium, sand, limestone, marl, pebbles, large flat stones known as galets, and more are found. Grenache is the dominant red variety, but there is an incredible wealth of cultivars used for blending, among them Syrah, Mourvèdre, Cinsault, and Carignan. The wines of the Southern Rhône are often aromatic and beautifully perfumed, juicy, supple in texture and endowed with considerable weight, the latter being nearly imperceptible until after a hefty glass or two. Red wines dominate the production in the Southern Rhône. Châteauneuf-du-Pape, Gigondas, Lirac, Vacqueyras, Côtes-du-Rhône, and Ventoux are the names to look for, but one should not discount the wonderful rosé and white wines that increasingly flow from the Southern Rhône, as well. Grenache remains the mainstay for rosé, while Grenache Blanc, Marsanne, Roussanne, and Viognier yield the region's finest white wines.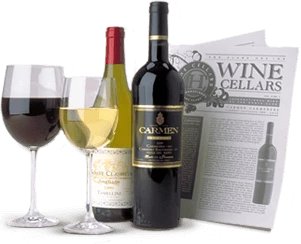 Enjoy Limited Production Estate
Bottled Wines
Discover limited production estate bottled wines such as Vergenoegd's internationally
acclaimed 2005 Cabernet Sauvignon, imported exclusively for our members.
DISCOVER OUR FOUR CLUBS