Blessed with another fine vintage in the Southern Rhône, the 2018 Domaine du Vieux Lazaret Châteauneuf-du-Pape (92 Points – Wine Spectator) is a wine at the top of its game. Purity, beautifully ripe fruit, and exceptional energy are the hallmarks of Domaine du Vieux Lazaret's classic 2018 Châteauneuf-du-Pape, a blend of Grenache, Cinsault, Syrah, Mourvèdre, Counoise, Muscardin, Terret Noir, and Vaccarèse. An enticing aroma of ripe Bing cherries, fresh raspberries, and garrigue, the savory wild herbs of Provençal hillsides, greets the nose. But the show has only just begun. In the mouth, ripe berry flavors infused with hints of chocolate, exotic spices, fennel, and wood smoke grace the palate. Better still, a smooth velvety mouth-feel, fine grained tannins, and superb energy and lift make this wine nearly irresistible from start to finish. The 2018 Domaine du Vieux Lazaret Châteauneuf-du-Pape drinks beautifully now, even at this tender young age, yet it will handsomely repay those patient enough to cellar some away. For optimal enjoyment, we suggest at least thirty minutes of aeration before serving at cool room temperature (58°-62° F). Anticipated maturity: 2021-2032. Enjoy!
Châteauneuf-du-Pape complements a wide variety of foods, from game prepared with elaborate sauces to simple flatbreads and pizzas. Classic Provençal specialties provide exceptional accompaniments to the 2018 Domaine du Vieux Lazaret Châteauneuf-du-Pape, too. Regional favorites such as gigot d'agneau (roast leg of lamb) and savory lamb stew are perennial favorites that promise a memorable meal and an equally satisfying evening when paired with the 2018 Domaine du Vieux Lazaret Châteauneuf-du-Pape. Lamb, prepared almost any way one can imagine, provides a splendid opportunity to highlight the full, rich flavors of Châteauneuf-du-Pape, as the flavors of the meat are simultaneously enhanced and mellowed by the wine. Nevertheless, Domaine du Vieux Lazaret's suave and robustly flavored 2018 Châteauneuf-du-Pape pairs equally well with other foods. Fine cuts of beef, venison, wild boar, and many vegetarian specialties such as ratatouille made with eggplant, squash and Herbes de Provence make wonderful accompaniments to Domaine Vieux Lazaret's Châteauneuf-du-Pape. Braised beef short ribs served with roasted Brussels sprouts with pancetta; ravioli stuffed with lobster; and tortellini made with fresh peas and prosciutto provide other excellent accompaniments. Furthermore, the 2018 Domaine du Vieux Lazaret, like its predecessors, has the ability to elevate simple well-prepared foods to the status of haute cuisine, so no need to worry about what to serve: this classic red will stand and deliver. Bon Appétit!
The late Jérôme Quiot, proprietor of Domaine du Vieux Lazaret, was one of the movers and shakers in what many wine critics claim to be the finest appellation in France. Quiot himself played an integral role in the administration of the appellation system in France, a process that not so ironically was born in Châteauneuf-du-Pape during the 1920s. He was also a proponent of the fleshy, seductive style of Châteauneuf-du-Pape, and as the proprietor of the largest estate in Châteauneuf-du-Pape he did much to modernize the appellation and solidify its reputation as the preeminent appellation of the Southern Rhône. Quiot's family remains in control and continues Jérôme's incredible work, ever pushing the envelope in fashioning aromatic, immensely pleasing red Châteauneuf-du-Pape from all 13 of the appellation's legal grape varieties. With a substantial, well-established property of nearly 250 acres to exploit, Domaine du Vieux Lazaret's wines remain at the forefront of Châteauneuf-du-Pape.
Châteauneuf-du-Pape is the Rhône Valley's most important appellation. Located in Provence, astride the swiftly moving Rhône River, this sun-drenched locale is blessed with a dry Mediterranean climate that is nearly ideal for the cultivation of vines and the production of wine. Châteauneuf-du-Pape possesses some of the oldest vines in France; the average age of the vines in Châteauneuf-du-Pape is in excess of 40 years, by far the oldest of any major appellation in France. And many of those vines are 80-100 years of age. In addition, the entire production of this great wine is hand harvested. Moreover, we have not yet mentioned the region's fabulous terroir – large flat stones known as galets roulés that are mingled with plenty of decomposed gravel. The remnants of Alpine glaciers that once covered southern France, Châteauneuf-du-Pape's glacial till provides excellent drainage and imparts subtle nuances of flavor to the appellation's outstanding wines, which can be both red and white and contain up to thirteen legal grape varieties, including Grenache, Syrah, Mourvèdre, Cinsault, Muscardin, Counoise, Clairette, Bourboulenc, Picpoul, Roussanne, Terret Noir, Picardan, and Vaccarèse. A case can be made that there are actually fourteen legal grape varieties in Châteauneuf-du-Pape, as Grenache can be either a red or white grape.
Châteauneuf-du-Pape, meaning the Pope's new castle, derives its name from the sprawling edifice that the Roman popes built as a summer palace during the Babylonian Captivity. Forced to flee the political tumult of Rome from 1305-1378, Pope Clement V, a Frenchman, and his successor John XXII, left indelible marks on the history of wine by planting vines around their château and producing some of the medieval world's most noteworthy wines. Later, during the 1920s, Châteauneuf-du-Pape would once again play a significant role in the history of wine by voluntarily adopting a set of controls and guidelines put forth by Baron Le Roy of Château Fortia. This action became the model for the entire French system of Appellation Control and nearly all other subsequent attempts to guarantee the authenticity of wine and improve the wine of individual geographic locales.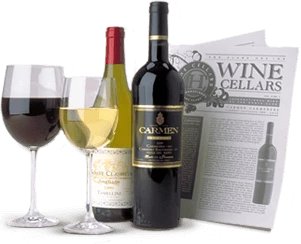 Enjoy Limited Production Estate
Bottled Wines
Discover limited production estate bottled wines such as Vergenoegd's internationally
acclaimed 2005 Cabernet Sauvignon, imported exclusively for our members.
DISCOVER OUR FOUR CLUBS