The 2004 Domaine du Vieux Lazaret Châteauneuf-du-Pape is testimony to just how smooth and charming old vine Grenache can be when grown in the fabulous terroir of Châteauneuf-du-Pape. Although a traditional blend of primarily Grenache (67 %) and Syrah (22%), Domaine du Vieux Lazaret is unique in that its red Châteauneuf-du-Pape contains all thirteen of the appellation's permitted grape varietals. And though young and poised to emerge from its adolescent shell, the 2004 Domaine du Vieux Lazaret already offers up a friendly, warm bouquet of crunchy black fruits, mingled with crushed pepper and Asian spices. On the palate, the wine is predictably forward, soft, and easy to drink, but we suggest allowing this youthful Châteauneuf-du-Pape just a little more time in bottle as there is nary a Châteauneuf-du-Pape that comes into its own before its third birthday. The only problem with that scenario is that you may be compelled to consume the other eleven bottles from the case before the wine truly comes of age. Fortunately, no charges are likely to be brought in this case. However, like many modern Châteauneuf-du-Pape wines, the 2004 Vieux Lazaret tops out at 14.5 % alcohol which it adroitly hides behind its easy going charm and low acid profile. So, consider yourself forewarned. We suggest serving this easy to please red at cool room temperature (no more than 62° F); even if it means cooling it down a bit in warm weather as is the custom in Provence.
One of the glories of Châteauneuf-du-Pape is how well in complements a wide variety of foods, from game, with elaborate sauces, to an unadorned pizza. However, no self-respecting Provençal man, woman, or child would ever turn down gigot d'agneau (roast leg of lamb) paired with an authentic Châteauneuf-du-Pape the likes of the 2004 Domaine du Vieux Lazaret, and neither would we. Lamb, prepared just about any way one can image, provides a splendid opportunity to highlight the full, rich flavors of Châteauneuf-du-Pape. The flavors of the meat are simultaneously enhanced and mellowed by the wine. However, the personality filled 2004 Domaine du Vieux Lazaret is much more than a one dish wine. Consequently, we recommend this lovely Provençal delight with everything from eggplant, fennel and onion antipasto to rare beef tenderloin. Lobster ravioli, tortellini with fresh peas and prosciutto, and four-cheese pizza are other excellent accompaniments. Furthermore, the 2004 Domaine du Vieux Lazaret, like most Châteauneuf-du-Papes, has the innate ability to elevate simple well-prepared foods to the status of haute cuisine and to highlight grande cuisine rather than overshadow it. Enjoy!
A proponent of the fleshy, seductive, modern style of Châteauneuf-du-Pape, Jerome Quiot, proprietor of Domaine du Vieux Lazaret, has pushed the envelope in recent years, fashioning forward, immensely pleasing wines that are some of the finest wines to date from his substantial, well-established property. With over 200 acres to exploit, Quiot is one of the movers and shakers in what many critics claim to be the finest appellation in France. Quiot also plays an integral role in the administration of the appellation system in France, a process that not so ironically was born in Châteauneuf-du-Pape in the 1920's. Blessed with a nearly ideal climate for vines and the production of red wine, Châteauneuf-du-Pape also possesses some of the oldest vines in France; the average age of the vines in Châteauneuf-du-Pape is in excess of 40 years, by far the oldest of any major appellation in France. In addition, the entire production of this great wine is hand harvested, and we haven't even mentioned the region's fabulous terroir – large flat stones known as galets – that provides excellent drainage as well as subtle nuances of flavor in the resulting wine.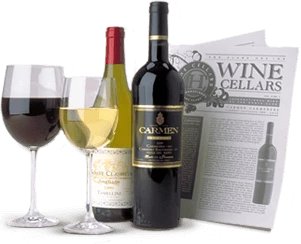 Enjoy Limited Production Estate
Bottled Wines
Discover limited production estate bottled wines such as Vergenoegd's internationally
acclaimed 2005 Cabernet Sauvignon, imported exclusively for our members.
DISCOVER OUR FOUR CLUBS