If you like a juicy, satisfying red wine with a little zip, you're going to love the 2010 Domaine du Tauch Fitou. There's nothing complex or complicated about Domaine du Tauch's up front, utterly satisfying Fitou other than that it tastes great and goes down easily – perhaps, too easily for some. We had to rescue the bottles from several panel members who forgot it was a tasting. Indeed, there is no need to prognosticate where and when this wine will be ready to drink. It's all there now. And as one veteran panel members so saliently stated: "Not every wine needs to be complex or fit for ten years of ageing to be gratifying." So, relish now and over the next year the crushed berry and wild herb scents and savors in this wine, along with the wine's silky tannins and smooth finish. Salut!
Not to worry about what to serve with the 2010 Domaine du Tauch Fitou; it goes down easily with just about anything. Flavorful pastas, grilled meats, and stews all offer natural companions to this wine. Chicken, beef, lamb, and pork all provide splendid accompaniments, too. Some of our favorite pairings with the 2010 Domaine du Tauch Fitou are either a savory dish of chicken with black olives and capers or penne pasta with grilled vegetables and spicy sausages, peppers, and onions. For even more adventuresome gourmands, we suggest a Carpaccio of venison. Rabbit, sautéed in mustard and thyme, and wild boar, a traditional favorite of Mont Tauch's growers, offer other tasty accompaniments to Mont Tauch's splendid Fitou. Eggplant Parmigiana, lasagna, and pizzas work well, too. And when all else fails, bring on the aged, hard cheeses. You won't be disappointed. Enjoy!
Domaine du Tauch is the premier producer of Fitou, a juicy, seductive red wine from one of southern France's leading appellations. Nestled at the foot of Mont Tauch that overlooks the village of Tuchan, Domaine du Tauch boasts a commanding view of the heart of the wildly beautiful region known as Languedoc.
Domaine du Tauch began making wine in 1913 and claims to be one of the first true cooperatives of independent growers in the Languedoc. It began life as an effort to deal with the devastating effects of phylloxera and the unstable wine market that ensued. Today, it fashions an array of traditional wines from exceptional growers and microclimates throughout Corbières and Fitou (the larger Corbières appellation actually encompasses Fitou). Sustainably grown Grenache, Carignan, and Syrah constitute the lion's share of the grapes that make their way into Domaine du Tauch's award winning wines. In the last several years Domaine du Tauch has garnered more than 100 medals and awards at such prestigious international wine competitions as the International Wine Challenge, International Wine & Spirits Competition, Top 100 Vins de Pays, Concours Général Agricole Paris, Concours Mondial de Bruxelles, Concours des Grands Vins du Languedoc, and Challenge International among others.
Languedoc is the world's largest single viticultural area, encompassing many appellations and distinctive sub regions – all of which are capable of producing fine wine. This sprawling viticultural wonderland stretches all the way from the Spanish border in the southwest, within sight of the towering Pyrenees, to the banks of the Rhône River far to the northeast. Languedoc cuts a huge swath of dry coastal plain and sheltered mountains from which flow the guts and the glory of French viticulture.
The Languedoc, whose name is synonymous with the language of southern France, was the first part of ancient Gaul to be extensively planted to the vine. And long before the Romans and Caesar's legions had subdued the Gallic tribes, wine was big business in Languedoc. The Phoenicians passed this way, and not surprisingly the region's beauty and superb conditions for the cultivation of the vine did not escape the first Greek colonists who planted vines there, making Languedoc the cradle of French viticulture in the fifth century BC. For nearly two thousand years, Languedoc remained the "big dog" and premier purveyor of wine to France and the world. Sadly, the glory of France's most historic wine region – the birthplace of troubadours and Provencal, the lyrical language of poetry – came to an abrupt end in the 19th century with the advent of phylloxera.
Phylloxera, the most dreaded of all vine diseases, devastated the vineyards of France in the 19th century, targeting Languedoc as its prime host. Following the phylloxera outbreak, the Languedoc lost most of its premier hillside vineyards, old vines and premium varietals. Subsequent replanting in the late 19th century was undertaken using inferior grape varietals that would quickly bring high yields and much needed cash. Moreover, the great hillside vineyards descended to the plains, where soil, drainage and exposure (terroir) were inferior to the older, loftier heights of legend and lore. Unfortunately, throughout the late 19th century and most of the 20th century the Languedoc languished in the doldrums of viticultural obscurity.
It was not until the 1970s that Languedoc began the long march back to glory. With no longer a demand at home or abroad for cheap, course wines, the emphasis in Languedoc shifted back to quality rather than quantity. Premium varietals were replanted and vineyards moved back to the ancient hillside sites to produce less wine of greater quality. The result has been a veritable Renaissance in the Languedoc, especially in the favored appellations of Fitou, Corbières, Minverois, Pic St. Loup, and choice hillside vineyards scattered throughout Languedoc that have produced fine wine for millennia.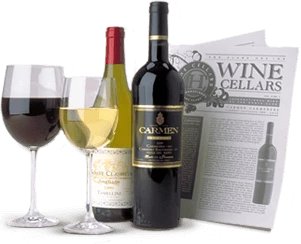 Enjoy Limited Production Estate
Bottled Wines
Discover limited production estate bottled wines such as Vergenoegd's internationally
acclaimed 2005 Cabernet Sauvignon, imported exclusively for our members.
DISCOVER OUR FOUR CLUBS