The 2015 Domaine du Grand Tinel Châteauneuf-du-Pape emanates from the finest vintage in the southern Rhône Valley since 2010 and is another outstanding effort from Grand Tinel, which is arguably one of Châteauneuf-du-Pape's most consistently high performing estates. Ripe cherries, kirsch, spice, plum, and hints of savory herbs abound in the bouquet. In the mouth, deep flavors mixed with Provençal herbs, fennel, and smoked meat flavors entertain the palate, while fine grained tannins provide a long, satisfying finish that bodes well for the wine's longevity. Although powerful and full-bodied on account of traditional winemaking and the predominance of old vine Grenache (70%), Syrah (25%), and Mouvèdre (5%) the 2015 Grand Tinel exhibits a brightness and suavity that allow it to drink well young. Nevertheless, the 2015 Châteauneuf-du-Pape should continue to improve in bottle for at least several more years before reaching its apogee between 2019 and 2026. For optimal enjoyment, we suggest serving the 2015 Domaine du Grand Tinel Châteauneuf-du-Pape at cool room temperature (60º F), after an hour of aeration.
Lamb and beef are the traditional accompaniments to Châteauneuf-du-Pape, and both provide excellent counterparts to a bottle of the 2015 Domaine du Grand Tinel. However, if ever there were just a single wine for all seasons and every occasion, Grand Tinel's Châteauneuf-du-Pape would certainly be at the top of that list. The finest cuts of red meat certainly make great partners to Elie Jeune's classic Châteauneuf-du-Pape. Some of our favorite pairings with this wine include braised lamb shank, beef tenderloin, and rotisserie roasted chicken and game birds basted with plenty of butter, olive oil and Provençal herbs. For the beef tenderloin, we suggest cooking it medium-rare and serving it with thickly sliced portabella mushrooms in a red wine, shallot, and Herbes de Provence reduction. Meatloaf with caramelized onions in a mushroom brandy cream sauce provides another excellent accompaniment. For satisfying meatless accompaniments, old-fashioned lentil or split pea soup, served with crusty French bread and a spoonful of shaved hard cheese, makes for a splendid mid-week banquet in the company of the 2015 Grand Tinel Châteauneuf-du-Pape. Ravioli stuffed with cheese, wild mushrooms and savory herbs pairs beautifully with this wine, too, as does a salad of roasted red peppers, sautéed portabella mushrooms, roasted eggplant, tomato, caramelized onions, and a healthy crumbling of chèvre or other full-flavored cheese. Serve this classic Mediterranean salad over a bed of complex greens or with freshly baked focaccia with a dollop of pesto mayonnaise or an olive and artichoke tapenade, and both the food and the wine will shine. Almost any dish with black olive, tapenade, bean, sausage, or tomato will complement this wine. Bon appétit!
Domaine du Grand Tinel is one of the largest estates in Châteauneuf-du-Pape, though it remains a very hands-on boutique operation by virtue of its relatively small production and the fact that it remains a family run winery. The very capable and talented owner Elie Jeune is both proprietor and winemaker.
Nearly all of Grand Tinel's 136 acres are devoted to the production of the estate's very highly acclaimed red Châteauneuf-du-Pape. As is the case for most red Châteauneuf-du-Pape, Grand Tinel's red wine is fashioned primarily from old vine Grenache (80%), with the balance of the cépage shared among Syrah, Mourvèdre, and small bunches of Cinsault and Counoise. By nearly all accounts, the wines of Domaine du Grand Tinel remain some of the most traditional in style of all Châteauneuf-du-Papes. The house style underscores the full rich fruit of the appellation as well as the power inherent in old vine Grenache and the finest wines of Châteauneuf-du-Pape. Nonetheless, Elie Jeune's wines are quite approachable when young and will hold for a dozen years or more in most vintages.
In recent years, Elie Jeune has taken to fashioning two red Châteauneuf-du-Pape selections: an excellent estate bottled offering that is consistently one of the finest in the appellation (this month's feature) and Cuvée Alexis Establet, the domaine's tête de cuvée from 100 year old vines. In addition, Domaine du Grand Tinel turns out a tiny quantity of aromatic white Châteauneuf-du-Pape from Grenache Blanc, Clairette, and Bourboulenc.
Châteauneuf-du-Pape is the Rhône Valley's most important appellation. Located in Provence, astride the swift moving Rhône River, this sun-drenched locale is blessed with a dry Mediterranean climate that is nearly ideal for the cultivation of vines and the production of red wine. Châteauneuf-du-Pape also possesses some of the oldest vines in France; the average age of the vines is in excess of 40 years, by far the oldest of any major appellation in France. In addition, the entire production of this great wine is hand harvested. Moreover, we have not yet mentioned the region's fabulous terroir – large flat stones known as galets roulés that are mingled with plenty of decomposed gravel. The remnants of Alpine glaciers that once covered southern France, Châteauneuf-du-Pape's glacial till provides excellent drainage and imparts subtle nuances of flavor to the appellation's outstanding wines.
Châteauneuf-du-Pape, meaning the Pope's new castle, derives its name from the sprawling edifice that the Roman popes built as a summer palace during the Babylonian Captivity. Forced to flee the political tumult of Rome from 1305-1378, Pope Clement V, a Frenchman, and his successor John XXII, left indelible marks on the history of wine by planting vines around their château and producing some of the medieval world's most noteworthy wines. Later, during the 1920s, Châteauneuf-du-Pape would once again play a significant role in the history of wine by voluntarily adopting a set of controls and guidelines put forth by Baron Le Roy of Château Fortia. This action became the model for the entire French system of Appellation Control, which prevails today, and nearly all other subsequent attempts around the world to guarantee the authenticity of wine and improve the wine of individual geographic locales.
However, the glory of Châteauneuf-du-Pape belongs as much to today as to posterity. The red wines of this sun-drenched appellation enjoy the highest standards of production in France and by all acclaim constitute some of the finest red wines in the world. Increasingly, white Châteauneuf-du-Pape approaches the quality of the appellation's red wine, yet it comprises less than 5% of the region's entire production.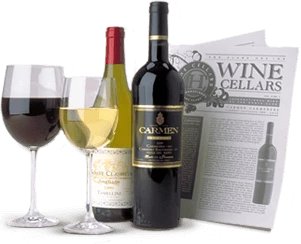 Enjoy Limited Production Estate
Bottled Wines
Discover limited production estate bottled wines such as Vergenoegd's internationally
acclaimed 2005 Cabernet Sauvignon, imported exclusively for our members.
DISCOVER OUR FOUR CLUBS