The 2003 Domaine des Baumuard La Calèche is a light golden wine that captures every bit of the warmth and charm of the perennial sunshine that blessed the uncommon 2003 vintage. A special cuvee of Chenin Blanc from Baumard's various Anjou vineyards, La Calèche possesses everything that a fine white Anjou has to offer: a delectable floral aroma that recalls the seductive scents of a flower garden; a multitude of flavors, including the telltale savor of fresh butterscotch and warm crème brûlée; and a soft plush mouth feel that contains just enough bracing acidity to carry off a gustatory coup d'état. Most assuredly, this is wine for good old fashioned drinking, or for the less inhibited . . . guzzling. La Calèche possesses Chenin Blanc's most endearing quality, a combination of floral seduction and a citrus twist. Interesting and pleasing in a straightforward format, we suggest drinking the ebullient 2003 Baumard La Calèche only moderately chilled (about 50° F) in order to enjoy every bit of the subtle charm that Baumard and the lovely land of Anjou have to offer. Salut!
The usual white wine accompaniments, fish, poultry, and other demure, self effacing fare, will admirably complement the 2003 Baumard La Calèche, but by all means please do not stop there. Although light and easy, La Calèche, like most top rated Chenin Blanc wines, provides more than a passing complement to ordinary foods. Consequently, we suggest a daring hand in the kitchen. Why not start with a mild Loire Valley goat cheese like Sainte-Maure de Touraine and serve it with some almonds, walnuts, and toasted French bread? A glass of La Calèche with this appetizer will set the tone for a rewarding evening. If a main course is more to your thinking, we suggest Shrimp or Lobster Croquettes with a pineapple salsa. Chicken or seafood crêpes offer yet another tantalizing accompaniment to Baumard's special cuvee. Mildly spicy Chinese, Thai, and Vietnamese dishes provide more eager companions to be enjoyed with La Calèche, so as you like it.
Domaine des Baumard lays tucked away in the tiny village of Rochefort-sur-Loire, just south of Savennières, at the very heart of the ancient Duchy of Anjou. This is an impeccably run estate that has been fashioning outstanding Loire valley wines since 1634. The historical Baumard family are viticulturists who specialize in the great but nearly forgotten Chenin Blanc variety. Under the recent guardianship of Jean and Florent Baumard, Domaine des Baumard has soared to new heights, even as many of Baumard's neighbors have struggled to maintain their marginal vineyards. Although Domaine des Baumard has played a key role in producing great Loire Valley wines for centuries, much of the modern day lore can be attributed to Jean Baumard, Florent's father, who resurrected this family property in the 1950s and 1960s after decades of decline due to phyloxerra, economic depression, and the ever shifting tastes of the wine drinking public. For decades the Baumards, like many of their neighbors were forced to concentrate their efforts on their nursery business and the cultivation of vines rather than wine making. That is until the 1950s when Jean began acquiring several of the greatest vineyards in Côteaux-du-Layon and Quarts de Chaume and refocused the family's effort into the crafting of the greatest of all Loire Valley wines. In the past decade, Jean's son Florent, a brilliant winemaker in his own right, has continued the great renaissance at Domaine des Baumard. In fact, Florent may be the region's finest winemaker. The Wine Advocate has stated that "Baumard quietly fashions some the world's most complex dry and sweet wines . . . and if he had been born a Californian, Burgundian, or Bordelais, wealthy vineyard owners would be standing in line to employ his services as a consultant," which is high praise indeed. Presently, Domaine des Baumard has one of the most extensive portfolios of Anjou wines, including outstanding dry Savennières offerings, sweet treasures from Côteaux-du-Layon and Quarts de Chaume, a host of artful cuvees like La Calèche, and at least three of the Loire Valleys most enjoyable sparkling wines. There are also a number of single vineyard offerings. All of Baumard's Savennières and Côteaux-du-Layon wines are produced from low yields (1.5-2.5 tons per acre). Moreover, all of Baumard's wines are hand harvested and each of the estate's wines is made in small, individual lots, including the special cuvees La Calèche and Cuvée Ancienne de Jean Baumard. Savennières, Côteaux-du-Layon, and Quarts de Chaume The Loire, France's longest and most scenic river, gives rise to some of the world's most distinguished white wines. The Upper Loire, above Orléans, is famous for Sauvignon Blanc in the guise of Sancerre, Pouilly-Fume, and assorted other place names. However, as one moves downriver towards Touraine and Anjou, Chenin Blanc reigns supreme. No more glorious and immortal white wines are produced in France than those of the finest vineyards of Savennières and Côteaux-du-Layon. Savennières: Situated west of Angers, Savennières produces small quantities of powerful, long lived white wines of outstanding quality from Chenin Blanc. Nearly all of its meager 12,000 case production is made dry. This splendid appellation includes two Grand Crus vineyards, Roche aux Moines and Coulée de Serrant. Côteaux-du-Layon: Situated to the south of Angers, Côteaux-du-Layon is the largest appellation for quality Chenin Blanc in Anjou. Most of its wines reflect the decadent, hedonistic side of Chenin Blanc, ranging from soft and fruity to full blown dessert wines that can improve in bottle for decades. Côteaux-du-Layon contains two outstanding Grand Crus in Quarts de Chaume and Bonnezeaux. Quarts de Chaume: A 112 acre Grand Cru of Côteaux-du-Layon, Quarts de Chaume is reputed to produce the world's finest Chenin Blanc, particularly in splendid vintages with plenty of sun and a dose of botrytis. From a great vintage and in the hands of Baumard and a few other outstanding producers, Quarts de Chaume can be sublime and nearly immortal.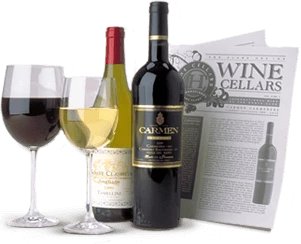 Enjoy Limited Production Estate
Bottled Wines
Discover limited production estate bottled wines such as Vergenoegd's internationally
acclaimed 2005 Cabernet Sauvignon, imported exclusively for our members.
DISCOVER OUR FOUR CLUBS