Juicy, hedonistic, and downright drinkable, the 2020 Domaine de Cabasse Cuvée Marguerite Côtes-du-Rhône (100% Grenache) is both charming and truly sensuous. Benoit Baudry's gregarious 2020 Cuvée Marguerite comes imbued with a translucent crimson robe that gives the impression that a delicate ethereal wine awaits. Don't be fooled. With just a few minutes in the glass, this ebullient Côtes-du-Rhône offers up heady aromatics: cranberry, wild strawberry, woodland berries, and hints of garrigue and Provençal herbs quickly greet the nose. In the mouth, the 2020 Cuvée Marguerite Côtes-du-Rhône is pure pleasure. The natural methods of production at Domaine de Cabasse and the near perfect weather that prevailed throughout the 2020 vintage have endowed the 2020 Cuvée Marguerite with elegance, sumptuous fruit, and juicy acidity, all of which make this tantalizing Côtes-du-Rhône hard to resist. As testimony to the exceptional balance of the 2020 Cuvée Marguerite, the wine's 15% alcohol is never in evidence – that is until one begins to glow. We suggest serving the lovely 2020 Domaine de Cabasse Cuvée Marguerite Côtes-du-Rhône at cool room temperature (55°-60° F), after a few minutes of aeration. Anticipated maturity: 2022-2025. Enjoy!
Whether you prefer good old-fashioned country cooking, down home fare, or just the way mama used to make, unpretentious comfort foods are the way to go with Domaine de Cabasse's 2020 Cuvée Marguerite Côtes-du-Rhône. One of our favorite foods with the tasty Cuvée Marguerite is pizza, but not just any ordinary pizza. Perhaps the best-kept secret of Provence is that Provence, rather than Italy, bears the distinction of being the ancestral home of pizza; while the region's second best secret is just how good Provençal pizzas are. Consequently, some favorite pairings are three-cheese and black olive pizza; chicken and mushroom pizza with red onion, peppers, and Provençal herbs; and any number of vegetable pizzas with eggplant, zucchini, or artichoke. Smoked meats, pasta, and almost anything served with fresh tomato sauce, including fish, will also provide savory companionship to this wine. Simple but delicious Provençal specialties and spit-roasted chickens and game birds (notably squab or pheasant) dripping with natural juices, olive oil, and wild herbs, also make splendid companions to the 2020 Domaine de Cabasse Cuvée Marguerite Côtes-du-Rhône. The aromatic, juicy flavors of the wine and fowl provide a delectable mouthwatering combination. Bon Appétit!
We first discovered Domaine de Cabasse, a traditional Provençal "mas" (farmhouse) and working winery a quarter of a century ago on a wine buying trip to the South of France. With 15 rooms and a delightful country kitchen that served superb traditional Provençal fare, Domaine de Cabasse provided the ideal base for visiting nearby Châteauneuf-du-Pape and Gigondas while discovering many of the finest Côtes-du-Rhônes on the planet growing just a cicada's song away from our rooms.
Under the dazzling Provençal sun and surrounded by a sea of undulating vines that flow from the hills below the picture perfect hill town of Séguret, officially one of the most beautiful villages in France, we thought we had discovered Shangri-La. There was only one glitch. We could only enjoy the domaine's wines on the spot, as the long-time proprietor Monsieur Haeni was not exporting his wines to the United States. Apparently, only those fortunate enough to stay at Domaine de Cabasse and the steady cavalcade of Dutch, German and Swiss wine lovers who loaded their vehicles once a year with the domaine's liquid booty were the principal recipients of Domaine de Cabasse's captivating Côtes-du-Rhônes and Gigondas. We returned some years later to the same song: "Enjoy our wines here," and of course we did.
Fortunately, patience and persistence often pay dividends. On a subsequent trip to the Southern Rhône, we again opted to stay at our old haunt and were delighted to discover that the domaine's wines were not only better than we had remembered, but the gregarious new proprietor, Benoit Baudry, consented to sell us some of his delightful wines. And the rest is history, as the story goes. Domaine de Cabasse fashions several exceptional Côtes-du-Rhônes, including a village-designated Séguret, and Cuvée Marguerite, the latter named for Benoit's wife and this month's feature. Domaine de Cabasse also produces a hedonistic Gigondas and a tasty rosé, all of which go down far too easily. Wine production is sustainable and carried out under the careful eye and deft hand of Philippe Cambie, the Rhône Valley's most renowned oenologist. We are thrilled that patience and persistence have paid off and we can again share Domaine de Cabasse's wines with our members.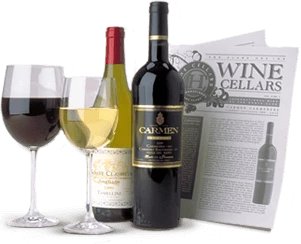 Enjoy Limited Production Estate
Bottled Wines
Discover limited production estate bottled wines such as Vergenoegd's internationally
acclaimed 2005 Cabernet Sauvignon, imported exclusively for our members.
DISCOVER OUR FOUR CLUBS