Fresh, light, jaunty and uplifting, the 2006 Château de la Chesnaie Sèvre-et-Maine captures all of the good cheer and easy drinking that the fine wines of Muscadet can proffer. And to add to its appeal, this delightful Sèvre et Maine from Chéreau-Carré also possesses a beautiful draught of stony fruit and a persistent mid palate appeal from spending four months sur lie (resting on its skins, etc.) prior to bottling. Moreover, a pleasant taste of oyster shell and brine marry willingly to the clean, beautiful, bone-dry fruit of Melon de Bourgogne to render the 2006 Château de la Chesnaie as eminently enjoyable as it is quaffable. The best Muscadet wines, and certainly all those that bear the appellation Sèvre et Maine, are produced sur lie in the manner of Château de la Chesnaie: simply, spending a considerable amount of time sur lie imparts additional flavor and subtle complexity to white wine. We suggest that at least initially you give this crisp, sprightly wine a good chill (38°- 40° F), but we also encourage you to savor the Château de la Chesnaie as it warms a bit in the glass, especially with food; a whole other taste sensation awaits the patient imbiber. Salut!
Muscadet is very much a wine region whose climate, history, and sustenance are married to the sea. Therefore, it should come as no surprise that the wines of Muscadet, and especially those of Sèvre-et-Maine, are fashioned with all of the fruits and creatures of the sea in mind. In France, oysters are the traditional, tried-and-true accompaniment to Muscadet. In nearby Nantes as well as in Paris, the bistros and fish restaurants all attest to Muscadet's preeminence. Consequently, raw oysters and the 2006 Château de la Chesnaie are a perfect combination, but for those wary of consuming raw crustaceans (and one is justified in being so leery), we suggest Oysters Florentine, Oyster Stew, or almost any style of sautéed oysters. Crab, mussels, prawns, scallops, and shrimp offer equally fine pairings with this wine. Specifically, Shrimp Cocktail, Shrimp Scampi, and Scallops en Brochette make for tasty accompaniments. Sole, flounder, and most light, white fish will pay homage to the 2006 Château de la Chesnaie as well. Bon Appétit!
Château de la Chesnaie is a special, limited production of Sèvre-et-Maine Muscadet by the venerable house of Chéreau-Carré, the most prestigious of all Muscadet producers. Château de la Chesnaie is a family-owned property, whose holdings occupy the most privileged position in the entire Nantes region of France. This family-owned property dates back to the 15th century. Presently, Chéreau-Carré's vines cover more than 267 acres of the highest quality soil in the most prized region of Muscadet known as Sèvre-et-Maine. Chéreau-Carré is managed by Bernard Chéreau, whose family's connection to wine dates back to the eleventh century – giving the family 1,000 years of collective oenological history. Bernard's passion for the premier Muscadet grape – Melon de Bourgogne – is evident in the quality of all of his wines, but none more so than in Château de La Chesnaie and in his most recent luxury offering Le Clos. Bernard runs three separate estates under the umbrella of Chéreau-Carré: Château de La Chesnaie, whose wines originate from a 25 year old parcel in the heart of Sèvre-et-Maine; Comte Leloup de Chasseloir, a selection of pre-phyloxerra vineyards dating back to the turn of the last century; and Le Clos, a small single vineyard of 100-year old Muscadet vines that are grown on schist soils. Bernard is passionate about the location of his vines as well as the handling of each individual parcel within each vineyard. Using only indigenous yeast and extended lees contacts, Bernard Chéreau has repeatedly demonstrated his preeminence as the region's finest producer of Muscadet. Moreover, he continues to push the envelope in terms of quality and consumer expectations for Muscadet. This dedication has earned Chéreau-Carré's wines a welcome place at table in nearly all of the finest seafood restaurants in Paris. Muscadet Sèvre-et-Maine Muscadet has the only classified vines in Brittany. This large appellation lies near the mouth of the Loire River, just to the south of the city of Nantes. Sèvre-et-Maine, which occupies the hills above the two small rivers from which the appellation draws its name, is the finest part of the sprawling Muscadet appellation. Two grapes, both white, have traditionally been associated with Muscadet: Gros Plant and Melon de Bourgogne. However, Melon de Bourgogne is a far superior grape to Gros Plant and is now the only grape variety allowed in Muscadet wines that bear the Sèvre-et-Maine appellation. Melon de Bourgogne was brought to Muscadet in the 17th century and was once a permitted variety in Burgundy, as its name implies. Although rarely complex or profound, the finest wines of Muscadet provide splendid accompaniments to seafood and can hold their own with many more famous and expensive white wines. Truly, the wine wares of Muscadet Sèvre-et-Maine constitute presently some of the finest values in French wine.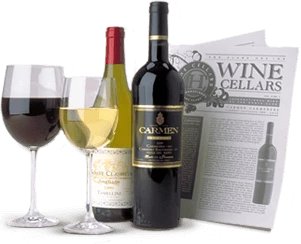 Enjoy Limited Production Estate
Bottled Wines
Discover limited production estate bottled wines such as Vergenoegd's internationally
acclaimed 2005 Cabernet Sauvignon, imported exclusively for our members.
DISCOVER OUR FOUR CLUBS