A deep, dense, and fully packed Châteauneuf-du-Pape, the 2003 Domaine Chante Perdrix is one of the most delicious young Châteauneuf-du-Pape's we have ever tasted. Youthful, rich, and voluptuous, this wine already drinks well; however, it is just starting to strut its stuff. Poised to blossom, this huggable Châteauneuf-du-Pape offers up the decadent scents of an exotic market: coffee, herbs, incense, oriental spices, and a hint of smoke. On the palate, this full-bodied Chante Perdrix is rich, layered, and beautifully textured. It fills the mouth with oodles of ripe, berry fruit along with subtle hints of forest woodlands, kirsch, and fresh cooked bacon. One would almost think this wine a meal rather than a beverage, but then we would all be denied the simple pleasure of just drinking this delightful concoction. Given the wine's supreme youth, we suggest decanting the 2003 Chante Perdrix at least one hour ahead of serving if it is for near term consumption. Better still, put this wine on AccelaBreathe for a few minutes, (For more information on this amazing new wine tool, contact www.accelabreathe.com) or lay the wine down awhile longer and enjoy the fireworks that unfold in the glass. Salut!
If ever there were only one wine for all occasions, it would have to be Châteauneuf-du-Pape, and our first choice would be the suave, jammy, incense laden 2003 Domaine Chante Perdrix. In its youth, red meats make great partners with the Nicolets' most recent offering, especially a whole beef tenderloin, served medium-rare, with thickly sliced portabella mushrooms in a red wine, shallot, and Herbes de Provence reduction. A braised lamb shank gets our nod, too. For a tasty, but hearty vegetarian accompaniment, we suggest a salad of roasted red peppers, sautéed portabella mushrooms, roasted eggplant, tomato, caramelized onions, and a healthy crumbling of feta cheese. Served over a bed of complex greens or freshly baked focaccia, with a dollop of pesto mayonnaise as a dressing, this dish makes a sublime accompaniment to the 2003 Chante Perdrix. If you opt to hold this wonderful wine awhile, we suggest serving it with roast duckling, prepared with a blackberry or kirsch based sauce; we have found that duck provides one of the finest complements to mature vintages of Châteauneuf-du-Pape. Bon appétit!
Domaine Chante Perdrix produces one of Châteauneuf-du-Pape's most flamboyant and exotic wines. It also fashions what is likely the appellation's most consistently hedonistic and seductive Châteauneuf-du-Pape. At Chante Perdrix, whose name means "Song of the Partridge," Guy and Fréderic Nicolet fashion truly exceptional wine from low yielding vines. They use a traditional cépage or blend of Grenache (80%), with the balance Syrah, Mourvèdre, and the rare Muscardin varietal. Collectively, the Nicolet brothers farm one continuous 46-acre vineyard at the southern end of the appellation, where the earth consists more of stone than soil. Here, the proliferation of gravel and to a lesser extent the flat river stones called galets roulés dominate, which force the vines to burrow deep into the earth for sustenance; thereby facilitating the great charm and warmth of Chante Perdrix and solidifying this estate's reputation as the most delicious and forward Châteauneuf-du-Pape. The quiet, unassuming Guy Nicolet is the winemaker at Chante Perdrix, which assures that only time-honored, traditional winemaking methods prevail at this Provencal domain. A traditionalist, Nicolet ages his red Châteauneuf-du-Pape for up to 18-24 months in large oak foudres. What emerges is a firm, spicy, flamboyant wine that drinks remarkably well, even when young; yet, it will improve for up to ten years or more in bottle. In addition, Nicolet fashions small quantities of exotic white Châteauneuf-du-Pape that is worth seeking out. Châteauneuf-du-Pape Châteauneuf-du-Pape is the Rhône Valley's most important appellation. Located in Provence, astride the swift moving Rhône River, this sun-drenched locale is blessed with a dry Mediterranean climate that is nearly ideal for the cultivation of vines and the production of red wine. Châteauneuf-du-Pape also possesses some of the oldest vines in France; the average age of the vines in Chateauneuf du Pape is in excess of 40 years, by far the oldest of any major appellation in France. In addition, the entire production of this great wine is hand harvested. Moreover, we have not yet mentioned the region's fabulous terroir – large flat stones known as galets roulés that are mingled with plenty of decomposed gravel. The remnants of Alpine glaciers that once covered southern France; Châteauneuf-du-Pape's glacial till provides excellent drainage and imparts subtle nuances of flavor to the appellation's outstanding wines. Châteauneuf-du-Pape, meaning the Pope's new castle, derives its name from the sprawling edifice that the Roman popes built as a summer palace during the Babylonian Captivity. Forced to flee the political tumult of Rome from 1305-1378, Pope Clement V, a Frenchman, and his successor John XXII, left indelible marks on the history of wine by planting vines around their château and producing some of the Medieval world's most noteworthy wines. Later, during the 1920's, Châteauneuf-du-Pape would once again play a significant role in the history of wine by voluntarily adopting a set of controls and guidelines put forth by Baron Le Roy of Château Fortia. This action became the model for the entire French system of Appellation Control and nearly all other subsequent attempts to guarantee the authenticity of wine and improve the wine of individual geographic locales.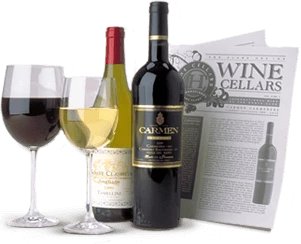 Enjoy Limited Production Estate
Bottled Wines
Discover limited production estate bottled wines such as Vergenoegd's internationally
acclaimed 2005 Cabernet Sauvignon, imported exclusively for our members.
DISCOVER OUR FOUR CLUBS