As a blend of 65% Grenache, 20% Mourvèdre and 15% Syrah, the 2016 Domaine Chamfort Vacqueyras is a powerful yet polished wine of great character from old vines, many of which are in excess of 50 years of age. Deeply colored, full-bodied and packed with flavor, the 2016 Domaine Chamfort Vacqueyras displays a heady bouquet of dark fruits, anise, garrigue (the amplifying herbal scents and savors of the Provençal landscape), pepper and spice. Moreover, the wonderful 2016 vintage in the southern Rhône has endowed the 2016 Chamfort Vacqueyras with additional elegance. Rich in fruit and long on flavor, this youthful but complex Vacqueyras is already chock full of hedonistic pleasure, yet further reward awaits those with the patience to afford this wine an additional year or more in bottle. An outstanding effort from Domaine Chamfort, Vasco Perdigao's 2016 Vacqueyras deserves a place on every Rhône lover's table as well as a cool resting spot in the cellar. For current consumption, we suggest affording Vasco Perdigao's delicious Vacqueyras an hour or more in a decanter before serving. And as with most fine Rhône reds, a cool serving temperature (57º-62º F) will showcase this wine's stuffing as well as its charm. Enjoy!
Lamb, beef, pasta and full-flavored vegetable dishes are the traditional accompaniments to hearty Rhône reds, and the 2016 Domaine Chamfort Vacqueyras will more than do its part to accompany those foods. However, one of the many attributes of top-notch Vacqueyras is its versatility at table. It can hold court with grand cuisine or lend credence to almost any ordinary meal. The ability of the 2016 Domaine Chamfort Vacqueyras to render simple peasant foods and casual mid-week meals fit for royalty provides testimony to its quality. In addition to fine cuts of beef and lamb, cassoulets, lasagna, and heady pasta dishes, even those with an arrabiata sauce, make tasty companions to Chamfort's Vacqueyras. Spiral sliced ham, truffle fries, and large multi-green salads served with crusty French bread and hunks of hard cheese also make for a banquet in the company of this excellent 2016 Vacqueyras. Split pea or lentil soup, ratatouilles and most tomato-based dishes make great accompaniments to this wine as well. The juicy, vinous qualities of Vacqueyras also pair easily with many Provençal, French, Italian, and Spanish cheeses. Chèvre, Port Salut and St. Paulin from France, Fontina from Italy, and Manchego from Spain are several superb cheese selections to savor with the 2016 Chamfort Vacqueyras. Bon appétit!
Domaine Chamfort lies at the foot of the last outcropping of the Alps, known as the Dentelles de Montmirail. It extends over 21 hectares (approximately 52 acres) spread over three of the southern Rhône's most illustrious wine villages: Vacqueyras, Rasteau, and Sablet. Although an established producer in the region for decades, the acquisition of Domaine Chamfort in March 2010 by Vasco Perdigao and his wife Sonia has set a new course for this property.
A young and passionate winemaker, Vasco has moved the property to sustainable viticulture and is transitioning Domaine Chamfort's vineyards to all organic agriculture. By all accounts, Vasco Perdigao is a high energy guy who appears fanatically bent on producing exceptional wine from his vineyards in all three of the villages where he tends vines. Vacqueyras is Perdigao's flagship wine, a deeply colored forceful Vacqueyras that can hold its own among many more illustrious names from nearby Châteauneuf-du-Pape, but Perdigao's Côtes-du-Rhône, Rasteau, Sablet and Séguret offerings are equally impressive in their own right. A combination of old vines, low yields, and excellent southeast exposures result in traditional, full-bodied Vacqueyras and Côtes-du-Rhônes. And to Perdigao's credit, each of his wines exudes a distinct flavor profile that reflects the critical interplay between the artist as winemaker and each vineyard's distinct terroir. The results have been the ever-growing number of medals and recognition afforded Domaine Chamfort.
France remains a treasure trove of exciting red wines. And nowhere in France is this more the case than in the largely undiscovered appellation of Vacqueyras – a small jewel that lies in the shadow of Châteauneuf-du-Pape and nearby Gigondas, the appellation's more famous neighbors. Where Vacqueyras excels is in its ability to consistently fashion powerful, full-flavored red wines that at their finest rival Châteauneuf-du-Pape in everything but price. Vacqueyras is also one of the prettiest wine villages in all France, a quintessential, sun-drenched Provençal town that slumbers in the shadow of the Dentelles de Montmirail, the fantastic mountainous outcroppings that form the last vestiges of the Alps. In spite of the appellation's still relative obscurity, Vacqueyras has enjoyed great acclaim for centuries for its superb red wine as well as its scenery. To further advance its stature, Vacqueyras lays claims to a favorite son, Raimbaut de Vacqueyras, a celebrated 12th century troubadour. In days gone by, Vacqueyras was also the preferred haunt of Sarah Bernhardt, the 19th century's most renowned actress and celebrity. The town served no doubt as a haven from the paparazzi of the day. Yet, in spite of its acclaim for exceptional wines, it was not until 1995 that Vacqueyras was granted its own wine appellation, separate from that of the other top Côtes-du-Rhône Villages. As is the case throughout France's southern Rhône Valley, red wine made primarily from Grenache, Syrah and Mourvèdre predominates in Vacqueyras. Small quantities of white and rosé are also produced in Vacqueyras.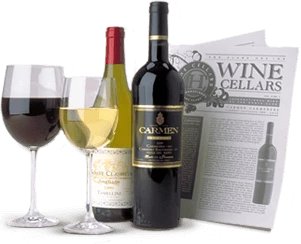 Enjoy Limited Production Estate
Bottled Wines
Discover limited production estate bottled wines such as Vergenoegd's internationally
acclaimed 2005 Cabernet Sauvignon, imported exclusively for our members.
DISCOVER OUR FOUR CLUBS