Domaine Chamfort's 2018 Camassots Côtes-du-Rhône emanating from the picturesque village of Sablet is a traditional Provençal blend of 60% Grenache, 30% Syrah and 10% Cinsault. The scion of another excellent vintage in the Rhône Valley, the 2018 Chamfort Camassots Côtes-du-Rhône is a worthy successor to Chamfort's 2015 Côtes-du-Rhône, which earned a highly coveted spot on the Recommended List from Wine Spectator. Sporting a rich ruby and purple robe, the buxom 2018 Camassots Côtes-du-Rhône offers up an array of enticing aromas as well as plenty of stuffing. Raspberry, black cherry, and savory notes redolent with wild herbs greet the nose. In the mouth, black currant, violets, and forest floor flavors grace the palate and are carried on a bed of textured tannins, providing weight and making this full-bodied Côtes-du-Rhône seem more like a young Gigondas, Sablet's neighbor and bigger boned, pricier red. All of this reflects Vasco Perdigao's penchant for organic viticulture and preference for minimal intervention in winemaking, not to mention Camassots' location adjacent to Gigondas. For optimal enjoyment, we suggest affording the 2018 Chamfort Camassots Côtes-du-Rhône 15-20 minutes of aeration before serving at a cool serving temperature (58º-62º F). Enjoy!
Lamb, game birds, pasta, pizzas, and heady vegetable dishes are the traditional accompaniments to Côtes-du-Rhône reds, and Domaine Chamfort's 2018 Camassots Côtes-du-Rhône certainly provides an ideal accompaniment to those foods and the many traditional culinary delights of Provence and the Southern Rhône. It can hold court at a dinner party or lend credence to almost any ordinary mid-week meal. The ability of the 2018 Domaine Chamfort Camassots Côtes-du-Rhône to render simple peasant foods and casual mid-week meals fit for royalty provides testimony to its quality as well as its versatility. Whether it is a seared veal chop with shallots and chanterelle mushrooms, a fluffy omelet with shaved truffle, spiral sliced ham and homemade potato salad, or a large multi-green salad served with crusty French bread and hunks of hard cheese, all make for a banquet in the company of Chamfort's flavorful 2018 Camassots Côtes-du-Rhône. Split pea or lentil soup, ratatouilles, and most tomato-based dishes make great accompaniments, too. And let's not forget the delight a thin crusted three cheese pizza can bring to the table, the type of pizza one encounters in Provence, and for which red Côtes-du-Rhône possesses a natural affinity. Bon appétit!
Domaine Chamfort lies at the foot of the last outcropping of the Alps, known as the Dentelles de Montmirail. It extends over 21 hectares (approximately 52 acres) spread over three of the southern Rhône's most illustrious wine villages: Vacqueyras, Rasteau, and Sablet. Although an established producer in the region for decades, the acquisition of Domaine Chamfort in March 2010 by Vasco Perdigao and his wife Sonia has set a new course for this property.
A young and passionate winemaker, Vasco has moved the property to sustainable viticulture and is transitioning Domaine Chamfort's vineyards to all organic agriculture. By all accounts, Vasco Perdigao is a high energy guy who appears fanatically bent on producing exceptional wine from his vineyards in all three of the villages where he tends vines. Vacqueyras is Perdigao's flagship wine, a deeply colored, forceful Vacqueyras that can hold its own among many more illustrious names from nearby Châteauneuf-du-Pape, but Perdigao's Côtes-du-Rhône, Sablet, Rasteau, and Séguret offerings are equally impressive in their own right. A combination of old vines, low yields, and excellent southeast exposures result in traditional, full-bodied Southern Rhône style wines. And to Perdigao's credit, each of his wines exudes a distinct flavor profile that reflects the critical interplay between the artist as winemaker and each vineyard's distinct terroir. The results have been the ever-growing number of medals and recognition afforded Domaine Chamfort.
The Rhône River makes a hasty exit from Switzerland's Lac Leman, better known to Americans as Lake Geneva, and cuts a swift path through southern France to the Mediterranean Sea. As a source of many of France's greatest wines, the wine growing region of the Rhône Valley begins just south of Lyon around the city of Vienne and terminates far south, near Aix-en-Provence. The length of the river allows for two quite distinct wine producing sub-regions in the Rhône Valley: one north and the other south. In the Northern Rhône, one finds granite and gneiss based soils, coupled with a continental climate. Here, Syrah is king of the cultivars, where it reigns as the only permitted red variety. The Northern Rhône is home to such illustrious wines as Côte Rôtie and Hermitage, among others. Marsanne, Roussanne and Viognier are the permitted white grape varieties in the Northern Rhône. The wines of the Northern Rhône tend to be highly structured and firm, and often capable of great aging.
The Southern Rhône sub-region announces a warmer Mediterranean climate with substantially varied terroirs. Here alluvium, sand, limestone, marl, pebbles, large flat stones known as galets, and more are found. Grenache is the dominant red variety, but there is an incredible wealth of cultivars used for blending, among them Syrah, Mourvèdre, Cinsault, and Carignan. The wines of the Southern Rhône are often aromatic and beautifully perfumed, juicy, supple in texture and endowed with considerable weight. Red wines dominate the production in the Southern Rhône. Châteauneuf-du-Pape, Gigondas, Vacqueyras, and Côtes-du-Rhône are the names to look for, but one should not discount the wonderful rosé and white wines that increasingly flow from the Southern Rhône. Grenache remains the mainstay for rosé, while Grenache Blanc, Marsanne, Roussanne, and Viognier yield the region's finest white wines.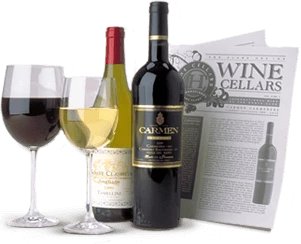 Enjoy Limited Production Estate
Bottled Wines
Discover limited production estate bottled wines such as Vergenoegd's internationally
acclaimed 2005 Cabernet Sauvignon, imported exclusively for our members.
DISCOVER OUR FOUR CLUBS