Born on terraced hillsides called restanques above Cadières d'Azur, Domaine Bunan's 2011 Moulin des Costes attracts the eye as well as the palate. Brilliant and intense in color with deep ruby and purple highlights, the wine's delicate bouquet of violet flowers, mint and Morello cherries comes almost as a surprise to beguile the nose. In the mouth, Paul and Pierre's well-structured Bandol expands further, spreading rich mulberry fruit and wild herb flavors across the palate. Add deft touches of black pepper and truffle to the wine's round firm tannins and a star is born. Although well-structured, the tannins in the 2011 Moulin des Costes come across as ripe and round, rather than aggressive, rendering this young Bandol ready to drink now with an hour or more of aeration, yet capable of ageing for 10 years or more. Enjoy!
Like any self respecting red Bandol, Domaine Bunan's 2011 Moulin des Costes is a full-bodied wine capable of warding off the chill of a cold winter's night. It is also a wine with a propensity to accompany traditional Provencal meals as well as the delights of a creative contemporary kitchen. Roast or smoked duck, grilled lamb, and the rich aubergine (eggplant) and cheese dishes of Provence provide outstanding accompaniments to Domaine Bunan's 2011 Moulin des Costes Bandol. Lamb shanks with black olives and slow cooked rack of lamb with a red wine reduction pair especially well with Bandol. Rich cheese pies and spicy penne pasta dishes with eggplant and hot homemade sausages in a thick tomato sauce get our mouths watering, too, with this wine. Goat cheeses, another Provencal specialty, provide other outstanding partners to Domaine Bunan's Bandol. Bon Appétit!
The tiny Bandol estate of Domaine Bunan attracted our attention with a succession of delicious red Bandol wines. Unfortunately, the domaine's tiny production and limited export of earlier vintages precluded us from purchasing enough bottles to satisfy our membership. We thought we would never have the opportunity to introduce Domaine Bunan's exceptional organic Bandol to our members, but lo and behold our persistence has paid off. Moreover, it appears that good things truly do come to those who wait. Domaine Bunan's 2011 Moulin des Costes from all organic estate grown grapes has turned out to be the most hedonistic red Bandol wine we have ever tasted from Paul and Pierre Bunan.
Paul and Pierre Bunan are men steeped in the rich wine-growing tradition of southern France and heirs to a tradition of authentic winemaking that they learned from their father and grandfather. In 1961, Paul and Pierre met and fell in love with this terraced domaine in the marl and sandstone hills above La Cadière d'Azur in the Bandol appellation, an exceptional and widely respected commune known for its outstanding red and rosé Bandol wines. Hence, the birth of Domaine Bunan.
Today, Domaine Bunan is a true family affair that is preparing for the succession of the next generation. Brothers Paul and Pierre are joined at the estate by Paul's son, Laurent, who recently completed his oenology and winemaking studies in California. Laurent presently directs export and development for Domaine Bunan. Laurent's sister Françoise also works at the winery as head of communications, while Pierre's daughter lends her talents to marketing and design. Younger brother Philippe also plans to join the family in the future as an agricultural engineer. With respect for the land and the family's tradition of fashioning only authentic Bandol wines, the warm and welcoming Bunan family pride themselves on producing exceptional Bandol.
Despite the preeminence of its wines, Bandol and its highly acclaimed wines remain little known in the United States. Located along a breathtakingly beautiful stretch of Provencal coastline to the east of Marseille and the picturesque seaside town of Cassis, Bandol fashions some of the greatest red and rosé wines in all France from a variety of calcareous soils. From terraced hillsides in eight small communes around the seaside village of Bandol, the persnickety Mourvèdre grape variety not only thrives, it reigns supreme. In Bandol, under the warm Mediterranean sun, Mourvèdre ripens fully and consistently to form the backbone, heart and very soul of all red and rosé Bandol wines. Nowhere else in France does Mourvèdre command such attention. The late ripening Mourvèdre grape is the major varietal and essential ingredient in all of Bandol's magical red and rosé wines, as Mourvèdre must account for at least 50% of any red or rosé wine made in Bandol. However, many producers can and will use more Mourvèdre in their Bandol with some Bandol offerings topping out at 95% Mourvèdre. Grenache, Cinsault and Syrah provide strong supporting roles in Bandol, as they serve to tame Mourvèvdre's sometimes rambunctious personality, which includes an alluring array of deep black and red fruit aromas, spice and wild herb components along with a firm tannic backbone that guarantees longevity.
Although full-bodied red and rosé wines dominate Bandol's production, small quantities of fine white wines from primarily Clairette, Bourboulenc and Ugni Blanc also emanate from Bandol. Typically, the region's white grape varieties grow on hillsides with north facing slopes. They capture the freshness of the nearby sea and offer complex, amplifying aromas and flavors reminiscent of spring flowers, citrus, and an array of orchard fruits.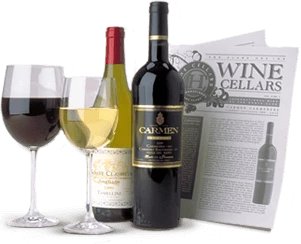 Enjoy Limited Production Estate
Bottled Wines
Discover limited production estate bottled wines such as Vergenoegd's internationally
acclaimed 2005 Cabernet Sauvignon, imported exclusively for our members.
DISCOVER OUR FOUR CLUBS