Scoring 94 points, the 2010 Dei Vino Nobile di Montepulciano came in at #38 on this year's Wine Enthusiast Top 100, and our tasting panel wholeheartedly agrees with the impressive accolade. Caterina Dei and Nicolò d'Aflitto have a knack for turning out flashy, scented, age worthy Vino Nobile, and the 2010 Dei Vino Nobile di Montepulciano is all of that and more. The 2010 Dei Vino Nobile carries the deep, engaging color of Prugnolo Gentile, which is positively brilliant to the eye, yet it's the wine's incredible aroma of red and black fruits accented by rose petal and violet scents that truly lure the taster. Imbibe! Breathe in the scent of this Vino Nobile and then taste, savoring the deep draught of fruit that embodies enchanting elegance and power all in one. Seamless integrated fruit, purity of flavor, body, and supreme balance in this wine solidify Dei's position as a benchmark producer of Vino Nobile. Better still, the youthful 2010 Dei Vino Nobile is just beginning to blossom. In short, this wine has years of life ahead of it and can be counted on to provide even greater pleasure with a few more years of bottle age. In the ideal world, one has a case of the 2010 Dei Vino Nobile di Montepulciano on hand for near term drinking and several cases in the cellar to savor for decade or more. Anticipated maturity: 2014-2020.
Veal and beef are traditional Tuscan favorites with Vino Nobile di Montepulciano, but equal credence should be given to lamb, pork, and chicken dishes. Tuscany is a dry, austere landscape, especially in summer and early fall, but it is a fecund land. Its beef is exquisite and its produce legendary for its purity of flavor – all of which provide great complements to Dei's elegant, powerful 2010 Vino Nobile di Montepulciano. Florentine Steak, rubbed with extra virgin olive oil and brushed with garlic and herbs, is perhaps the ultimate accompaniment. Chicken with black olives and capers in a light cream sauce, served over penne pasta, is another excellent choice with Dei's outstanding 2010 Vino Nobile. Parmesan Crusted Chicken, served with lightly herbed goat cheese; and a savory Lamb Ragout with mushrooms, red peppers, and onions, served over braised greens and oven roasted potatoes, provide other tasty treats with the concentrated, full-flavored 2010 Dei Vino Nobile, too. Salute!
The Dei estate lies at the end of a tiny Tuscan road, sequestered from the commercial hoopla that lately surrounds many other Tuscan wineries. To enter the world of Dei is to step back in time. However, that step is not a retreat to the vagaries of yesteryear as the winery is modern and technologically up to date and the vineyards impeccably maintained. However, the house, the manicured gardens, and the glowing atmosphere are straight out of the 1920s. From its surroundings, Dei recalls the ambiance, comfort and confidence of a bygone era. More importantly, the estate's Vino Nobile reflects the overt charm, grace, and conviviality of its owners.
Dei was founded in 1964 by Alibrando Dei upon the purchase of a parcel of land called Bossona where he planted a vineyard of Prugnolo Gentile, the special clone of Sangiovese that is unique to Vino Nobile. Over the next several decades the family developed the vineyard and sold off the juice in bulk. However, in 1985 Alibrando's son, Galileo, decided to rent a cellar and, with no technical assistance, produced the first family named commercial vintage. The bottling was such a success that the family built a new modern cellar in 1989.
Today, Dei enjoys an enviable reputation, and as the Wine Advocate has so saliently noted, "The powerful and elegant wines of Caterina Dei continue to rank among the leaders of the pack in Montepulciano." Moreover, the estate continues to blossom under the guidance of the third generation, Maria Caterina Dei and oenologist Nicolò d'Aflitto. Caterina gave up her career as a professionally trained singer and actress to embrace the family business and is passionately dedicated to producing high quality Vino Nobile that highlights Vino Nobile's outstanding terroir. The current estate's 38 hectares (84 acres) of vineyard are all located in the historic Vino Nobile di Montepulciano zone and are split between four prized vineyards: Bossona, Martiena, La Ciarliana and La Piaggia. The original Bossona vineyard is located at about 300 meters in an idyllic amphitheatre. It is responsible for Dei's Riserva bottling, while Martiena houses both the cellar and family villa. Production is focused on the local varietals, especially Sangiovese (Prugnolo Gentile), Canaiolo and Mammolo.
Dei produces only about 60,000 bottles of Nobile di Montepulciano, 20,000 bottles of Nobile Riserva (only in the best years), 40,000 bottles of Rosso di Montepulciano and an extremely limited quantity of the highly acclaimed "Super Tuscan" blend Sancta Catherina from Prugnolo Gentile, Syrah, Cabernet, and Petite Verdot.
Even when legions of wine thirsty tourists descend upon the Tuscan hill town of Montepulciano, it manages to retain its charm and characteristic medieval feel. In fact, this bustling town is a strollers' paradise, replete with flower bedecked alleyways and steep steps in place of streets. And thanks to a ban on vehicles in much of the old town, one comes to quickly understand how Montepulciano emerged a "pearl of the 16th century." Set on a steep hill between the Val di Chiana and the Val d'Orcia, Montepulciano is the center of the thriving DOCG (Controlled and Guaranteed Denomination of Origin) of Vino Nobile di Montepulciano, one of the greatest and oldest names in Italian wine.
The "noble wine" of Montepulciano has enjoyed its renowned reputation ever since the year 790. Even in the early medieval period, the "Vino Nobile" of Montepulciano was highly sought after, even outside of Montepulciano and the surrounding area. In 1549, Sante Lancerio, maître de chaîne to Pope Paul III, called the Nobile of Montepulciano the "Vino perfettissimo da Signori" or the Preferred Wine of the Nobility. It was, however, the 17th century doctor and poet Francesco Redi, who established the reputation of the Nobile of Montepulciano as "The King of all Wine." The name "Nobile" dates from the era when higher quality wines were exclusively reserved for noble families.
Today, Vino Nobile di Montepulciano remains a special wine. Vino Nobile's primary grape variety is the local Prugnolo Gentile, a unique clone of Tuscan Sangiovese that must comprise a minimum 70% of any wine that bears the title of Vino Nobile. Other traditional Tuscan varieties such as Malvasia Nero, Canaiolo Nero, Colorino, and Mammolo are also permitted along with small amounts of Merlot and Cabernet. However, many point to Prugnolo Gentile as the determining factor in the quality quotient of Vino Nobile. And with the supreme polish and depth of flavor that one sees in the finest Vino Nobile di Montepulciano, it would be hard to refute the claim. Since 1980 the Vino Nobile di Montepulciano has enjoyed the distinction of DOCG status, one of the first wines in Italy to be so named.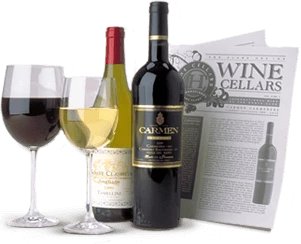 Enjoy Limited Production Estate
Bottled Wines
Discover limited production estate bottled wines such as Vergenoegd's internationally
acclaimed 2005 Cabernet Sauvignon, imported exclusively for our members.
DISCOVER OUR FOUR CLUBS