Deep, haunting, and perfumed, the 2000 Dehesa La Granja Selección is a lush, sophisticated wine that stands in tribute to the viticultural revolution sweeping Spain. It is also one of the finest wines ever to emerge from Zamora. The 2000 Dehesa Selección, with its deep ruby robe and entrancing bouquet, captures the senses from the moment it is poured. It offers sweet scents of blackberry and plum, dark chocolate, sandalwood, and vanilla. Exceedingly extracted and intense on the palate, this lush, highly polished wine follows through on the olfactory with a wealth of flavors: crushed black fruits, espresso, smoked meats, and oriental spices all present themselves in a lush, hedonistic format. Moreover, each sip reveals layer upon layer of fruit and additional nuances of flavor that nearly explode on the wine's long, lengthy finish. For those willing to wait, extended aeration heightens the hedonistic pleasure inherent in this wine, so allow it an hour to breathe. Aeration will disclose the ripe voluptuous fruit that stands at the core of this supple, complex wine. As with all fine vintages of Selección (and 2000 is an outstanding vintage), additional time in bottle will further enhance this wine, but we doubt there are many disciplined enough to wait any longer to enjoy this beauty or lay down an ample supply for future gratification. After tasting the 2000 Dehesa La Granja Selección, one has to wonder if Spanish wine has ever been better, and just how much better a wine can be. For a mature, sophisticated, full-bodied wine that tantalizes the senses, you need look no further than the 2000 Dehesa La Granja Selección. For optimum enjoyment, we suggest decanting this Spanish classic and serving it at cool room temperature (62º - 66º F). Anticipated maturity 2008-2015.
In Spain, it is traditional to serve full-bodied red wines with grilled meats, rich stews, and heady paellas, and we see no reason to deviate from tradition in the case of the 2000 Dehesa La Granja Selección. In fact, the 2000 Selección pairs superbly with nearly all meats. We especially recommend beef and lamb as ideal accompaniments. Yet, we also like the Dehesa La Granja with marinated pork tenderloins. A spicy bean cassoulet is another one of our favorite dishes with this wine, and we would not hesitate to serve the comely 2000 Dehesa La Granja Selección with venison tenderloin, prepared with glazed onions and topped with a rich black currant sauce. Yum! Rich winter soups, served with crusty brick oven bread and a few slices of a great Spanish cheese like Manchego, Mahon, or Roncal, provide other beautiful pairings. A garlic and herb roasted rotisserie chicken provides another excellent accompaniment to the Dehesa, as does a combination of marinated eggplant, zucchini, roasted red peppers, garlic and olive oil. One can even enjoy this beauty all by itself. Enjoy!
Editor's Note: The 2000 Dehesa La Granja Selección is a special wine, as its name implies. It is produced from 100% old vine Tempranillo. It is a natural wine that is made with a minimum of intervention or manipulation. In keeping with a course of natural winemaking, the Dehesa La Granja Selección was bottled unfiltered. Consequently, it is likely that bottles of this fine, handmade wine will precipitate some natural sediment. This harmless precipitate is not a flaw in the wine. Rather, sediment is the result of expert, natural winemaking practices. To alleviate or eliminate the sediment in this wine, the contents of the bottle may be carefully decanted after the bottle has stood upright for at least an hour. Dehesa La Granja is one of the four jewels in the tiara of splendid wine estates that Alejandro Fernandez of Ribera del Duero fame has brought to fore. Dehesa La Granja and the three other Fernandez gems: Condado de Haza, El Vinculo, and Pesquera rank among the finest wine estates in all Spain. In the case of Dehesa La Granja, the estate is located on a 1,800 acre ranch that borders the Duero River in Zamora, just west of the Ribera del Duero. Beginning in the 17th century and for nearly two hundred years, La Granja Valdeguerena was a major wine producing estate, before it was converted to one of Spain's greatest bull fighting ranches in the 19th century. At an enormous expense and in his usual fastidious fashion, Alejandro Fernandez resurrected and reconverted La Granja and its extensive 17th century cellar to their original vocation – the production of one of the Duero's finest wines. Since the restoration, Dehesa La Granja has fashioned intense, traditional Tempranillo wines that have consistently garnered major critical acclaim. The regular bottling of Dehesa La Granja spends two years in oak barrels and is a rich, smooth wine that is ready to drink shortly after release. The Dehesa La Granja Selección is an even more complex, concentrated offering from special plots that is produced only in great vintages. It spends 30 months in French oak and gains considerable charm and complexity with age. Selección is bottled completely unfined and unfiltered, so it is likely to precipitate some harmless, natural sediment. Sediment is further indication of the natural winemaking process that prevails at Dehesa La Granja and Fernandez's other estates. In order to augment the current small production at Dehesa La Granja, an additional 300 acres of Tempranillo vines have been planted at La Granja on their own rootstock (due to the property's compact sandy soil that is resistant to phylloxera), which will eventually supplement the old, un-grafted Tempranillo vines in the Guerena Valley that La Granja is presently using for the property's full-bodied red. It is wines such as Dehesa La Granja that underscore the Renaissance in winemaking that has gripped Spain in the past decade – a rebirth that is transforming the potential of the world's third largest producer of wine into a veritable repository of outstanding and still affordable treasures.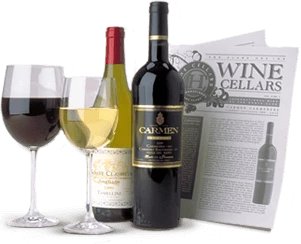 Enjoy Limited Production Estate
Bottled Wines
Discover limited production estate bottled wines such as Vergenoegd's internationally
acclaimed 2005 Cabernet Sauvignon, imported exclusively for our members.
DISCOVER OUR FOUR CLUBS