A dense powerful wine that anneals to the side of the bottle and coats the glass, the 2005 De Tierra Monterey Syrah is anything but a fainting flower. This wine's appeal is immediate and irresistible: strength of character and hedonistic scents of black olive, cassis, cedar, eucalyptus, white pepper and more stagger the senses. In the mouth, intense fruit weds to subtle hints of bramble, dark chocolate, smoky vanilla oak, and succulent meat flavors to offer a cornucopia of flavors that dance and glide across the palate. And when the dancing is done, the tannic spine of this gracious, but highly structured Syrah reminds even the most stalwart of tasters that De Tierra's 2005 Monterey Syrah is no opening act; it's the main attraction and it's here to stay. Allow this jam packed Syrah at least an hour of aeration and enjoy it now and for the next 7-8 years.
Although polished and quite stylish, the strength and vigor of the still youthful 2005 De Tierra Syrah begs for pairings to match its sizeable stature. Horseradish Crusted Beef Tenderloin, served over twice fried pommes frites; and Grilled Marinated Pork Tenderloin, prepared with sautéed vegetables and Havarti laced Arborio rice, constitute two of our top choices with De Tierra's Syrah. Barbecued Baby Back Ribs, one of the panel's favorite accompaniments, provide another superlative choice. Roasted Quail, Grilled Chicken with rosemary and garlic, Provencal Pizzas, Stuffed Ravioli, and just about any pasta dish of consequence provide other delicious accompaniments to the 2005 De Tierra Syrah. A classic Florentine Pizza, with fresh garden spinach, garlic, chopped tomatoes, ricotta, and mozzarella, provides good company to this wine as well. Hard full-flavored Italian cheeses, such as genuine Italian provolone, also offer expert pairings with David Coventry's voluptuous Syrah. Enjoy!
De Tierra Vineyards is situated at the foot of Mount Toro, deep in the Corral de Tierra region of Monterey County. This is Steinbeck country, a magical land between the vaulting Santa Lucia Highlands and the Carmel Valley that John Steinbeck affectionately referred to as "the pastures of heaven." Here owners Tom and Carol Russell and acclaimed winemaker David Coventry turn out an enviable array of wines that evoke images of paradise. Increasingly, a number of small boutique wineries in California are presently fashioning some of the nation's most compelling wines. Such is the case at De Tierra Vineyards where David Coventry works his well-honed magic with Chardonnay, Pinot Gris, Merlot, Pinot Noir, and Syrah. De Tierra, meaning "of the earth," produces 10 different wines in miniscule quantities. Producing hand crafted wines in just several hundred case lots allows winemaker and partner David Coventry little room for error, but then challenge is what the gregarious, unassuming Coventry thrives upon. Dave uses traditional Burgundian practices for the winery's formidable Chardonnay and Pinot Noir, while De Tierra's outstanding Monterey Syrah offers more than a match for the powerful Syrah based wines of France's Northern Rhône Valley. Add a crisp, Alsatian style of Pinot Gris and a knockout Merlot, and De Tierra seems to have all the bases covered.
Many years ago the Viticulture and Enology Department of the University of California studied the various climatic zones within the state, confirming the long held notion among grape growers and residents alike that the Golden State was home to a multitude of microclimates. In order to assist growers, who were seeking the answer to the age-old question of what grape varietals to plant in what location, University scientists zoned the state into five distinct climatic regions, based upon a method of heat summation. According to the University of California's method, each day of the growing season (April 1 – October 31) is classified on a scale of degree days, whereby the length of time the temperature remains over 50º F on any given day is measured, resulting in a maximum number of degree days for each zone. The zones range from Region I, with 2,500 degree days or less, to Region V, with more than 4,000 degree days. Regions I and II (the prime vineyard lands of Monterey County for Pinot Noir and Syrah respectively, including all of De Tierra's vineyards) are to be found in varying parts of California, including many of the choicest areas of Monterey, Santa Barbara, and Sonoma Counties, which specialize in the cultivation of Chardonnay, Gewürztraminer, Pinot Noir, and Syrah – the so called cool climate varietals.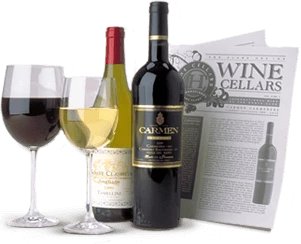 Enjoy Limited Production Estate
Bottled Wines
Discover limited production estate bottled wines such as Vergenoegd's internationally
acclaimed 2005 Cabernet Sauvignon, imported exclusively for our members.
DISCOVER OUR FOUR CLUBS