Made from organically grown grapes, the 2006 De Tierra Monterey Merlot shows the dense ripe hedonistic side of Merlot. This wine's appeal is immediate and ultimately satisfying, as this wine positively sings from the glass. Black cherry, cassis, mulberry, and aromatic oak tones well up from this deep ruby potion to tantalize the nose. In the mouth, lush fruit flavors, subtle hints of oak, dark chocolate, and coffee caress the palate. Moreover, ripe tannins frame the fruit and subtle earth tones of the wine, leading to a long flavorful, fulfilling finish. The obvious beneficiary of a long hang time (De Tierra is one of the last California wineries to pick their grapes), this aromatic Merlot reminds us of some of the very best Merlot based wines of Bordeaux's St. Émilion, only with more body and stuffing. Seductive from the moment the cork exits the bottle, De Tierra's Merlot does not require oodles of breathing time. It will, however, improve with 15 or more minutes of aeration, but like our tasting panel you may not be able to wait that long to savor this comely wine. Moreover, De Tierra's Merlot should continue to provide optimal enjoyment for at least 3-4 more years.
Full-bodied Merlot such as De Tierra's estate Monterey Merlot provides superb accompaniment to all kinds of meat and poultry dishes. Filet Mignon or Prime Rib of Beef with Merlot sauce and sautéed mushrooms offers an excellent first choice. However, Deep Fried Turkey, served with onion and sage dressing and creamed pearl onions, offers another superb match. Pan Roasted Pork Tenderloin, covered with black olive stuffing, makes for a tasty companion to De Tierra's Merlot, too. For a quick, simple to prepare dish, we suggest a Spinach Salad Supreme, made with Roquefort cheese, toasted walnuts, and grilled Mediterranean-style chicken with rosemary and Provencal herbs. Meat or cheese stuffed eggplant or zucchini squash, sautéed white beans with herbs, and lentil soup, served with fresh brick oven baked bread and soft cheese, also pair beautifully with De Tierra's succulent Merlot. Enjoy!
De Tierra Vineyards is situated at the foot of Mount Toro, deep in the Corral de Tierra region of Monterey County. This is Steinbeck country, a magical land between the vaulting Santa Lucia Highlands and the Carmel Valley that John Steinbeck affectionately referred to as "the pastures of heaven." Here owners Tom and Carol Russell and acclaimed winemaker David Coventry turn out an enviable array of wines that evoke images of paradise. Increasingly, a number of small boutique wineries in California are presently fashioning some of the nation's most compelling wines. Such is the case at De Tierra Vineyards where David Coventry works his well-honed magic with Chardonnay, Pinot Gris, Merlot, Pinot Noir, and Syrah. De Tierra, meaning "of the earth," produces 10 different wines in miniscule quantities. Producing hand crafted wines in lots of just several hundred cases allows winemaker and partner David Coventry little room for error, but then challenge is what the gregarious, unassuming Coventry thrives upon. Dave uses traditional Burgundian practices for the winery's formidable Chardonnay and Pinot Noir, while De Tierra's outstanding Monterey Syrah offers more than a match for the powerful Syrah based wines of France's Northern Rhône Valley. Add a crisp, Alsatian style of Pinot Gris and a knockout Merlot, and De Tierra seems to have all the bases covered.
Until the 1970's Merlot lived in the shadow of its younger, more robust sibling Cabernet Sauvignon. Both Merlot and Cabernet Sauvignon are traditional French varietals whose origins are attributed to Bordeaux. However, after the 19th century phylloxera scourge in France, Merlot lost some of its prominence in Bordeaux and elsewhere in favor of the thicker skinned, more age worthy Cabernet Sauvignon. This phenomenon has occurred in spite of the fact that many of Bordeaux's greatest red wines are still produced primarily from Merlot. The great Château Petrus, Bordeaux's most expensive red, and nearly all of the finest wines of St. Émilion are based upon Merlot. However, Bordeaux is not the only wine region today where Merlot thrives. From its native France, Merlot has traveled the world. It is now cultivated on six continents and has over the last two decades become a staple in California, Australia, South Africa, and South America, not to mention its recent proliferation in southern France and the rest of Europe. Moreover, Merlot is a very prolific grape variety when left to its own devices. Consequently, nearly everywhere it is cultivated, severe pruning is the key to the quality quotient with this varietal. Merlot suffers from a susceptibility to spring frosts and a very thin skin, too, which leaves it open to rot. However, where conditions are right and the soil is well drained Merlot thrives. So, no more is the venerable Merlot vine the perennial bridesmaid, and nowhere is this truer than in Monterey where conditions favor it over Cabernet.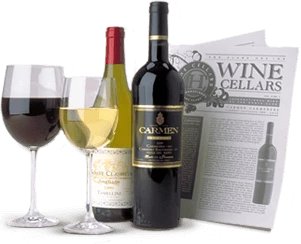 Enjoy Limited Production Estate
Bottled Wines
Discover limited production estate bottled wines such as Vergenoegd's internationally
acclaimed 2005 Cabernet Sauvignon, imported exclusively for our members.
DISCOVER OUR FOUR CLUBS