David Finlayson's 2018 Stellenbosch Chardonnay is simply superlative, having been awarded 91 points by Tim Atkins, MW. It's a truly classic Chardonnay and a stunning value as well. Pure, fresh, and only lightly oaked, David Finlayson used only wild yeast during fermentation for this Burgundian-styled Chardonnay, and the results are top notch. Pretty floral scents stream from this bright, sunshiny Chardonnay. Scents of apple and almond blossoms infused with a deft hint of exotica make one want to dive into this elixir. In the mouth, citrus, a refreshing minerality, and a satiny veil from a deft touch of oak wrap this wine's clean Chardonnay fruit in an irresistible cloak. Racy, refreshing, and supremely satisfying, this medium-bodied Chardonnay is the kind of wine you will want to drink all night long. No smoke, no mirrors, no cloying ponderous flavors, just authentic superbly made Chardonnay from a world-class winemaker. For ultimate enjoyment, we suggest serving the 2018 David Finlayson Stellenbosch Chardonnay moderately chilled (40°-45° F). Enjoy!
Although the 2018 David Finlayson Stellenbosch Chardonnay needs no accompaniment to shine, it is truly an ideal wine to serve with seafood, poultry, and pork. Sea Bass prepared with a red pepper beurre blanc served over creamy tarragon infused polenta gets our nod as does almost any freshly caught fish. Broiled filet of flounder with roasted fennel, grilled baby zucchini, and candied pecans, all with a dash of a light lemon basil oil makes another superb accompaniment. Oysters, clams, and mussels, either fried or served in a wine-based broth, get our nod as well. Sautéed scallops, a lobster BLT on a buttery croissant, and even a California BLT with a fried egg, crispy bacon, and sliced avocado also make splendid companions to David Finlayson's vivacious 2018 Stellenbosch Chardonnay. Creamy chicken dishes and salads provide more winning combinations with this wine, and when cooking is not an option, break out the finest creamy cow's milk cheeses, apples, and pears to accompany this 2018 David Finlayson Chardonnay and no one will be disappointed. In fact, they may thank you for allowing them to enjoy this wine unencumbered. Bon Appétit!
"A man's wine lives after him, bottled, corked and sealed in other men's memories."
C. de Bosdari Wines of the Cape, 3rd edition
David Finlayson and his family's Edgebaston Stellenbosch wine estate have become synonymous with modern winemaking in South Africa. Originally from Scotland, the Finlayson family has for three generations made outstanding wines in Stellenbosch and has in recent years been instrumental in transforming the Cape wine industry from a dwindling domestic business to a thriving international venture receiving world-wide acclaim. For the first time and after much prompting, David Finlayson is bottling his family's Edgebaston estate bottled wines under this own name.
The father and son team of Walter and David Finlayson present impressive credentials. Walter made wine at South Africa's Blaauwklippen winery for more than 15 years where he twice garnered "Diner's Club Winemaker of the Year" awards in addition to a host of other prestigious awards. While still at Blaauwklippen, Walter purchased the now renowned Glen Carlou farm in Paarl, which he and son David transformed into one of South Africa's leading wineries. Subsequently, Walter has become best known for producing South Africa's wine of the year in 2005.
David continues the family's winemaking legacy. In addition to his award winning work at Glen Carlou, David Finlayson has honed his winemaking skills at a number of prestigious addresses. David performed winemaking stints at Peter Lehmann, one of Australia's iconic wineries, and world renowned Château Margaux before starting Edgebaston. In 2003 Walter and David sold their shares in Glen Carlou and purchased what is now Edgebaston, a beautiful estate on the hills overlooking Stellenbosch, South Africa's premier appellation and burgeoning wine town. From the beginning, critics have lauded David Finlayson and Edgebaston's award winning wines for their quality, value and innovation, and we count the Finlaysons and their Edgebaston winery among our best finds. Apparently, we are not alone as critics have latched on to David Finlayson's expertise and continue to laud Edgebaston's superb Chardonnays, Chenin Blancs, and Cabernet Sauvignons with multiple 90+ point ratings.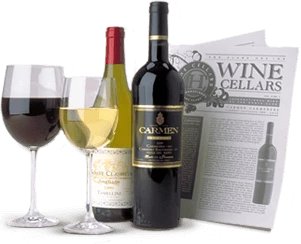 Enjoy Limited Production Estate
Bottled Wines
Discover limited production estate bottled wines such as Vergenoegd's internationally
acclaimed 2005 Cabernet Sauvignon, imported exclusively for our members.
DISCOVER OUR FOUR CLUBS