The 2020 David Finlayson CAB et al. pays tribute to the preeminence of Cabernet Sauvignon in the finest Left Bank wines of Bordeaux's fabled Médoc. A plush blend of Stellenbosch and Paarl grapes, the 2020 CAB et al. seamlessly combines 52% Cabernet Sauvignon with 22% Petit Verdot, 20% Merlot, and 6% Cabernet Franc, resulting in a riot of aromas and flavors. Juicy blackberry flavors meld with cassis, red currant, graphite, and a welcome hint of forest floor to the delight of the nose and palate. There is no question that David Finlayson was aiming to create the ultimate South African Cabernet blend, and he has succeeded admirably. He has also fashioned a superb Left Bank Bordeaux-style blend, sometimes known as a Meritage wine. No smoke or mirrors here, just one very flavorful, easy drinking Cabernet blend from low yields, superior viticultural practices, and maturation in a combination of 95% French oak and 5% American oak in the hands of "The King of South African Cabernet." For your ultimate enjoyment, we suggest affording the 2020 David Finlayson CAB et al. 10-15 minutes of aeration before serving at cool room temperature (58°-62° F). Anticipated maturity: 2022-2026. Enjoy now and often!
The 2020 David Finlayson CAB et al. is robust enough to pair with beef and lamb and juicy and smooth enough to be sipped and savored all evening with nary a morsel. It shines at table with Braised Lamb Shanks or Steak Hollandaise as equally as it does with a perfectly grilled hamburger topped with fresh tomato and pimento cheese. Shepherd's Pie and Braised Short Ribs make fine accompaniments, too. Poultry provides another splendid table companion. Roast chicken served with mashed sweet potatoes and grilled vegetables also earns two thumbs up, as does Ground Turkey and Lentil Chili. And, if less is more, consider serving the gregarious 2020 David Finlayson CAB et al. with a selection of several of the world's finest cheeses. Bon Appétit!
Although Bordeaux blends are most often paired with poultry, red meat, and rich stews, David Finlayson's 2020 CAB et al. provides an equally splendid companion to the world's most exquisite cheeses. Consider an evening with a friend in the company of a glass of the 2020 CAB et al. and a plate laden with perfectly aged gourmet cheeses. Comté, Dubliner, Gouda, Morbier, Muenster, Port Salut, and other soft cows' milk cheeses provide especially gratifying complements to David Finlayson's delicious Bordeaux-style blend. To learn more about wine and cheese pairings and the world's finest cheeses, join us at www.cheesemonthclub.com.
"A man's wine lives after him, bottled, corked and sealed in other men's memories."– C. de Bosdari Wines of the Cape, 3rd edition
David Finlayson has been called "The King of South African Cabernet" and for good reason. However, that moniker did not come overnight. David and his family's Edgebaston Stellenbosch wine estate have for decades been synonymous with modern winemaking in South Africa. Originally from Scotland, the Finlayson family has for three generations made outstanding wines in Stellenbosch and has in recent years been instrumental in transforming the Cape wine industry from a dwindling domestic business to a thriving international venture receiving world-wide acclaim. Recently, after much prompting, David Finlayson is bottling his family's Edgebaston estate Cabernet Sauvignon, Chardonnay, and the estate's newest wine and this month's feature, the David Finlayson CAB et al. 2020, under this own name to much deserved critical acclaim.
The father and son team at Edgebaston of Walter and David Finlayson present impressive credentials. Walter made wine at South Africa's Blaauwklippen winery for more than 15 years where he twice garnered "Diner's Club Winemaker of the Year" awards in addition to a host of other prestigious accolades. While still at Blaauwklippen, Walter purchased the now renowned Glen Carlou farm in Paarl, which he and son David transformed into one of South Africa's leading wineries. Subsequently, Walter has become best known for producing South Africa's wine of the year in 2005.
David continues the family's winemaking legacy. In addition to his award-winning work at Glen Carlou, David Finlayson has honed his winemaking skills at a number of prestigious addresses. David performed winemaking stints at Peter Lehmann, one of Australia's iconic wineries, and in France at world renowned Château Margaux before starting Edgebaston. In 2003 Walter and David sold their shares in Glen Carlou and purchased what is now Edgebaston, a beautiful estate on the hills overlooking Stellenbosch, South Africa's premier appellation and burgeoning wine town. From the beginning, critics have lauded David Finlayson and Edgebaston's award winning wines for their quality, value and innovation, and we count the Finlaysons and their Edgebaston winery among our best finds. Apparently, we are not alone as critics have dubbed David Finlayson "The Cabernet Kid" while others have begun to proclaim David "The King of South African Cabernet" for his award-winning Cabernets. Critics also laud David's superb Chardonnays, Chenin Blancs, and field blends with multiple 90+ point ratings and Gold Medals at international competitions.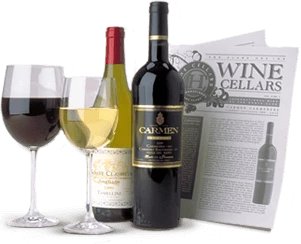 Enjoy Limited Production Estate
Bottled Wines
Discover limited production estate bottled wines such as Vergenoegd's internationally
acclaimed 2005 Cabernet Sauvignon, imported exclusively for our members.
DISCOVER OUR FOUR CLUBS