The 2007 Moulin de Gassac Rouge began life on the sunny slopes of the finest Languedoc vineyards. It is a traditional blend of Syrah (30%), Grenache (30%), Carignan (25%), and Cinsault (15%) from 25- 50 year old vines. Although made in a more approachable style than Mas Daumas de Gassac's "Grand Cru," the 2007 Moulin de Gassac Rouge displays an impeccable integration of its four component varietals, excellent depth of flavor, and subtle complex flavors. It is, in fact, a much more enjoyable wine now than its 2007 Grand Cru sibling and will likely remain so for the next four or five years of its life. A mélange of red and black fruits, herbes de Provence, and garrigue, all deftly framed by smooth French oak, it is hard to imagine a better example of the preeminence of select Languedoc vineyards than Daumas de Gassac's Moulin de Gassac. Gracious, flavorful, and ready to shine from the moment it is poured into the glass, this medium-bodied beauty pays tribute to the Guibert family and their nearly forty-year odyssey to produce the finest wines in the Languedoc. Although ready to please from the onset, some aeration prior to consumption further enhances the wine, so let it breathe as you wish. Furthermore, we found the wine to be exhibiting nearly as much freshness and additional complexity a day later, so laying a few bottles away for a year or two should prove to be a wise investment in drinking pleasure. Salut!
In possession of all the elements of the finest Languedoc and Provencal wines, the 2007 Moulin de Gassac Rouge provides superb accompaniment to both simple and complex Mediterranean fare. For starters, cassoulets; thick, rich pasta dishes; stews; and spicy vegetarian specialties all complement this Languedoc specialty. Pork Shoulder served with lentils and ratatouille; sausage and beans; and venison tenderloin prepared with a heady brown gravy offer just a few tasty pairings with the delicious 2007 Moulin de Gassac Rouge. However, one of the delights of high-quality Languedoc wine is its versatility with food, and the 2007 Moulin de Gassac is no exception. Another favorite pairing with this wine is a roast chicken basted with herbs and cream, and stuffed with an onion, sage, and giblet stuffing. Piedmontese risottos and even tomato laden classics of southern Italy marry well with this Languedoc classic, so as you like it . . . there is no need to fret here about serving just the right dish. Enjoy!
In 1970 Aimé and Véronique Guibert fell under the spell of an old Languedoc mas, or farmhouse, and set out to create a veritable Languedoc grand cru wine from the garrigue (herb-scented brush) and forests of Gassac. Nearly everyone thought they were crazy. By the early 1970s the Languedoc, the most ancient of French wine regions, had fallen from its pedestal and sunk to its lowest point in recorded history. Instead of enjoying its reputation as the cradle of French viticulture and reclaiming its rightful position after phylloxera among the premier wine-producing regions of the world, the Languedoc was prostituting itself by ripping up old hillside vineyards and replanting them with inferior grapes on the valley floor to produce oceans of cheap, ordinary wines. The Guiberts turned that tide with the creation of Mas de Daumas de Gassac. Through the enormous efforts of Aimé and Véronique Guibert and the unyielding belief and advice of Emile Peynaud, then Bordeaux's most venerable enologist, the Languedoc's first modern grand cru was born in 1978. A blend of 80% Cabernet Sauvignon and 20% other varietals whose components include Grenache, Merlot, Malbec, Syrah, Pinot Noir and a host of other French and Italian varietals, Mas de Daumas Gassac was an immediate success. Within a few years, it had been dubbed "the Château Lafite of Languedoc." Moreover, the Guiberts' success began the resurrection of the Languedoc and sparked a renaissance in viticulture and winemaking in southern France that continues until this day. In addition to fashioning a grand cru wine, Mas de Daumas Gassac produces Moulin de Gassac with equal care. Moulin de Gassac is made in red, white, and rosé from traditional Languedoc varietals, so it is not a second wine of Mas de Daumas; it is a partnership of two Languedoc villages, Paulhan, which sits astride the banks the Hérault River, and Villeveyrac, a small town with a splendid amphitheatre of vines that overlooks the gleaming Mediterranean and the ancient port of Sète. Only traditional Languedoc vines that have attained a minimum of twenty-five years of age are used in Moulin de Gassac Rouge. The prestigious Revue du Vin de France has said of Moulin de Gassac Rouge, "Never has there been anything to match this quality at such a reasonable price . . . a world apart from soulless international wines, they truly mirror the region." The Moulin de Gassac Blanc now enjoys similar accolades, as do Mas de Gassac's excellent varietal bottlings.
So many cow, sheep, and goat's milk cheeses hail from the south of France, so perhaps this is why Languedoc wines are some of the easiest wines to pair with the exhausting gamut of French cheeses? Fortunately, the 2007 Moulin de Gassac Rouge is not an exception in this regard, either. For the record, we are especially enamored of Cantal, Muenster, Raclette, and soft, creamy chèvres or goat cheeses with the 2007 Moulin de Gassac Rouge. To find out more about these offerings and other fine gourmet cheeses, pay us a visit at www.cheesemonthclub.com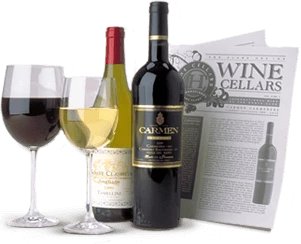 Enjoy Limited Production Estate
Bottled Wines
Discover limited production estate bottled wines such as Vergenoegd's internationally
acclaimed 2005 Cabernet Sauvignon, imported exclusively for our members.
DISCOVER OUR FOUR CLUBS